An introduction to plantation shutters
People's perception of shutters is very much determined by whether they have them installed in their home, or if they don't. Our customers have rated us as 'Excellent' on Trustpilot, with feedback constantly revolving around what an incredible impact shutters have had on their home, how visitors have commented on them and how amazing they look. Shutters are a true statement piece in any interior space.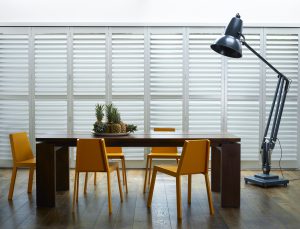 This article is designed to give those who don't own shutters some serious inspiration to invest in them. Hopefully you know from walking down residential streets that they look fantastic from the outside. But what about the other benefits you might not know of. Are plantation shutters worth the money they cost? Are they energy efficient? And do they actually add value to your property? Let us answer these burning questions for you and arm you with the knowledge to go ahead and get plantation shutters installed in your home.
Are plantation shutters worth the money?
There's a simple answer to this question, and it's 'yes'. Shutters are more expensive than curtains or blinds but they're a totally different proposition. Made to measure and constructed using the finest quality, long-lasting hardwood, they're totally bespoke to your windows or doors. Not only that, but we've designed a large selection of styles, materials and colours to cater to your specific needs and tastes. By being a more permanent addition to the home, shutters become a part of your interior style and can be passed onto the next inhabitants, meaning they've got the potential to add value to your property. More on that later.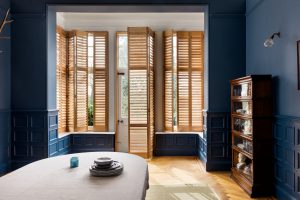 Here at Shutterly Fabulous we work with some of the UK's finest craftsmen and shutter experts who'll visit you at home to measure your windows and offer expert advice on what will work for you. They'll return later to install the shutters and are backed up by a dedicated and passionate support team in the office. We've been in business since 2002 and now service the whole of the UK, so thousands upon thousands of people already believe that plantation shutters are indeed worth the money!
Do plantation shutters add value to a property?
 Again, the short answer here is a resounding 'yes'. By being considered part of the fixtures and fittings, they aren't so different to converting to double glazed windows, adding a pristine new coat of paint or installing spotlights, all elements that add value. By smartening up the exterior look of a home they add that all-important kerb appeal. On the inside, they can create a look and style in a room all on their own, for far less than an extension or new kitchen. Their simplicity is appealing to buyers. By installing shutters on all street-facing windows you can achieve that sought-after matching look across the front of the home, another eye-catching element that will draw potential buyers to your property over others. And for blocks of flats, shutters can help to distinguish a property, another appealing trait for buyers.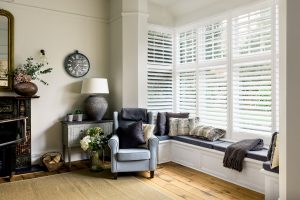 Are plantation shutters energy efficient?
You know the drill by now! Our shutters are made from solid hardwood and when fully closed create an added layer of insulation between the outside world and your home. Fitted securely to a window or door frame, they block draughts that can penetrate curtains or blinds, reducing heat loss and also your energy bills. So, not only will your shutters help your home feel warmer, but there's a good chance you'll actually see your energy bills go down. How's that for an energy efficient investment?
Are plantation shutters for keeps?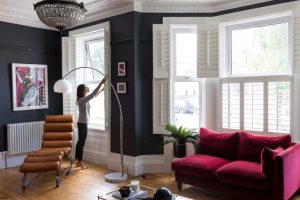 Poonam Sharma with her tier on tier shutters 
Definitely! Another positive about plantation shutters is how effortlessly they straddle trends across the years. Poonam Sharma, who edits the Modern Luxe blog, adores her tier on tier shutters. "I'm not sure if this is a good thing or not," says Poonam, "but I get bored quite quickly and have a tendency to refurbish rooms in our house on an ongoing basis. And if we'd opted for fabric blinds or curtains, I think I would've got bored by now. But, I have to say we've never grown weary of our shutters. We have them in all our windows at the front of the house, making it look more uniform (first impressions and all that!). They're the one thing in the house I wouldn't change. They're elegant, modern and timeless. We've had them for almost 10 years and absolutely love them. So whilst I think about changing wall colours, furniture etc, the shutters are definitely here to stay.
Conclusion
Ready to get the ball rolling with one of the best investments you can make for your home? Great! Book a free home appointment by clicking here. Or if you'd prefer a quick quote over the phone, simply have your rough window measurements to hand and give us a call. The team are in the office six days a week until 6pm (4pm on Saturdays). Now that's what we call Fabulous.