When on the hunt for interior window shutters, we can guarantee you'll have plenty of options to customise your window treatment to suit you and your home. From colour, style, right down to the shutter's material, the possibilities are almost endless! When it comes to kitchens and bathrooms, they are notoriously harder rooms to find a suitable window treatment for. Waterproof shutters are in fact the best choice for any kitchen or bathroom!
So, should you choose wooden or waterproof plantation shutters? Well, the only style difference in these is the material. Either you can choose our sustainably sourced Paulownia timber hardwood shutters, or you can opt for our 100% waterproof Polyvinyl shutters. Our waterproof interior shutters incredibly durable and hardwearing in damper rooms.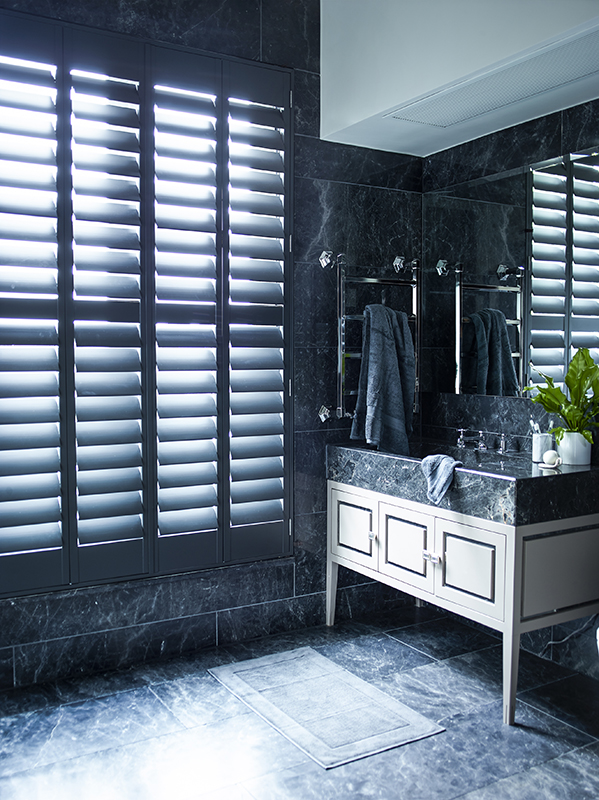 Wooden shutters and water are not a happy pairing. Water could leave your wooden shutters stained and in some cases, cause the shape to warp. So, for rooms like the bathroom, a usually humid environment, this isn't going to be the best material choice. But this is where our waterproof shutters shine. Tougher, and of course water resistant, waterproof interior shutters are a great solution for humid rooms as they won't distort in the damp environment or be susceptible to any staining damage.
We know that their incredible durability makes these polyvinyl waterproof shutters a perfect choice for damper rooms like the bathroom and kitchen, plus, our waterproof interior shutters range will normally come with a smaller price tag compared to our traditional high-quality solid wooden shutters. Though lower in price, there is absolutely no drop in quality! Looking just as amazing on your windows, a set of waterproof plantation shutters will have higher resistance to damp conditions and environments prone to splashes of water.
Just like they are for bathroom windows, waterproof interior shutters are ideal for kitchen windows – they also need a little love and consideration in terms of choosing a window treatment. Depending on where your windows sit, they may get some cooking spills and splashes over them – particularly when you've got either passionate cooks and/or little ones who might enjoy a bit of kitchen mayhem! In a lot of kitchens, you see windows above the sinks, again, this environment would suit a set of our waterproof window shutters perfectly. Sink water-splash backs, rising damp steam, pasta-sauce explosions, all things that a set of our polyvinyl plantation shutters will withstand. Not to mention, the kitchen can get hot and humid whilst someone's cooking so its important that your window treatment can stand up to this!
The choice is yours, polyvinyl or hardwood shutters, there's a material to suit each and every room in your home!  Want to find out how to get your hands on a set of our amazing waterproof shutters? Contact our helpful team of shutter experts on 0800 9700 800, they'll give you honest advice and answer any of your shutter-based questions.