When embarking on the journey to beautiful bespoke shutters, it is essential to know the difference between louvered shutters and solid shutters and the benefits they provide. Whether you're looking for privacy, light control or noise reduction, we aim to answer all of the need-to-know questions about the two styles.
What's the difference between louvered shutters and solid shutters?
Louvered shutters are a versatile style that works well in both traditional and contemporary properties. Whether you choose full-height, tier-on-tier or café-style, all of the shutters feature adjustable slats so that you are in full control of privacy, light and more. Find out more about wood louvered shutters.
Bespoke solid shutters are quite different in terms of design. They feature statement wood panels that allow maximum light in when open and when closed reduces light and outside noise. In addition to this, full solid raised shutters also help to insulate the space, making it a great choice for those who live in older homes that suffer from central heating escaping through the windows. Find out more about solid shutters.

What styles feature louvres/shutter slats?
Full height, tier-on-tier and cafe-style all feature moveable shutter slats, and we even custom-make louvered bifold window shutters. Our louvered shutters are available in 4 different size shutter slats.
What rooms would you install louvered shutters and solid shutters?
Louvered and solid shutters are both incredibly adaptable and can be installed in any room. Whether it is the bedroom, living room or bathroom, the style you go for ultimately depends on your personal preference and the room's practical needs.

Are solid and louvered shutters both bespoke?
Yes! All of our shutters are bespoke, so no matter your window style or size, we will be able to create a custom design that suits your home.
Am I limited to colours if I choose either designs?
No don't worry, you will not be limited to colour choices. Our bespoke colour matching service will allow you to choose a shade, whether you go for louvered or solid shutters, that perfectly complements your interior style.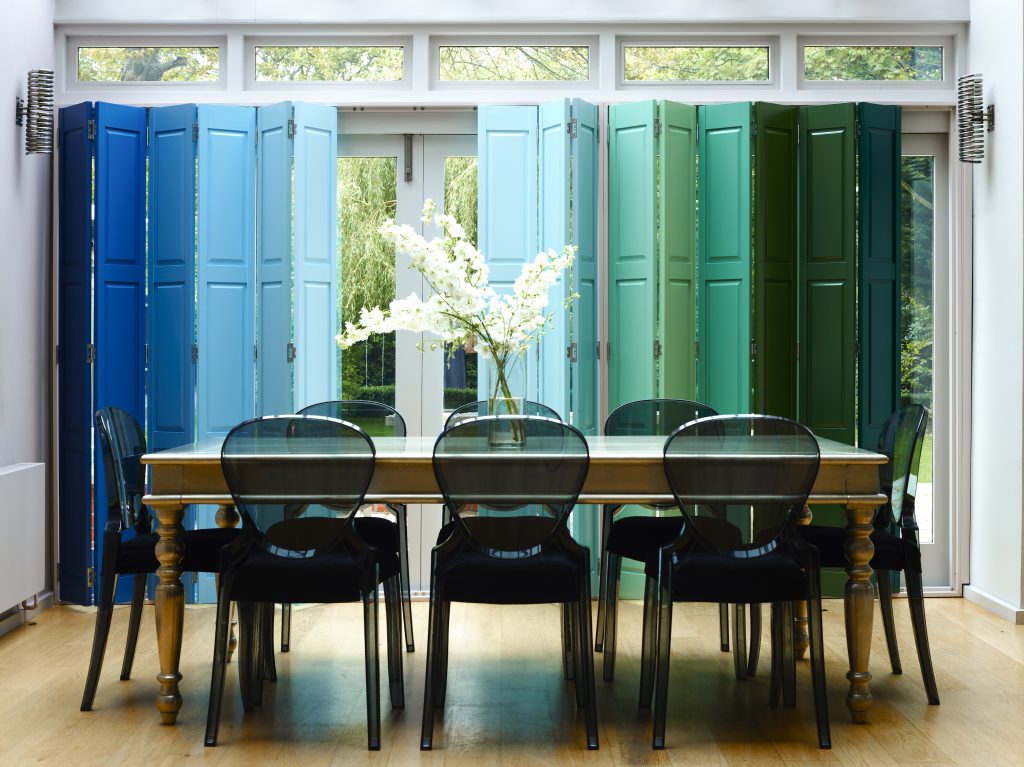 To see how the different styles will look in your home, we offer a free no-obligation appointment with a specialist who will be able to seamlessly guide you through the different options and offer their knowledge on what will look best in your space. Get a quote and book your free appointment here.