Measure and fit shutters are a beautiful way to refresh the home and add some much-needed practical benefits such as privacy, light control and more. However, when embarking on your bespoke shutters journey it is imperative to find a trusted shutters company that will take you seamlessly through the process. Here at Shutterly Fabulous, we have exceptionally skilled staff members that will ensure every customer has a positive experience from the initial appointment straight through to installation.
We're rated EXCELLENT on Trustpilot, and reading through our reviews, you can see why we're one of the best shutter companies the UK has to offer.
'From beginning to end, everything was first class. I have nothing but praise for the competitive pricing, the communications, the respected time scale even in the current context, the quality of the plantation shutters and, last but not least, Mark, who initially measured up and finally fitted the shutters.' – Bernard, Trustpilot

Who are your shutter specialists?
Our expert shutter specialists are highly skilled trusted professionals that have years of experience in measuring and fitting bespoke shutters. What's more these specialists will not only come to measure for your shutters and give you all the advice you need, they will also be the same specialists that comes back to install them too. Your shutter consultant will be there for you through every step of your shutter journey.
'Excellent shutters, and Dan the fitter was extremely good – diligent, careful and friendly – really good experience all round'.- Jonathan, Trustpilot
Is there a specialist in my area?
We are a UK wide shutter company and our expert service has no bounds! We provide in-home design consultations for measure and fit shutters in any home throughout the UK.
Locate your nearest local shutter specialist.
What happens when a specialist visits my home?
When a shutter specialist visits your home, they will first discuss with you where you would like your shutters and your concerns about the room. Whether it is light control, privacy or insulation, the specialist will be able to give you experienced advice on what will work best for you and your home. Once the details of what you'd like from your shutters have been discussed, your consultant will then do an initial measure and discuss where you'd like the bespoke shutters to fit, how you would like them to open, giving you all the available options to ensure you get the perfect shutters for your home.

Do I have to pay for a shutter appointment?
No, rest assured our appointments are completely free, with no obligation.
Do I get shown shutter samples at the appointment?
Yes, of course. The specialist will show you examples of louvre sizes so that you will be able to visualise the shutters in your home. Here you will be taken through how different louvre sizes will affect privacy and light in the room so that you can make a well-informed decision.
They also come prepared with colour decks and hinge samples. This way your custom shutters are exactly that- custom made. You can use this time to compare the colour samples to your wall colours, window frames or whichever furniture or fitting you wish your bespoke shutters to complement or match.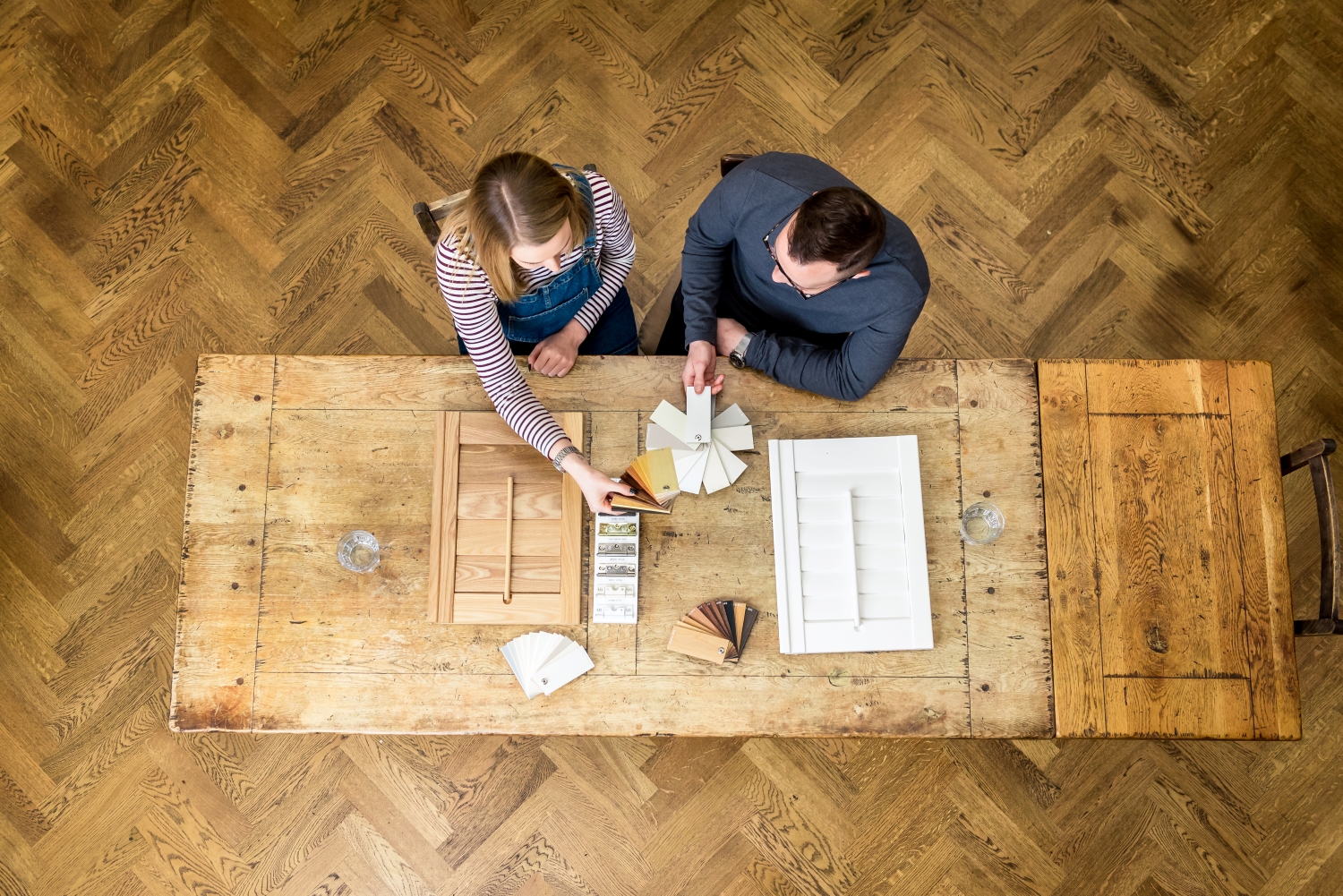 'The real gem of this company was our experience with the chap who quoted us and fitted them. We went with this company based purely on our trust in him, he doesn't gloss anything up, he is honest and very knowledgable, passionate about his craft, you can see he knows his stuff and is an expert who guided us every step of the way!' -Mary, Trustpilot
Does an appointment mean I have to buy the shutters?
No, don't worry it doesn't! Our shutter specialists are more than happy to have a conversation about the shutters and measure up, but this does not mean that you are then obligated to follow through and buy the shutters. A quote will be sent out to you after the appointment, breaking down the costs for each individual window, and then it's simply up to you.
'Really pleased with the product and great customer service. Fitters Matt and Marcin are a credit to the business'– Nick, Trustpilot
What if I have questions post-appointment?
If you think of any questions post-appointment, you do not have to worry! Our specialists will give you a card with their details, so please do feel free to call and they'll be happy to talk through any queries you may have.
'
The great thing about this company is that the person doing the survey then installs the shutters minimising the risk of error. John who installed my shutters was friendly, helpful, and his workmanship was also exemplary.John is well informed with years of experience, recommending variations to the shutters that none of the competitors informed me of – in fact, what John doesn't know about shutters isn't worth knowing!' -Mrs EG, Trustpilot
Alternatively, you can always call or email our friendly team who can discuss with you details of your quote and help to answer any questions you may have.
Don't just take our word for it, book your free appointment to speak to our shutter specialists yourself, and find out just how easy it is to make your home fabulous!