While it might seem like there is a lot to it, our plantation shutters fitting service is fabulously simple. In just a few quick steps, you will go from shutterless to Shutterly delighted. And unlike other companies, we aren't about upselling or the hard sell. Our Shutter Specialists are there to guide and advise, never to push.
So, what happens at one of our design consultations? We're very glad you asked.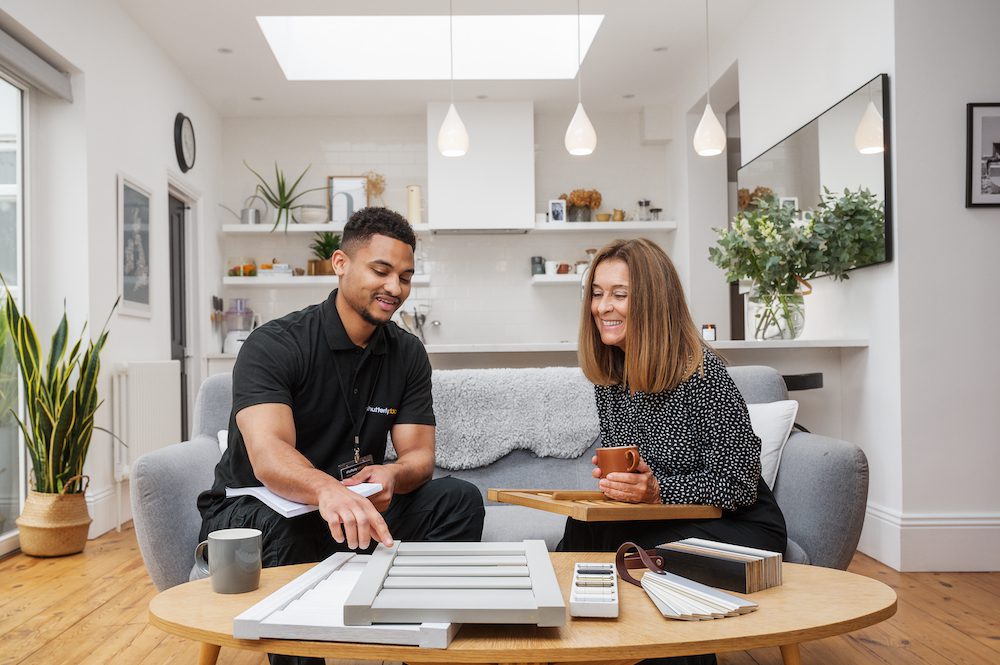 1. We Show Up
Your Shutter Specialist arrives on the date and time you have pre-arranged with our friendly diary team. At Shutterly Fabulous we will give you an exact date and time, ensuring that you don't have to wait around for us all day.
2. We Assess
The Specialist will come into your home, and you will show us which windows in the house need measuring.
3. We Discuss
You will have a back-and-forth discussion, during which time your consultant will talk through your preferred designs and what shutter style might work best with your windows. This is always a great time to pick the brains of the Shutter Specialist. They are always happy to help and, of course, they are experts in their field.
4. You Decide
You will have a look at our range of design options from the Shutter Specialist's kit bag. They will show you our different materials, slat sizes, tilt rod options, colours, and wood stains. At this stage, you will have a few choices to make. But don't worry, our Specialist is there to help you make the best choice for your windows. If you're still unsure, we can even quote you for a few different options.
5. We Measure
After you have decided on a design, the Specialist will take exact measurements – to the millimeter – of your windows. 
6. We Quote
Within 24 hours, you will receive your full quotation via email so that you can get to ordering. That's right – we won't need to call back until your installation! And remember, the price of your quote will include VAT, shipping, and installation. There are no hidden costs whatsoever.
To arrange an appointment with one of our Shutter Specialists, get in touch and one of our diary team will be happy to pencil you in. This can be done conveniently via our online booking portal or by giving us a call on 0800 970 0800. It's as easy as that.
So, there you have it. It really couldn't be simpler. Book your on-site consultation today and we will show you just what shutters can do for you and your home.