Have you ever wanted to totally transform your living space without having to consider planning permission for an extension, or deal with the inevitable disruption to your household that comes with the building work? Well, look no further because room divider plantation shutters work wonderfully. Often, we think of shutters in terms of covering a window, but plantation shutters are an affordable and durable way to make your living space work better for you and your family, allowing you to go about doing what you love most. Here are 9 creative ways to use shutters as room dividers:
1. Dividing a living room with shutters
If you're looking to convert a large living space into a dining area and living room, then plantation shutters will create a stunning room divider. Choose between a variety of different style options, such as tracked shutters to achieve the optimal look and design. The shutter room divider panels can always be folded back to the side, should you need to open up the room again, for large family gatherings or parties.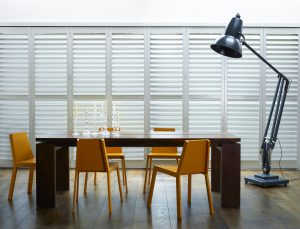 2. Natural divider to a bathroom or ensuite
Adding that extra ensuite bathroom to a room can be a costly endeavour. Shutters are not only stylish but will save time and money. Closing your ensuite or bathroom off to the main room with a shutter helps create a less intrusive look (especially important for smaller rooms) and also ensures that full privacy is maintained and incoming light can still reach parts of the room that would otherwise be blocked by a solid door.
3. Balcony door shutters
Shutter doors are one of the most common uses of plantation shutters, as they form a very natural-looking divide to the outside. If you have a large balcony or some patio doors, shutters offer the perfect means to regulate incoming light without jeopardising your privacy. Shutters also have soundproofing qualities and act as a proven insulator.
4. Creating a play area for children
Make the most of your living space by creating a separate children's play area. Use a natural dividing point in your living room to section off a children's-only space. Open the louvers to allow you to monitor playtime whilst reclining in your favourite chair just on the other side. Again, the panels can be pulled back freely to regain your open-plan living space, should everyone want to join in with the fun and games.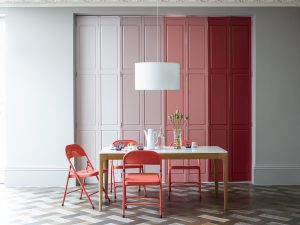 5. Kitchen Door
Shutters as room dividers are a great addition to the threshold of any kitchen, perfectly closing off the space so you can prepare that surprise meal for your loved ones or enjoy some time to yourself. They will help to ventilate the kitchen and keep pungent smells from escaping and spreading through the rest of the house. Hardwood shutters are also hardwearing and easy to wipe down should they get grubby or oily.
6. Create a workspace/study area
If you work from home, create a workspace by dividing up an existing room with a plantation shutter room divider.  Be completely in the zone and separate recreational areas of your home from workspaces. If you have children studying for exams, but have limited space, plantation shutters are a really good way of closing off a built-in study area, creating a secluded and peaceful area that can be hidden away again.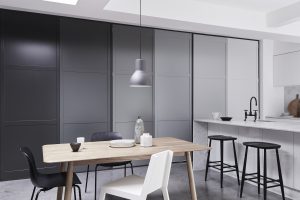 7. Creating a utility space
No one wants to be constantly thinking about the laundry, and having your washing machine on display can make for a busy kitchen. Keep your utility area out of sight and out of mind the elegant way, with a beautiful, bespoke fitted room divider, so you can enjoy a more spacious kitchen.
8. A hatch between two rooms
When in use, a hatch between the kitchen and dining room can seem great for serving food, such as at breakfast time, but less than ideal when you're cooking for guests and don't want them to be distracted by clatter from the kitchen. Shutters not only look great but form a sound barrier and are easily folded back out of the way again.
9. Walk-in wardrobe
Why not finish off your built-in wardrobe with bespoke, sliding shutter doors. Furnishing a wardrobe with hardwood shutters infuses the space with coastal charm and holiday vibes throughout the year, leaving you feeling wonderfully relaxed.
These are just some examples of how versatile plantation shutters can be. Call our shutter specialists, who are more than happy to discuss your design options during an on-site consultation, or book here.