Want to add a luxurious feel to your home but don't have a high-end budget? Then you're in luck. We've compiled a plethora of tips and ideas to achieve affordable luxury in all areas of your home. We believe that the use of colour, statement pieces, and of course your favourite cheap plantation shutters can really achieve this luxurious look.
The Midas touch
When we think of luxury and glamour, straight away we think of gold. A simple addition of the Midas touch to your interiors will add the opulence you are craving. Accessories in your favourite metal hue can do the trick. From candlesticks to plant pots, even a chic art deco drinks trolley. Here at Shutterly Fabulous, we would opt for an ornate gold mirror. This would not only add instant luxury to your interiors, but make your room feel more spacious too.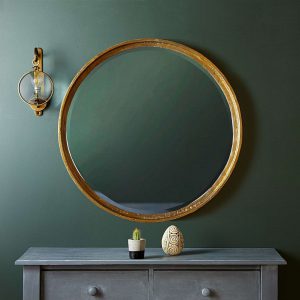 Image credit: pooky.com 
This can even be achieved on a budget, as gold pieces can be found in a range of high street stores and online interior shops. If you're feeling creative, why not purchase some gold paint and update your current accessories. You could gild the legs on your coffee table or update a picture frame, with even your hooks and hangers receiving this embellishment.
Soft furnishings
Nothing says luxury like an abundance of soft furnishings. Layering cushions and throws can achieve a luscious yet affordable look.
In winter months, concentrate on rich fabrics and materials like wool, silk and velvet to really stand out. This has the added benefit of keeping you cosy on those long winter nights too. Texture is very important when designing your home decor. With soft furnishings you can add depth with fringing, cable knit and fur.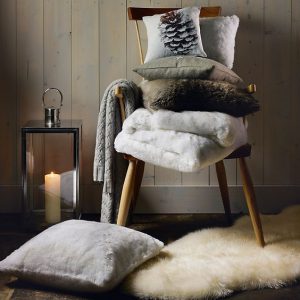 Image credit: Johnlewis.com 
Go minimal
Luxury can also be achieved with simplicity. Why not go all white to achieve a subtle and delicate interior instead? Pair the rest of your interiors back and concentrate on a few key quality items for an affordable modern home decor.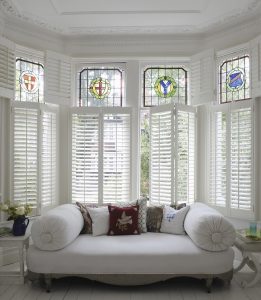 To create that simplistic look, start off with our bestselling Bright White Shutters. We put the 'affordable' back into 'affordable luxury' because we can offer the lowest UK price for hardwood plantation shutters, matching any like-for-like quotation.
Lavish lighting
Now is the time to be brave with your lighting. Go big or go bold, we say!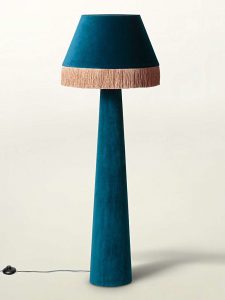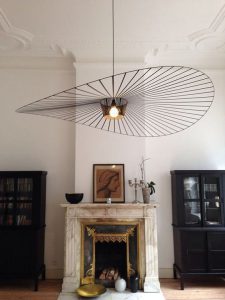 Image credit: Oliverbonas.com                                      Image credit: delightfull.eu
Impressive floor lamps and elaborate lamp shades are very on trend right now. You can even incorporate all our affordable luxury home décor ideas with this rich, velvet floor lamp or make a statement with a structured, eye catching suspension lamp.
Rich colours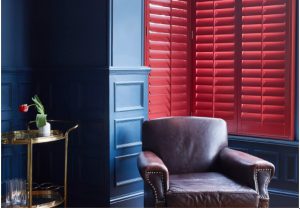 Azur, emerald, charcoal, burgundy and maroon; all of these colours instantly make you envisage a luxury interior. These sumptuous shades are best used on a large scale. This can be on your walls, furniture and even on your shutters. Did you know that Shutterly Fabulous can match to any Farrow and Ball, Little Greene and Dulux trade colour?
So whatever jewel tone you opt for, we can match it.
Bigger is better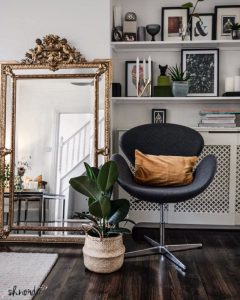 Image credit: byshnoridc.com
Grand, spacious rooms and towering ceilings are not just for those who reside in castles and palaces. With a few clever design concepts, you can expand your interiors to match the grandest in the land.
Painting the ceiling in a light and contrasting colour can draw your eye to give the idea of a taller room, as will the simple addition of a picture rail: a classic period feature. Another affordable option, and the oldest trick in the book, is the use of mirrors. A large mirror positioned well will create the illusion of added depth.
An artful addition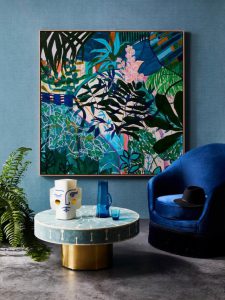 Image credit: theinteriorsaddict.com     
Artwork and prints are becoming a more affordable home edition. Many shops are offering reasonable options to allow you to fill your rooms with carefully selected one-off pieces.
To match your rich colour palette, why not choose a jungle/tropical themed image, or keep it classic with black and white photography. The possibilities are endless with wall art, mix and match themes, frame colours and sizes. If you surround yourself with images you love, you can't go wrong!
If you want to achieve an affordable home decor that oozes luxury, follow these steps:
Gild your accessories, layer your soft furnishings, don't forget lighting, pick rich tones and go big with prints and mirrors.
Book your appointment today with one of our Shutter experts, so we can help you complete your luxurious look.