What are plantation shutters?
Originating on the large farm and plantation houses of the American South (hence the name), plantation shutters have rapidly grown in popularity on both sides of the Atlantic over the past 20 years. Manufactured from a range of different materials (ours are handmade using high-quality hardwood), they are attached directly onto a window or door frame to become part of the fixtures and fittings of your home.
The key element of a plantation shutter is its slats – evenly spaced elements that can be opened or closed as required. Chances are that when walking down any suburban British street over the past few years, you've started seeing a lot more plantation shutters springing up.
We've put together this article to tackle a question we sometimes get from curious shutter newbies – are plantation shutters out of style? We'll explain that, far from it, plantation shutters are as in vogue as ever and are in fact a timeless addition to any home, complementing any interior style.

Where do shutters originate from?
A big clue is in the name. Plantation shutters were first designed to be used on the large plantation and farm houses of the deep American South. Owing to the subtropical climate in the region, with its swelteringly hot summers, traditional curtains were seen as too heavy and stifling. Landowners required a window dressing that allowed for privacy, light control and for cooling fresh air to enter rooms. It led to the iconic slatted design being developed, the white finish that was used to reflect heat remaining the most popular choice even today.
Large slats meant fewer slats and more unobstructed light entering rooms, however, come sundown they could be closed completely to allow for a dark and peaceful night's sleep. Large slats are the defining feature of plantation shutters and are resolutely popular today, looking particularly striking on large windows adorning Victorian and Georgian buildings.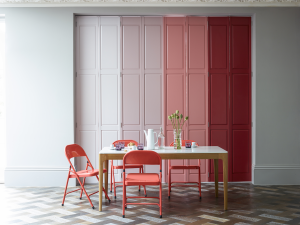 Have shutters gone out of style?
If they had gone out of style, we'd be out of business by now! Not only are we still going strong after 17 years, but we've actually just expanded our reach to serve the whole of the UK. Just take a look at our glowing collection of customer reviews that grows by the day.
The number of shutters you see on British streets has grown rapidly over the past few years and this growth shows no sign of abating. By being available in neutral colours such as white and grey, they complement any interior style, meaning they outlast changing trends. And by becoming part of the fixtures and fittings of a home they're much the same as a new kitchen or extension and are therefore less 'throwaway' than blinds or curtains.
Shutters are being reinstated in Georgian and Victorian properties to return them to their original lustre. Indeed, many of our customers request solid shutters, i.e.: solid panels of wood and no slats, to help do just that. We're seeing an emerging demand to have shutters installed in new builds as they bring an element of architectural detail without the cost of full scale structural renovation, such as installing a fireplace.
Rest assured, shutters are about as timeless as you can get when it comes to home improvements and show no sign of going out of fashion any time soon!

Do plantation shutters suit particular homes?
As well as being timeless, plantation shutters are also incredibly versatile. They suit all types and era of home – flats, houses, Victorian, Georgian, Edwardian, new build. We've installed shutters on French doors, in conservatories and even on house boats. Our highly experienced shutter specialists will visit you at home and custom-design shutters to the precise spec for you, taking into account your interior style, age of the building, type of windows and your personal preference. We offer shutters in a huge range of colours and styles, including custom options. There's no window (or door) that we can't make look Fabulous with shutters.

Conclusion
Ready to find out more about the ultimate timeless purchase for your home? Click here to book a free home visit with a shutter specialist in your area. They'll talk you through styles, colours, measure your windows and give you a quote. They'll return a couple of months later to personally install your shutters and make your home look that little bit more Fabulous. Or if you'd prefer a quick quote, give the team a call with some rough window measurements to hand – we're open six days a week. Now, how's that for style?