If you're wondering how to dress your bay window or you're looking for design ideas to make the most of this period feature in your home, look no further than our Shutterly Fabulous bay windows style guide.  We're sharing the best bay window decorating ideas to achieve a look you love. 
Bay windows make a stunning feature in any property, but they can pose a problem to dress for their tricky angles and tall, unreachable windows. The good news is that with over 16 years of experience dressing UK windows with our high-quality, made to measure shutters, we know a thing or two about how to achieve a look that's practical and stylish.
In this bay window decor guide, we're sharing ideas to dress your bay windows as well as practical ideas to position furniture so that ultimately, you're making the most of the space and style within your window area.

How to dress your bay window
There are many different bay window decor solutions to choose from, and more often than not, that's what can puzzle homeowners. Curtains, blinds, shutters or Venetian blinds? Which do you choose? Well, all window dressing types have their pros and cons, but when it comes to bay windows, by far the most timeless, practical investment is installing bay window shutters to them.
Why dress a bay window with shutters?
They're timeless
Having bay window shutters installed to your home complements every interior. Opting for neutrals such as white or grey, ensures a timeless design that will work to any colour scheme through the years.
They're built and fitted bespoke to the measurements of your bay window
Built bespoke to the millimetre, bay window plantation shutters look more a part of the architecture of your home than any other bay window dressing will. Shutters offer a 'finished' look that allows your window dressing to remain in keeping with the era your home was built.
They'll maximise light entering the room
The style options shutters offer, such as full height, cafe style, solid or tier on tier, give you a wide variety of choice to suit the aspect of your window, and your light and privacy needs.
Bay window shutters offer insulation benefits
It's true, if your bay windows are single glazed, fitting bay window shutters will help to insulate your home and prevent heat loss through draughty windows.
They add value to your property
You can't take them with you when you move home but you will benefit from a higher price when you come to sell. Bay window shutters smarten the interior and exterior of a home and attract buyers.

Practical bay window decoration ideas (for the area in front of your bay)
With window dressing sorted, now let's look at other ideas to style a bay window which makes the most of the space in front of your bay if you have a fairly wide opening.
1. Use your bay window to position furniture
The area in front of a curved bay, angled bay, or box bay can pose a little tricky to make use of, especially if your bay window is a little smaller than most. The most common, practical use for the area is to position furniture.
By a bay window in a living room, you can place a sofa (if it's a large bay) or arm chair (if it's a smaller bay) which can create a sociable feel in the room.
In a bedroom, you could look to place a dressing table or chest of drawers in the opening, giving you a larger area to change or dress the bed (without banging your legs on furniture every turn you take!).
In an open plan living or dining area, placing a table and chairs in the bay window area creates a focal point and can easily be pushed back and styled with fresh flowers when not in use.
Tip: Ensure your window dressing doesn't obstruct the area you are using and is easy to open and close every day. Plantation shutters are ideal as they are installed bespoke to window frames, they tend to sit flush to window frames and they are easy to open and close with bi-folding design, or a quick tilt of the slats. 
If you're contemplating shutters or curtains, read our guide.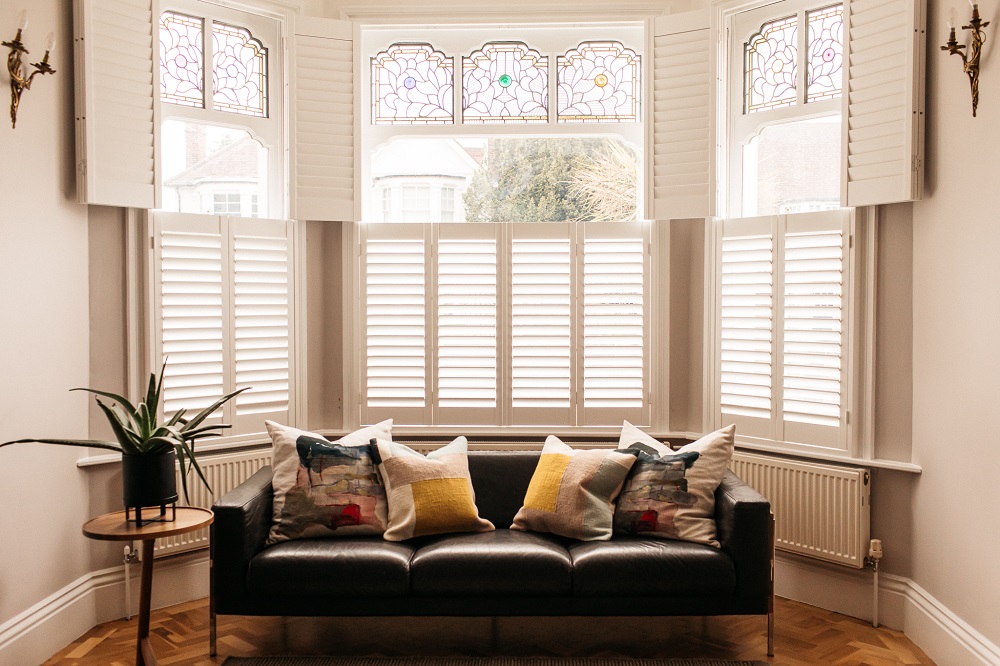 2. Build in storage and seating to your bay window
If you're willing to invest a little more in the design of your bay window then consider building storage and a seat below the window frame. It is remarkable how bespoke joinery transforms the practicality, design and value of a home when done well, and in little time you could not only have plenty of storage space for blankets, books, and collectables, but also a reading nook area of your own.
Complete the look of your bespoke, built-in bay window seating with high quality, crafted bay window shutters.
Bay window design ideas if you want to make an impact
Bay windows are glorious features of a home that can be celebrated with the use of colour and styling. If you want to make an impact in your room, then you could consider one or two of these ideas which will add that drama.
Make a statement with colour
Shutters, blinds and curtains come in a variety of different colours and patterns allowing you to dress a bay window in almost any colour imaginable. Our shutters can be colour matched to any high street paint brand, which means if your walls are painted in Cornforth White by Farrow and Ball, and you want a darker, complementary coloured shutter such as Purbeck Stone, we can make them for you. Whether you go bold, or go neutral, our standard paint finishes complement all interiors. Find out more about the coloured shutters we offer.
One thing to keep in mind is the exterior look of your home. Ensure your shutters match your building and other rooms you're fitting shutters to (if this is applicable/important to you).
Make a statement with natural material
With a wide array of linens, wooden blinds and cotton materials on offer, you can make a feature of your windows by opting for natural materials. Our wooden stained shutters in our Premium Elm range offers a textured grain and a natural warmth to the room.
Pair shutters and curtains
Who said you had to choose one or the other? Shutters and curtains are becoming a popular choice for homeowners usually opting for white, grey or cream shutters and pairing them with a complementary patterned or plain curtain. It really adds wow factor.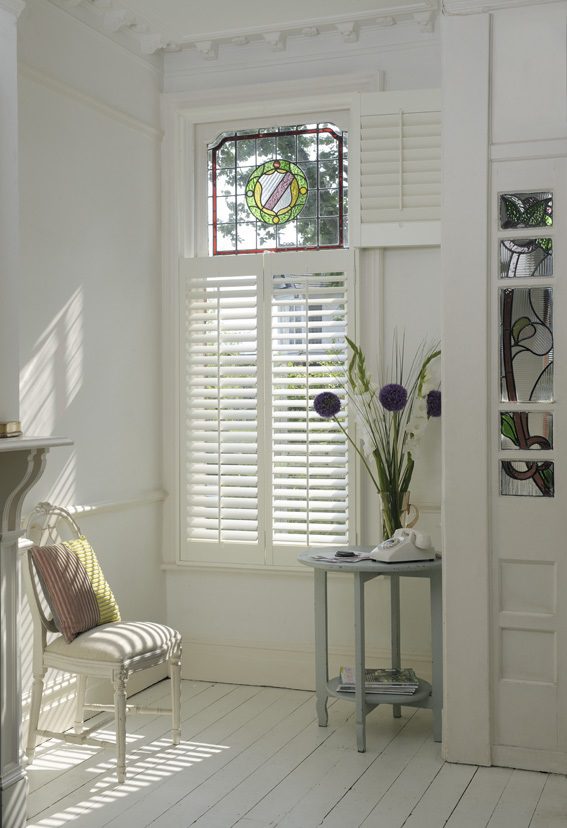 Add emphasis to stained glass
If you're lucky enough to have inherited stained glass on your bay, don't cover them up. Lots of our customers choose to fit cafe-style shutters up to the mid point of their window, leaving stained glass exposed and looking fabulous inside and out. Alternatively tier-on-tier shutters give the option to open the top set (as pictured above).
Get the Shutterly ball rolling
We hope this guide has helped to provide you with some bay window decor ideas for your home. If you'd like to get a ballpark quote and a free-of-charge measured survey or just discuss your options to install shutters with us, call us on 0800 9 700 800 or book your free appointment online today.