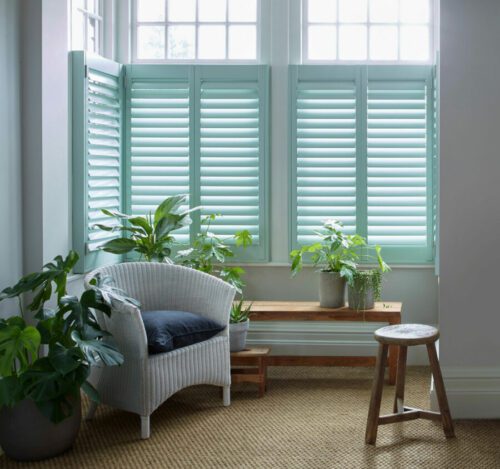 The chances are, if you're at the stage of choosing between different shutter styles, you already know about the functional benefits of shutters. Providing ultimate flexibility, shutters offer the ability to regulate light, maintain privacy, insulate the home and more. Not only this, but the sleek and timeless look and feel of the shutters make for a superb alternative to curtains and blinds. Perfect for front-facing bay windows to large French doors and everything in between, plantation shutters are a fantastic choice for any interior style whether it is traditional, contemporary or a mix of both.
Shutterly Fabulous offers a range of shutter styles for any space or window and provides this handy guide to choosing what's right for you. But the two most popular styles are full height or café-style shutters, and with each having a distinctive look and feel – and their own benefits, too – we've provided some key details for each below to help you decide.
Cafe Style shutters
A popular choice, cafe-style shutters feature adjustable louvres and cover the bottom half of the window, making it a great option for rooms that aren't in close proximity to a neighbouring house.
Often installed in bathrooms and kitchens where hygiene is key, café-style shutters' half design makes it easy to wipe down and maintain in comparison to full height and tier-on-tier shutter styles.
Especially great for tall bay windows that can be otherwise tricky to dress, café-style shutters will provide privacy from nosy neighbours and pedestrians whilst allowing maximum light to flow through the exposed top half of the window, so you can still enjoy the view of the clear blue sky from the comfort of your sofa.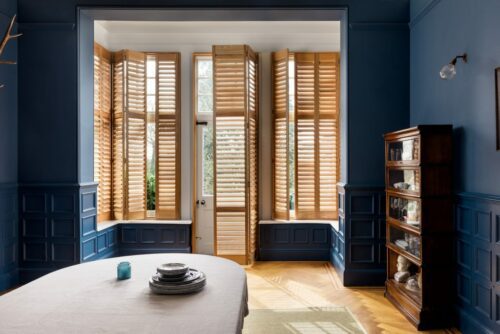 Full Height shutters
Full height shutters, on the other hand, cover the full length of the window. Featuring adjustable louvres that are designed across the shutters' structure, full height shutters will allow you to be in complete control of privacy, light, insulation and more all whilst looking aesthetically pleasing.
Great for all seasons, full height shutters can be opened entirely for maximum light flow or shut completely to minimise the effects of sunlight on home furnishings in the summer, and heat loss in the winter.
To find out more about which style is right for you, contact our experts.