Looking for the perfect way to transform your space? Getting your conservatory style right can be a tricky task, so we're here to help. And obviously, we feel conservatory shutters are the way to go!
As the warmer months roll in (finally!), our minds have turned to relaxing with a cold drink and that means sprucing up your favourite sunspot.
We will show you how to put your stamp on your room using different design ideas, with our Conservatory Shutters as the finishing touch to enjoy your idyllic space the whole year round.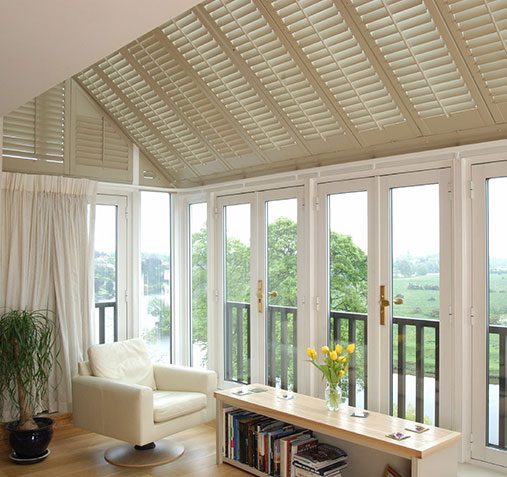 Will adding colour improve your Conservatory style? 
The colour palette you choose will have a big influence on your space. Neutral tones are great for keeping your conservatory bright and spacious (think creamy whites and pastel tones to create a timeless look). However, adding a pop of colour can transform a room and add excitement.
A colourful sofa or chairs are a great way to make a statement, with jewel-toned velvets or vivid primary colours. If you're looking for something a bit more subtle, a vibrant vase or throw cushion will do the trick. 
Shutterly Fabulous offer a wide selection of shutter colours. So, you'll be able to give your conservatory shutters a stylish finishing touch that will add more style to the room.
What furniture should you choose for your Conservatory? 
Depending on what you want to use the space for, there are some excellent ways to make your conservatory your own. 
If you love to entertain, adding a bar or drinks cabinet along with a stylish dining table will score top points with friends. On a balmy summer evening, fold your Shutters for doors back to create an alfresco experience.
If your conservatory is more likely used for curling up with a good book and relaxing in the sun, rattan furniture or a comfy armchair are a great way to fill the space. Adding in a bookcase and a chic rug will make this the cosiest spot in the house.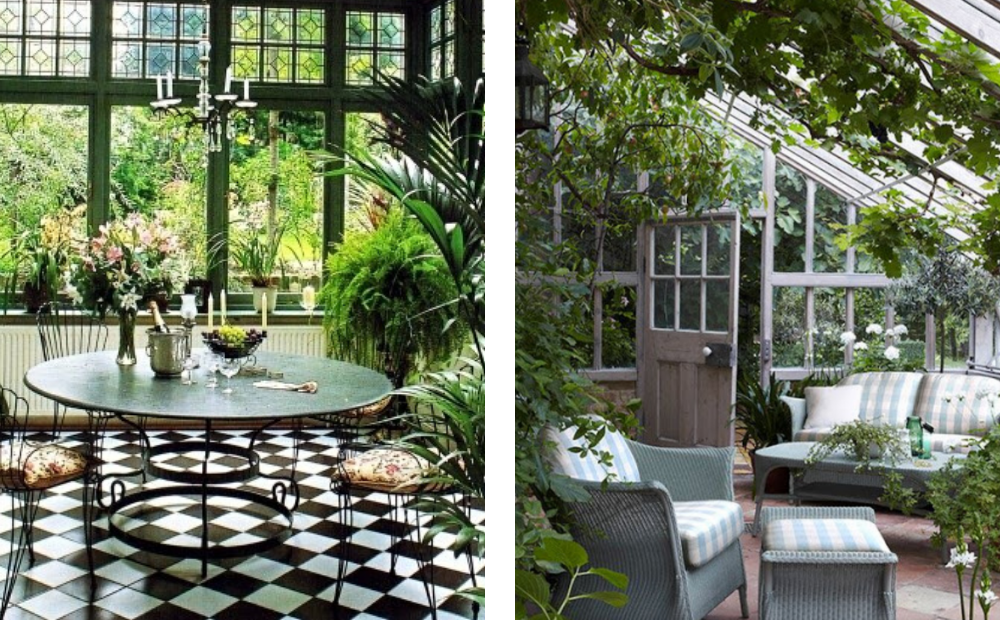 Photo credit: Ofdesign.net & Pinterest.com
Are indoor plants a good way to improve your conservatory style?
Adding some indoor foliage is a fantastic way to liven up the room. An olive or citrus tree can be an attractive (and tasty) addition, whilst a Bougainvillea is a beautiful option for a climbing plant. 
But if you're not blessed with a green thumb, a cactus or succulent is a low maintenance alternative to give your conservatory style.

Photo credit: Pinterest.com & Shutterly Fabulous
Conservatory style idea: Enhance the room with lighting
Finding the right lighting will change the atmosphere of your conservatory completely. A statement chandelier will add a touch of elegance and can be the main feature of an otherwise cleanly decorated room. 
Try dotting lanterns around the room to intensify the glow of a summer evening or candles to get that homely feeling in winter. 

Conservatory style idea: Find the perfect window dressing
We believe the windows do all the talking in your conservatory, and the perfect window covering makes a world of difference.
Conservatory Shutters are the best choice to add style and sophistication whilst ticking all the boxes for practicality. 
Depending on the design you opt for, shutters can be the focal point of the room or the cherry on top of an expertly curated space. Whether you're looking for modern conservatory ideas with cool white shutters or a more traditional feel with our authentic stained shutters, we've got you covered. Our shutters are bespoke and measured to the millimetre, meaning they're unique to your space and the perfect solution for roof windows.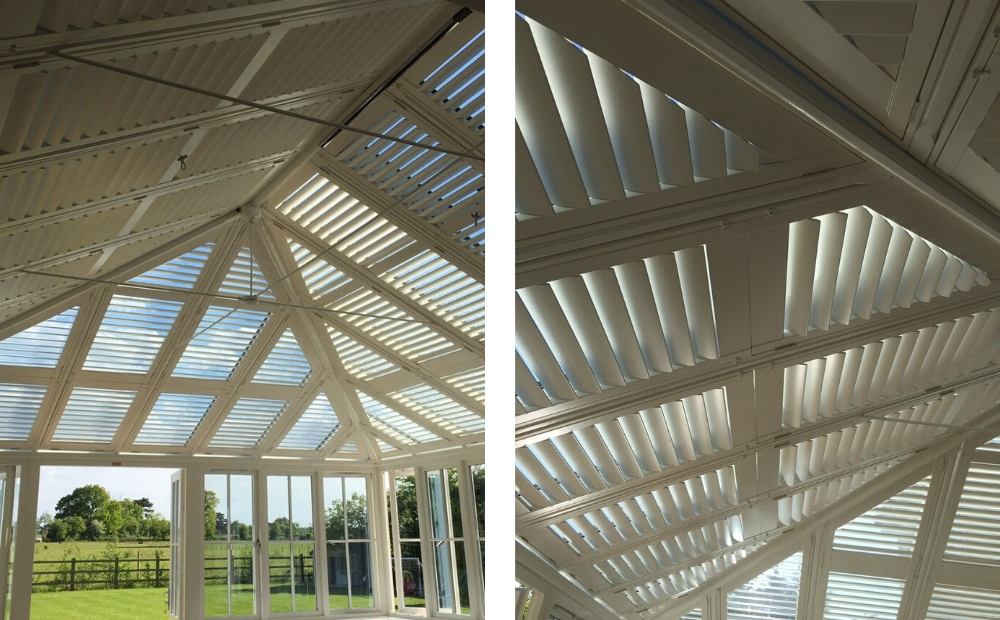 At Shutterly Fabulous, we believe you should enjoy your conservatory no matter the season, with shutters key to regulating the temperature. In the colder months, they act as an insulator to ensure your conservatory stays warm and snug. Then when summer rolls around, you can rotate the slats, either flooding the room with sunlight or keeping a cool glow.
Don't worry about keeping up appearances as the UV protected coating will ensure the paint doesn't fade. Although the bonus of giving that much-desired layer of privacy will mean you can forget you have neighbours entirely! With our tips on how to decorate your conservatory, you'll have the perfect room to entertain or relax in. Find your colour palette, source the right furniture and add some complementary accessories for the perfect design. Finish up by adding plantation shutters to get the conservatory you've always dreamed of in no time. Read more about how conservatory shutters work in the summer here.