When thinking of unfinished wood, there's a word that springs to mind: Biophilia – meaning a love of life or living things. According to many design gurus it's going to have an increasing influence on interior design and architecture. And why? Because we feel better when we're surrounded by nature and any space that doesn't offer some element of the outside world will make our senses feel deprived.
Even when relaxing, our bodies want to feel alive, to feel connected to the living world, so it's no surprise that biophilia as a buzzword is on the rise, and that many more of us are going to incorporate a natural look into our homes.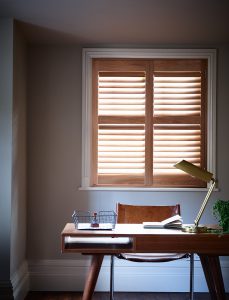 Kind to the environment
Studies show that the baby boomer generation are more likely to buy cheap, disposable furniture, valuing affordability over resilience. For a generation that's hampered with overflowing landfills, this makes little long-term sense. The benefits of natural products like unfinished wood are obvious – clean, durable and kind to Mother Earth.
In response to such short termism, Natural organic materials such as stone and plant life are increasingly finding their way into our domestic environments, and so it follows that wood and natural light will do the same. Our classic plantation shutters bring the last two elements home whilst adding much more besides. First though, let's look into the benefits of utilising unfinished wood.
Hit the floor with unfinished wood

Image credit: The New & Reclaimed Flooring Co
Unfinished wood flooring is a popular interior design choice with people who like to keep wood in its natural state. It's a very flexible option too because it's raw wood, and therefore offers a blank canvas to work from.
Unfinished wood brings a welcome sense of the rustic into the home, and when we think of the countryside we tend to relax. Which is what being in the home is all about! You can add your own protective finish once it's installed, whilst keeping a pure, rural look, which subtle finishes will help achieve.
A vividly coloured rug works a treat on a pale wood floor and as most colours on the spectrum complement light wood, you have plenty of combinations to play with. l
Unfinished wood furniture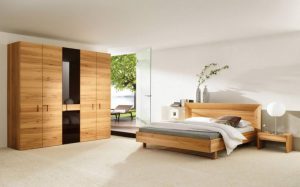 Raw wood furniture needn't just be functional, in fact it can be used in very stylish ways as an alternative to varnished wood or gloss finishes. Even a small item of furniture like a chair or stool can make a noticeable improvement to a room, adding a warm, comforting feeling. It can also be used decoratively, changing the shape and feel of a room's space with mood-enhancing contours, accentuated by complementary lighting.
Mixing wood
Another great feature about unfinished wood is it contrasts fantastically with other wood types. So, if you want to bring some diversity and add darker woods to your raw materials, you could choose combinations of mahogany and walnut, beech and ash or maple and oak.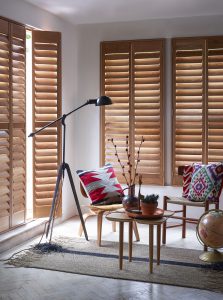 Unfinished wood has a timeless appeal and matches particularly well with our shutters. Our range of classic shutters suits most interiors and exteriors, and our Premium Elm Wood range is ideal to accompany raw wood furnishings. Fashioned from only the finest timber, it gives a finish that's second to none.
Paints and wood stains for shutters
By choosing the deep, sweeping grain of Elm, you're treating your windows to the ultimate in natural wood shutter elegance. Our Premium Elm shutters are made from a luxurious timber with a pure wood effect that's best emphasised with a rich stained finish, of which we offer a range of refined tones.

The classic wood stain range from Shutterly Fabulous
These shutters, with their diverse, deep grains, give you a rustic yet sophisticated finish, that will turn any window or door into a practical, eye-catching feature of your home, attracting envious glances from urban or countryside-dwelling neighbours alike!
If you'd like to talk to one of our plantation shutter experts about wood stains, paints or booking an appointment, then call us on 0800 9700 800