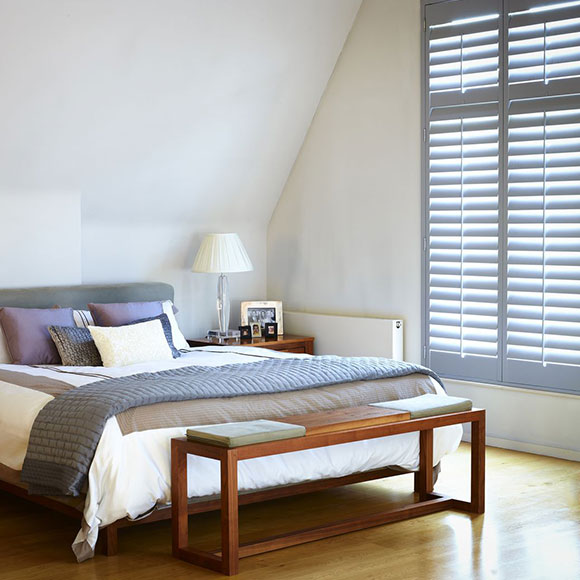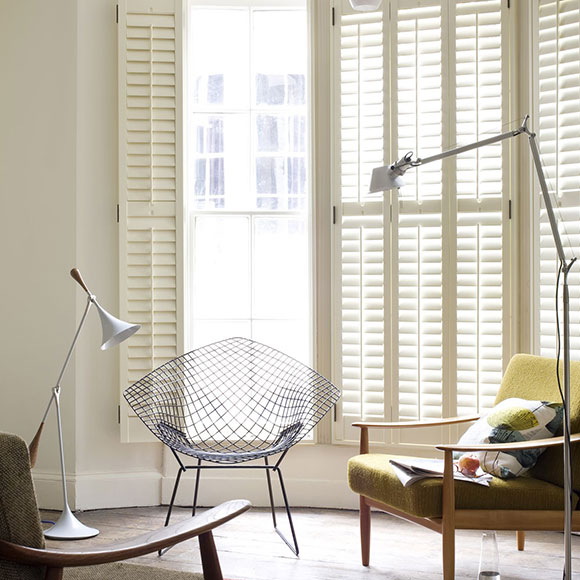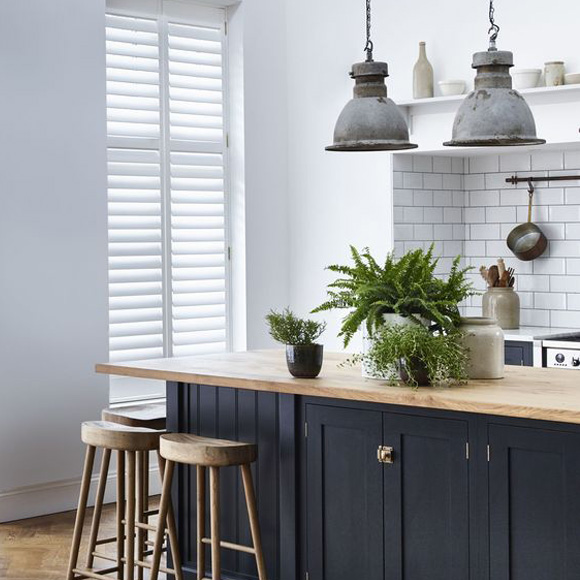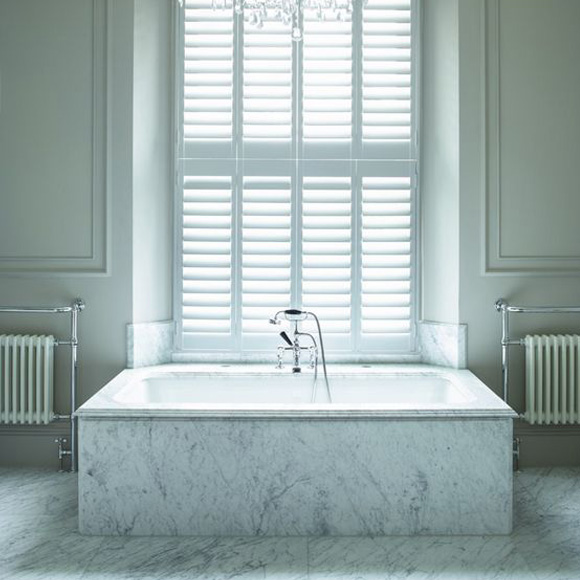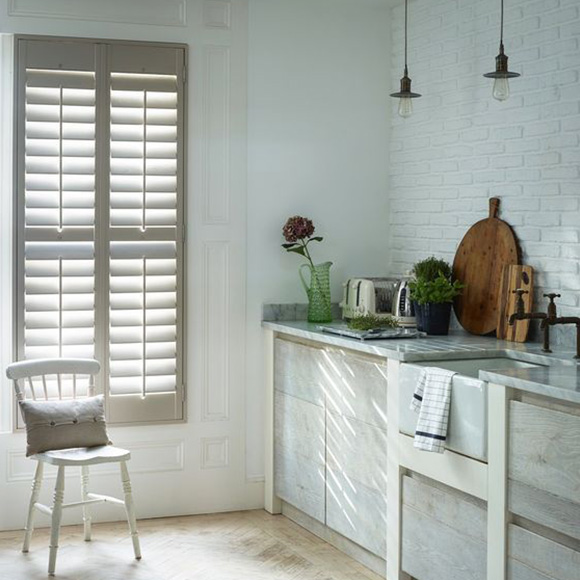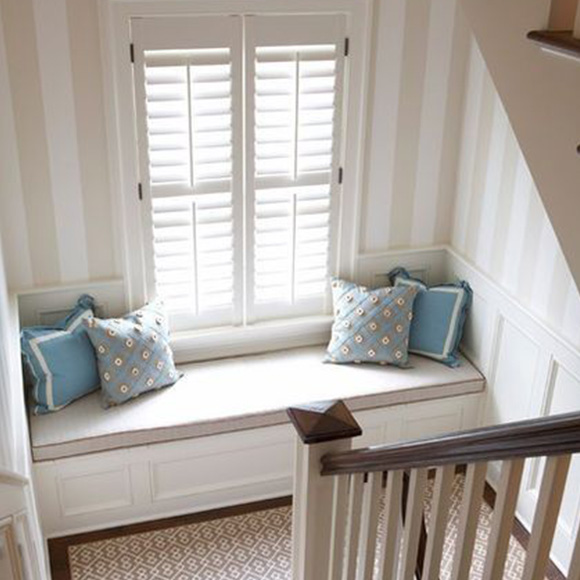 It's no surprise that our full height shutters are one of our most sought-after styles, given the versatility and sophistication they bring to any window area.
 Practical for most windows
Full height shutters are window coverings that measure the full length of your window. Fitted as either a single louvred panel that can open and close on one or two hinges like a door, or as a concertina-effect which works best on large window or door areas, they're our most popular shutter style, and for good reason.
Our full height shutters can be crafted with or without a mid-rail in place, giving you the option to have one half open and one closed for that extra level of flexibility and light control. The mid rail provides structural benefits to your shutters, acting as a central support for larger panel designs. However, some windows are better suited to a 'hidden split', without the mid-rail.
Looking for complete coverage of your window? Then full height shutters are the ideal choice. Popular in living spaces and bedrooms, full height shutters allow for privacy and darkness when the slats are down, whilst opening them up allows natural light to stream in (without your home being in full view from the outside world).
Louvred full height shutters are a fabulous choice for those who enjoy a cosy, intimate atmosphere in the evening and a bright, airy feel during the day. With the slats closed, minimal light comes through, making them well suited to bedrooms. That said, the option to have one half of the panel open and the other closed makes for ultimate privacy during the day: perfect for living and dining spaces.
Our full height shutters are designed for maximum impact on small, medium and large windows.
For small windows less than 1m2, typically seen in bathrooms, full height shutters are advised. Fitting shutters that are shorter (like café style shutters) or split (like tier-on-tier shutters) look aesthetically out of place.
For medium-sized windows, opt for simple yet effective singular panels that cover the glass from top to bottom.
For larger windows, we'd recommend fitting a mid-rail, which adds an extra level of structural support to a full height shutter, reducing the risk of warping and guaranteeing a fitting that's durable and long-lasting. Not only this, but mid-rails also allow for more versatility, as each half can be opened and closed independently of one another.

Step 1 Get the Shutterly ball rolling
Hit the book appointment button below and fill out the simple form. A member of the team will then be in touch to confirm the date and time of your free appointment with one of our shutter specialists.

Step 2 Free design consultation
A shutter specialist will visit you free of charge to talk you through your options, measure up, answer your questions and finalise your quote.

Step 3 Expert installation
We'll arrange a date and time for your shutters to be fitted by a professional carpenter who'll leave you with a care kit to keep them in prime condition.
Material and colour options for your full height shutters
We offer a range of material choices for your full height shutters to suit your home aesthetic and budget. Our range includes our Painted hardwood, which is our most affordable hardwood option. Affordable doesn't mean compromise, though, as this material has proven a sturdy and durable option for any standard window fitting.
Our Painted Hardwood is an excellent choice for full height shutters, offering a balance between a subtle, sophisticated finish with a sturdy, reliable hold. Similarly, our Stained Hardwood is also crafted from the finest Paulownia timber, giving a finish that's second to none.
Read more
If you're looking to fit our full height shutters in a room with high-moisture content, such as the bathroom, then our Polyvinyl Waterproof Finish is recommended to withstand regular contact with water and condensation.
When it comes to colour options for your full height shutters, we offer a range of shades across each material. Our Painted Hardwood shutters come in eight variations of neural whites, including vivid white and grey white. Whilst our Stained Hardwood shutters off the alternative pallet of finishes to match your flooring and furniture at home, such as natural and Walnut.
We also offer a custom colour service on the Painted Harwood and Polyvinyl Waterproof ranges at an additional 10%. It's ideal if you'd like to achieve a colour match to high street paints that may feature elsewhere in your home.
Read less
Book an appointment today, and one of our friendly team will be in touch.
Browse our latest information and inspiration for full height shutters