Choosing the perfect style of shutters for the windows in your home doesn't have to be overwhelming. It can feel like it's a lot to take in at first, but we're here to help break things down and make sense of everything. If you still have any questions, get in touch to schedule an in-home consultation with one of our experts!
A key factor in choosing which style of shutters to choose for your windows comes down to the size of the window itself. The shape of the window plays a big role, too. While we can install any style of our shutters to any windows that you have, we find that it's helpful to use the following guidelines as a starting point. Matching the size and style of window with the best fitting style of shutter will ensure your home looks truly fabulous!
Wooden Shutters for Interior Bay Windows
The magic of our shutters is that we can manufacture and design any style to fit each window, so there's no rules written in stone that things have to be a specific way. Our shutter specialists will consult with you and explain all the different choices you have. Here are some bay window decorating ideas to get you started.
Shutters for Box Bay Windows
Box bay windows can bring a lot of extra light into your home, and plantation shutters are an excellent fit for this style. Since plantation shutters, are also designed to help optimize light, it's a match made in heaven! Sometimes, you don't want a lot of light, and it's quick and easy to make those adjustments when you install plantation-style shutters in your box bay windows.
Shutters for Curved and Angled Bay Windows
Just like with box bay windows, plantation shutters are also an excellent option for curved bay window configurations. Rest assured, we can show you how everything will look in similar homes to yours, and we will measure your bay window precisely so that you'll get a perfect fit, regardless of which style you choose.
Cafe Style Shutters for Bay Windows
Cafe style bay window shutters are a great look for curved bay windows, as they're generally wider than they are tall, and will provide privacy for street-level rooms.
Book a free appointment today, and one of our shutter consultants can visit your home and advise you on the best style for your bay windows.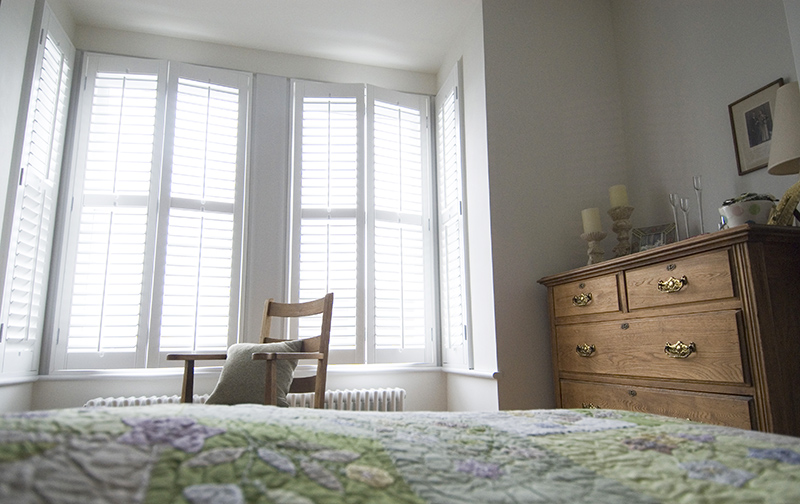 Bi fold shutters for Bay Windows
If you're worried about shutters taking up a lot of room in your bay window, discuss the option of bi-fold shutters with your consultant. Bi-fold shutters are where two shutter panels are hinged together and can fold back neatly. These shutters even have magnet plates in the panels to ensure they close securely.
Solid Shutters for Bay Windows
If your bay windows are in your bedroom, then this is a good opportunity to use solid shutters. Solid shutters on bay windows do the best job of blocking out the light, and they offer complete privacy. Even though these solid hardwood shutters block out the light, they can still be opened up to let in the light when you want to let a little sunshine in. Solid bay window shutters also provide a traditional aesthetic that complement period properties perfectly.
Shutters for Small Windows
If you have small windows in your home, then full height shutters make a great fit. Full height shutters cover the entire height of your window, as the name suggests. Rather than having multiple panels stacked, they are tall enough to cover the length of your window and provide a streamline and fuss-free look.
Shutters for Modern/UPVC Windows
Windows in modern properties are usually wider than they are tall, so tier-on-tier shutters aren't the best option in this case. We would recommend going with full height shutters instead, with a larger slat size and hidden rod, these modern shutters will turn your home from fine, to fabulous!
Shutter on Patio or French Doors
If you're lucky enough to have French or Patio doors, then this is another prime location to install shutters. Not only do shutters on doors look great, but they also take up less room compared to their blind and curtain counterparts. Shutters on doors also provide you with complete control over the light that enters your rooms, I don't think curtains can say the same!
Shutters on Sash Style Windows
If you have sash style windows in your home, then café style shutters make a great fit. Café style shutters cover the lower portion of the window, and leave the top section uncovered. This works nicely in cafés, as the name suggests, since you still get a view of the outside, but with a little extra privacy.
Tier on tier shutters work very nicely with the design of a sash window, as the rails in the shutters can line up seamlessly with the rails in your sash windows. Our shutter consultants can advise you on the best design for your windows, as they all have years of experience in designing and installing shutters on sash windows.
Shutters on Special Shaped Windows
There are other shapes and styles of windows that don't necessarily fit into any of the above categories, but don't worry, we can make shutters for those, too! From hexagon windows, arches, circular windows, triangles, and anything else – put us to the test!
We love the challenge that comes with crafting the perfect set of shutters for every window in your home. We're confident that we'll be able to come up with a custom solution for every shape of window. Read more about our special shaped shutters here.
We'll Help You Choose The Perfect Shutters For Your Windows
Our in-home consultants have year of experience speaking to homeowners about their shutters, and can explain the pros and cons of every single type of shutter style you could dream of. If you have an idea of what you want already, we'll help you finalize the details. If you're still unsure, leave it to us, after all- we're the experts!
From curved bay shutters, to windows large and small – we're looking forward to working our magic in your home!