We've been in this business for a long time, so it's only natural that we've shuttered every possible space. From bays to bows, casements to conservatories, if you can see out of it, we've done it, and shutter doors are no different. But why should you opt for door shutters vs blinds or curtains? That's a great question, and it's one that we're more than happy to answer. So, let's get right to it.
The Benefits of Door Shutters
We could spend all day talking about why we love shutter doors so much, but to save you a bit of time, we'll keep it brief. Firstly, with their movable slats, shutters offer levels of light management that's unrivalled. And because you can open or close the slats to your liking, you'll be able to control your privacy with ease.
They're also fantastic insulators, but we don't expect you to take our word for it. Luckily, Historic England did the work for us with their study on the performance of traditional window coverings. They found that a set of well-fitting shutters could help reduce heat losses through timber sash windows by over 60%. Not only does this keep you warmer during the colder months, but it'll save you on energy bills too.
Interior door shutters are super versatile too, coming in a variety of different styles, colours, and finishes. Whether it's the simplicity of full height, the control of tier-on-tier, or the sophistication of café style shutters, you're sure to find the right design for your doors. We could go on of course, but we don't want to keep you for too long.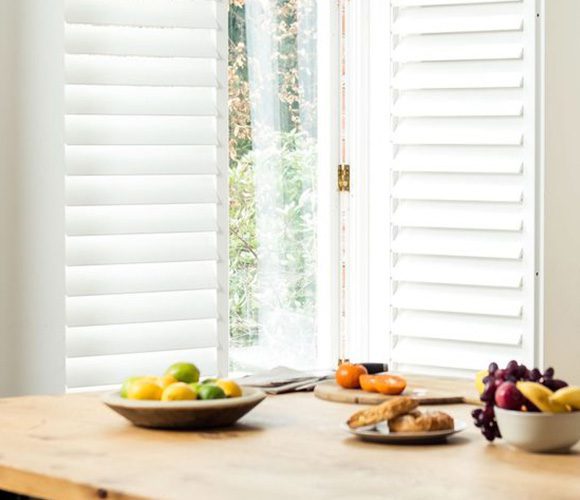 Door Shutters vs Blinds and Curtains
We should say from the off that there is nothing wrong with a nice set of blinds or curtains. They're classics for a reason. That being said, made-to-measure shutters have some clear advantages over their more well-known counterparts. Firstly, shutter doors are much easier to maintain and collect far less dust. In fact, cleaning is as simple as a quick once over with a slightly damp cloth, and then once again with a dry cloth. And they don't even need cleaning very often. Once every few months is fine.
Secondly, because they're a semi-permanent fixture that will last for many years, shutters will add value to your home. So, if it ever does come time to sell, you'll be glad of your lovely shutters. Curtains and blinds, on the other hand, will last nowhere near as long as our hardwearing shutter doors.
Thirdly, fitting curtains or blinds to doors can be a real headache, especially for patio and French doors. Patio door shutters are great because they can be placed on tracks to follow the same line as your doors. Similarly, French door shutters are super convenient because they can be attached directly onto the door, result in a slick and clean finish without taking up too much space.
If you still have questions about shutter doors, then we'd love to hear from you. Ready for a free on-site appointment? Request your survey today and let us show you what sets shutters apart from the competition.