What are Shutter Frames?
Frames are the brackets that attach to your window recess and your shutters hinge. Plantation shutters without a frame are not possible because the frame helps both support the weight of the panels and to make sure they are aligned. There are also different shutter frame styles, but more on that later.
Don't worry if you're unsure about the different frame types; that's where our Shutter Specialists come in. With their years of experience, they're experts in designing the perfect shutters for all types of windows.
Why Frames Matter
While not always obvious to the naked eye, most windows are not perfectly level or square. Without a frame, the panels may not hang properly. This could mean having to sand them down or alter them inside the window recess to create a level surface.
However, because a shutter frame is a perfect square (or rectangle) with pre-installed hinges, they guarantee your shutter panels will align perfectly. Frames also have a metal plate that is aligned with a magnet in the back of the shutter panel. This helps keep the shutters closed.
Furthermore, with a light block extending behind the shutter panels, the frames work to reduce the amount of light coming into the room. Once installed, the outside edge of the frame is finished using decorator's caulk. This gives the shutters a sleek finish.
What Are The Different Shutter Frame Types?
There are three main shutter frame styles: Z-frame shutters, L-frames, and Deco frames.
The subtle, square-shaped L-frames are by far the most common. They are ideal for windows that have an already existing trim, can be used for both inside and outside mount installations, and can extend the depth of the casing in windows that are not deep enough for slats to open and close.
Designed for inside mount only, Z-frames are ideal for windows that do not have an existing trim, or should you want a more polished finish. And because most windows are not perfectly angled, Z-frames are fantastic for hiding gaps between the plantation shutter frames and your window recess. With this kind of frame, our expert Shutter Specialists can use the smallest inside measurement possible to ensure a flush finish. Z-frames are also used frequently for both special shape windows – think arches, triangles etc. – and to cover rounded bullnose edges.
Deco Frames are used for outside mount installation only. Like Z-frames, Decos have a decorative look and work to hide any variance in your window's recess. They also extend the depth of the recess, moving the shutters away from the glass. This means that you aren't going to be restricted to the smallest slat size – even with a shallow recess.
Are Frames Always Four-Sided?
Actually, no. Shutters can come in both three-sided and four-sided frames. While we would almost always go with four sides – it offers the greatest level of stability and support – there are some exceptions to this rule of thumb:
Café style shutters

This style covers the lower section of the window and generally benefits from having only a left, bottom, and right frame piece. For broader windows, we sometimes select a four-sided frame.

Patio Doors

A bottom frame piece on patio doors can be a trip hazard, hence the need for a three-sides frame.

Marble or Granite sills

Most people do not want to drill into their lovely, expensive sills, which is why we recommend a left, top, and right frame in these instances.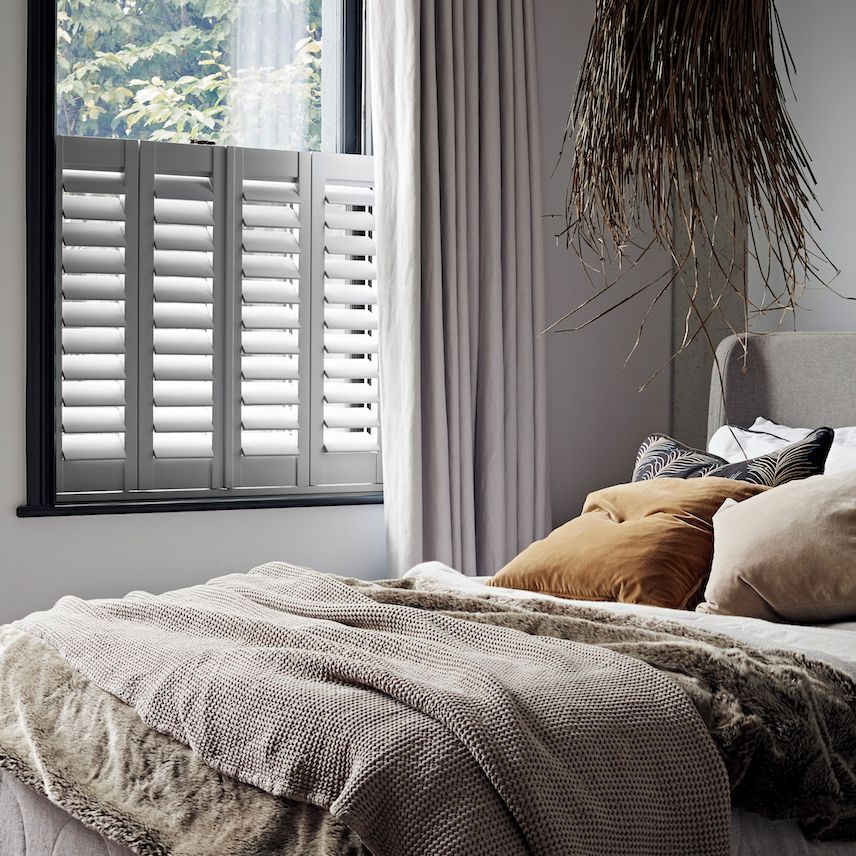 What about my tilt-and-turn windows?
If your windows open inwards, an inside mount shutter frame will most likely mean you cannot open your windows as normal. While some customers do opt for this because of the frame's appearance, it is worth bearing in mind that the functionality of your windows will be affected.
Another option is to go for the outside mount frame. This means the frame sits on the wall outside of your recess and you will retain the inwards opening tilt-and-turn function.

What Materials Are Shutter Frames Made From?
At Shutterly Fabulous, all our shutters – including the frames – are made from a solid hardwood known as Paulownia. Lightweight, hardwearing, and easy to work with, it is a high-quality wood, ideal for making luxury shutters at an affordable price. The only exception to this would be our waterproof polyvinyl shutters, but we only recommend these in areas of extreme moisture or damp.
I Still Have Questions About Shutter Frames
No problem. Our expert Shutter Specialists will be more than happy to go through all things shutters during an on-site consultation – including shutter frame styles. And remember, they're experts for a reason.
So, if you were thinking about DIYing your shutters, why not save yourself the time and hassle? Sit back, relax, and let us do all the hard work for you.
To request a visit, simply click on the "Book appointment" button at the top right of our website. One of our friendly diary team will then be in touch to get you penciled in.
Alternatively, feel free to send an email into hello@shutterlyfabulous.com.