How to achieve the perfect yellow and grey living room design
Despite being one of the most uplifting colours for a home, we think yellow isn't used often enough in interior design. When this bright, cheerful colour is paired with a neutral like grey, it transforms a room into a spring oasis – making what may have felt like a dull space initially, feel like a more cheerful room to relax in.
Adopting a yellow and grey colour scheme in a living room is a great approach for creating a calm but vibrant living space. To avoid using too much yellow and risk making the living room look 'primary', it's all about getting the balance right with yellow and grey design, and in this blog post, we're sharing tips to achieve the perfect grey-yellow look.
Getting the balance of yellow and grey right in your living room
There are many yellow hues you can choose from that will all create a different feel in your space; muted, softer yellows will bring a subtle, calmer look, whereas bright sunshine yellow will bring energy to the room. Regardless of what hue of yellow you opt to work with for your yellow and grey living room design, it's important not to bring too much yellow and not enough grey to the design in order to avoid the space appearing small, closed and claustrophobic. Try using grey as your dominant colour like on the walls, on painted furniture or rugs, and reserving yellow for accent touches like cushions, window dressing and artwork. You'll find this balance will let the colour sing in the room. If you're brave, we offer custom colour shutters in any shade of the spectrum. Yellow shutters will bring a focal point and brighten the room.
Which yellow is the right yellow?
As with all colours of the spectrum, there are multiple tones of yellow that will create a different look depending on what your preference is. Bright and lemon yellows are ideal for a fresh, modern look and work exceptionally well with most greys. If you want to achieve a look which is a little more understated and sophisticated then mustard or a Hunyadi yellow are the ideal choices and the perfect accompaniment with darker greys. A mustard yellow and grey colour scheme is ideal for a more mature taste in décor, while bright yellow has a youthful vibrancy and great for young families. Then there are paler yellows which carry a vintage feel. Pale yellows work superbly well in a traditional setting accompanied by wooden floors and large sash windows. Exploring various interior design brochures, fabric samples and looking at photos of yellow and grey colour schemes will ensure that you select the right choice for your yellow and grey design mission.

Pic credit: Orchid Furniture
How to balance colours
As we shared, being the brightest colour on the visible spectrum, yellow instantaneously injects a sense of vibrancy and life into any room. However, due to its naturally spirited nature, yellow should be used with caution – especially if you opt for a bright yellow over, for example, a darker mustard shade. Grey works exceptionally well with all yellows but you need to ensure that the balance is right. As a rule of thumb, in a yellow and grey design, grey should be the dominant colour and the yellow should be used with caution to avoid the space appearing too garish. Aim for about 10 to 15 per cent of surface areas in the room to be yellow. This can include shutters, walls, ornaments and furnishings alike. This might not sound like a significant amount but yellow's dominant presence doesn't go unnoticed, even when used exceptionally sparingly.
If you're looking to make a statement
Yellow is a powerful colour to make a statement with. Think yellow sofa, yellow curtains, yellow shutters or a yellow armchair and you'll bring a lot of character to a room in one hit. If you want to decorate part of your room in a standout yellow like this then we recommend opting for a more understated, complimentary grey for the rest of the room. Or how about the other way around? Paint a feature wall in a glorious yellow, and accompany this with grey accessories and grey shutters to bring balance to the room.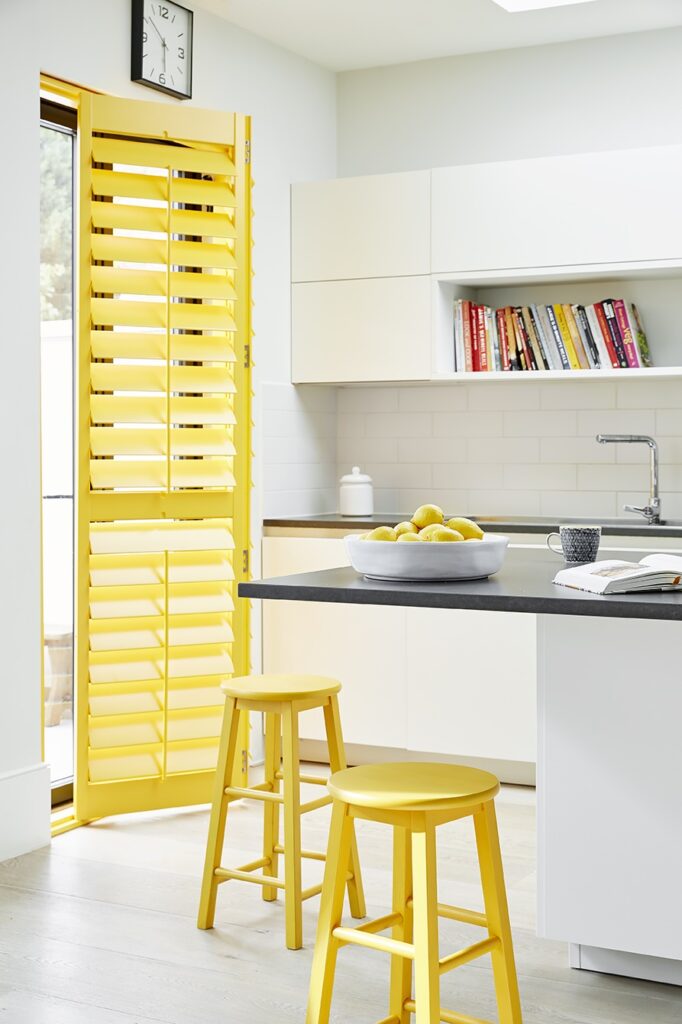 Inviting additional colours
When designing a room in yellow and grey, these two colours don't have to be the exclusive shades you use in your room. Many colours compliment yellow and grey and can create a more subtle overall vibe. Shades of taupe work exceptionally well and add a sense of old-school sophistication. For a more contemporary feel, blues can add a vibrant touch. For a super modern feel, blues and pinks can be used in conjunction with yellow and grey for a pop art inspired look that exhibits a modern, fun and energetic character.
While working with yellow in interior design can seem like a frightful foray into the world of the unknown, by following these handy tips you too can achieve a stunning design that is sure to impress.
Are you ready to make a splash with colour? Download our brochure for interior inspiration and see how shutters can transform your home.