When making any changes or additions to your home it is always best practice to ensure that not only are you sticking to your budget, but that you're getting value for your money too. That means price, longevity, efficiency, and style should all be considered in equal measure when it comes to your new window dressings. Luckily, modern shutters perform exceptionally well across all these metrics. So, when asking how much plantation shutters cost, you should also be asking…
Are Window Shutters a Good Investment?
We know what you're thinking: plantation shutters cost more than curtains and blinds. While this may be true, shutters are a totally different proposition to either of these. Not only are shutters composed of the finest quality hardwood, but they are also made and measured precisely to the dimensions of your windows. And apart from being incredibly hard wearing, they're timeless. How so? Let's say, for example, you opt for the classic white shutters that so many of our customers love. By going for such an enduring style, you can rest assured that your windows will fit in with any new décor you implement in the years to come. Essentially, your windows will be future proof!
Do Plantation Shutters Add Value to the Home?
Shutters add class and style to any home: that's a given. But did you know that they can add value to your home as well? Because they are a semi-permanent feature, shutters will remain intact for quite some time (more on that soon), meaning that – unlike curtains and blinds – they can drive up the value of your home if it comes time to sell.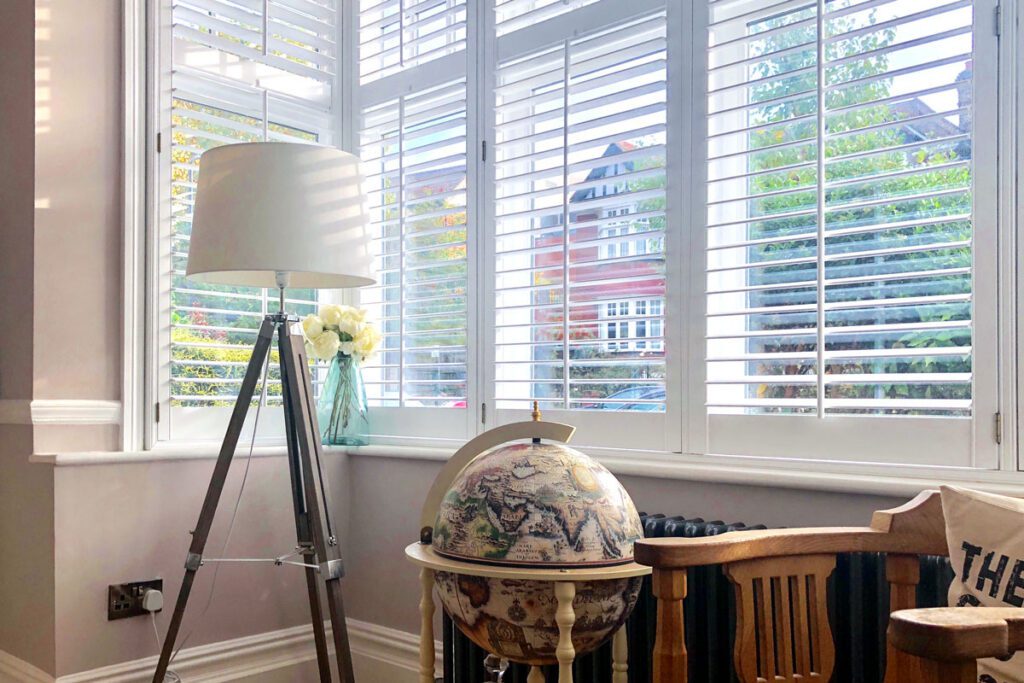 How Long Do Plantation Shutters Last?
At Shutterly Fabulous, we promise every single customer a fully comprehensive 10-year warranty, so you can enjoy your shutters with full peace of mind. And with a dedicated aftercare team to deal with any issues that may arise, you can be sure that your shutters are in the best of hands. But what about after these 5 years? Well, luckily our shutters are built to last. With the proper maintenance they will last 10, 15, 20 years…or more! If that's not a sound investment, then we don't know what is.
Are Plantation Shutters Energy Efficient?
One of the lesser talked about aspects of modern shutters is their energy efficiency. Now more than ever, energy costs are at the forefront of everyone's mind. Therefore, you need a window dressing that helps to regulate your home's temperature. Shutters are ideal for this. Being fitted flush to your window recess means that very little air escapes when they are closed. This is great for retaining warmth and excluding drafts in the colder months, while their light reflecting properties mean you won't have to crank up the A/C when summertime comes around.
How Much Do Shutters Cost?
The price of shutters is dependent on a few factors. The first thing to note is that we price based on the exact size of your windows, so the larger the window, the higher the cost. Should you decide on our solid shutters, these will incur a 10% surcharge.
Most of our colours come as standard, although going for our stained finishes or opting for a custom colour will bump up the price slightly, but this is something your Shutter Specialist would discuss with you on the day of your appointment.
Other options which have an impact on price are special shaped and tracked shutters. These are very rarely necessary, but this is something our Shutter Specialist would discuss with you on the day of an appointment.
Oh, and did we mention our price beat promise? If you find a cheaper like-for-like quote, not only will we match it – we'll beat it. And we promise to do so even if your quote is for cheaper and inferior MDF products. What more could you ask for?
Interested in getting some modern shutters of your own? Book an appointment today for an on-site consultation or use our online estimator for an approximate price.