Whether you live in a small or large property there is always the question of how to best use the space that you have.
Here we look at unique and elegant ways to utilise the space in a room by incorporating a bay window with seating. And a perfect way to enhance these is with plantation shutters.
Why opt for a bay window seat?
A bay window seat provides the perfect space to make use of the natural light that is exposed through the window area. Compared to ordinary flat windows, bay windows project outwards and because of this, more depth for a cushioned seating area is created.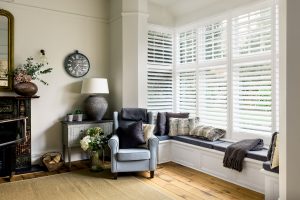 In addition to the bay window's depth, a wider angle is provided on either side of the window that offers a better view. Having bay window shutters will also allow more space for seating in comparison to curtains that can crowd the seating area. Shutters give you better optimisation of light and privacy control – whether you're opening your slats in the morning or blocking out the streetlights at night.
A bay window seat with shutters can produce the perfect arrangement of natural light, privacy and comfort.
How do I style a bay window seating area?
When thinking of the general style of your bay window seating area it's firstly important to consider what the room in question is used for.
When considering lounges or living rooms, these are spaces best used to socialise, relax and entertain family and friends. It's useful to incorporate the purpose of the room into the overall design and style of the seating zone.
To create a comfortable setting for rooms like these that are regularly used for socialising, you can incorporate a larger seating platform to allow room for more than one person. In addition, larger cushions can be added for a more comfortable seated area along with a larger coffee table to accompany it. For the larger bay window add a single seated sofa on either side to create a more social corner to the room. It's good to talk!
Bedroom bay windows with seating
Bedrooms, being quieter rooms used for rest, relaxation and recuperation, are ideal places to create a seated area for lounging or reading. As a bay seating area is a great place for natural light, it creates the perfect reading space if you're lucky enough to have a bay window in the bedroom.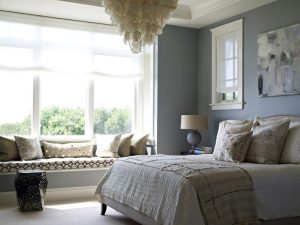 It's also a perfect design opportunity to create a bay window seat with storage. For the avid reader, the storage around the seating area can be used as a small library. This can be done by adding open shelving units around the window or by simply building an open storage box under the seat to showcase a collection of books. The bedroom bay window option is a versatile idea that could even be used to showcase other personal items such as vinyl. You can have fun with your seated bedroom bay window storage area by recreating its look with your other bay windows and tempering them to suit each individual room.
What dressing works best for bay window seating areas?
When thinking about bay window seating areas the ideal environment would be comfortable and private. Choosing plantation shutters enhances the bay window by taking advantage of its depth, while still complementing the foundation of the window. They smarten the window's look without appearing to reduce its dimensions like other dressings can do.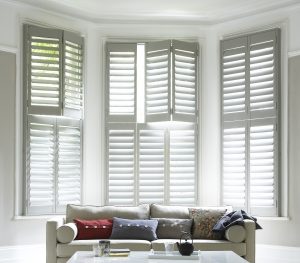 The choice of style of the shutter can depend on the amount of natural light that usually comes through the room. If you have a window that has a lot of natural light you may want to choose café style shutters that will provide privacy for the bottom half of the window and an open top that brings in natural light.
On the other hand, you could choose to go for full height shutters that provide full privacy at the window but still afford the opportunity for natural light to enter the room.
If you're thinking of enhancing the space in your home with some classic, timeless shutters, then speak to one of our experts on 0800 970 0800