When choosing shutters, many of our customers opt for neutral tones and natural wood. These colours can be selected from our standard colour options, and there's no denying that they work beautifully, but occasionally someone rings up asking for something a bit different. And that makes our ears prick up!
When Sue Merry moved into her new-build home near Horsham, she decided to order colourful shutters from us – with a different colour for each window! Intrigued, we paid Sue a visit to see her shutters being installed.
Hi Sue, thanks for inviting us into your brand-new home for your shutter installation. They look amazing! You've opted for a lovely shade of pale teal for your patio window full height shutters. What made you choose this colour?
SUE: I was looking at some very bold colours initially. Before I retired, I was a primary school teacher and having been surrounded by loud designs over the years I naturally gravitate towards quite a bright look. But when I showed a friend my original choice, she said it was too childish!
So I toned it down a bit and thought, "Maybe I could match the colour to some of my existing furniture." I have some lampshades with matching cushions that feature seagulls on a lovely teal background. They really complement my Egyptian Cotton walls so I thought the teal could work.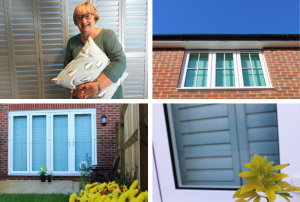 Sue Merry with her pale teal full height shutters. Top right, her bedroom shutters in Green Verditer.
It certainly does! You've really gone to town on colour, utilising our Custom Colour Matching service to make different choices for each window.
With the back bedroom red shutters I originally looked at a much gentler shade of pink, but in the end I went for a deeper shade called Leather, because I thought, "If I'm going to go for it, I might as well go all in!"
In the kitchen it was quite hard to find the yellow I was after, because some of them are very acidy and I quite fancied a kind of custard colour – which is very kitchen-appropriate!
For the front bedroom I have my favourite colour – which is Green Verditer (Little Greene) – but I couldn't have it in the lounge because it didn't go with the seagulls! I mean, if I was sensible, I'd choose one colour for the whole house. But why be sensible!?
I think choosing 4 different colours has been a reaction to my previous home, where bold red was very much a dominant colour throughout the whole house – and I really didn't want to be confined to just one colour this time.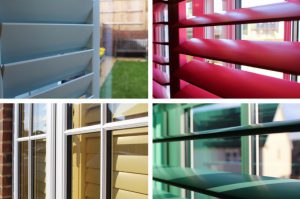 A colour for each window. Sue's bold choices pay off.
[/vc_column_text][/vc_column][/vc_row][vc_row][vc_column][dt_default_button link="url:https%3A%2F%2Fwww.shutterlyfabulous.com%2Fbook-appointment%2F|||" button_alignment="btn_center"]Book an appointment[/dt_default_button][ultimate_spacer height="20″ height_on_tabs="20″ height_on_tabs_portrait="20″ height_on_mob_landscape="20″ height_on_mob="20″][/vc_column][/vc_row][vc_row][vc_column][vc_column_text]
We're delighted you love your shutters. What made you choose Shutterly Fabulous?
What I liked about you guys first and foremost was your name, and when your consultant came round there was no hard sell involved whatsoever, which is an approach I prefer. I also like the fact that you don't sell blinds, curtains or whatnot, you're shutter specialists, so you really know what you're doing.
I did see a local company, but they were very dismissive of colour, which didn't go down well with me at all! They said I'd be much better off with something more neutral, but I really didn't want my shutters to be the colour of milky tea.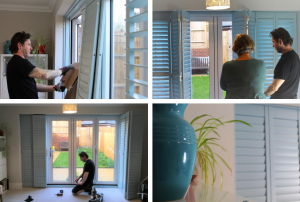 Sue with Marcin, her installer. The pale teal shutters perfectly complement her Egyptian Cotton walls.
Now that the shutters are installed, how do you think they look and feel?
I think the shutters look amazing! You could see as they were being fitted that they were going to be great. I'm very pleased with the colours I chose and they all reflect their own room perfectly.
The yellow in the kitchen – Citron 74 by Farrow & Ball – gets the morning sun and fills the room with light if the sun is shining. If it's a grey, miserable day, the sunny yellow is very cheerful to start the day with.
The deep pink in my bedroom makes it feel like a very personal and indulgent room, just mine, but the feel is still very modern and fun!
The turquoise green in the front bedroom is my favourite colour generally and they give the room a lovely calm, restful look. They also get the morning sun and look stunning.
The big pale blue/grey shutters at the back let in beautiful light and make the room very elegant. I can get lots of different diffused light coming in depending on the angle of the individual shutters.
I'm really glad I went for the split shutters which offer great variation, with the ability to change each room throughout the day.
I'd say the shutters really finish off the rooms properly; they're so neat and carefully fitted and take up far less space than curtains.
Time lapse video of Sue's living room shutters being installed.
What reaction have you had to them?
I've had a lot of friends waiting to see these 'famous' coloured shutters – they've been on the journey of listening to me decide on the different colours and why – and they've seen all my match pots and fabric swatches.
Right after installation, I had a 'drop in for donuts' day for everyone to come and see them. They were stunned and amazed by the effect and the difference the shutters made to each room. Everyone loved them all but were mostly taken by the big full length patio door shutters.
Obviously, they can be seen from outside and lots of the neighbours were very interested in what I'd done and there were a few 'I wish I'd been braver' comments from those with plain white shutters.
I'm so glad I went for the colours, they bring joy and make me smile, what more can you ask for?
Thanks for inviting us into your lovely home, Sue. Enjoy your shutters!
Fancy making a fabulous statement with your shutters? Our shutters are beautiful – we're all for showing them off in juicy colours.
You can speak to one of our shutter experts to discuss ideas or book an appointment here.