If you're at the stage of digging into the different shutter styles on offer, when it comes to plantation shutters, it's likely you're already converted due to the many benefits they can bring to the home. Whether it's their ability to control light, heat and noise, their timeless look and feel or their ability to act as a sleek and clean centrepiece to a room, they're an enduring and ever-popular choice for keen interior designers and homeowners for a very good reason.
Plantation shutters are diverse, coming not only in a plethora of colours and the choice between painted and natural wood grain, but in a range of styles, too, from cafe style to tier on tier, full height and solid designs. We're going to talk about full height or tier on tier shutters specifically – two styles with key similarities and contrasts.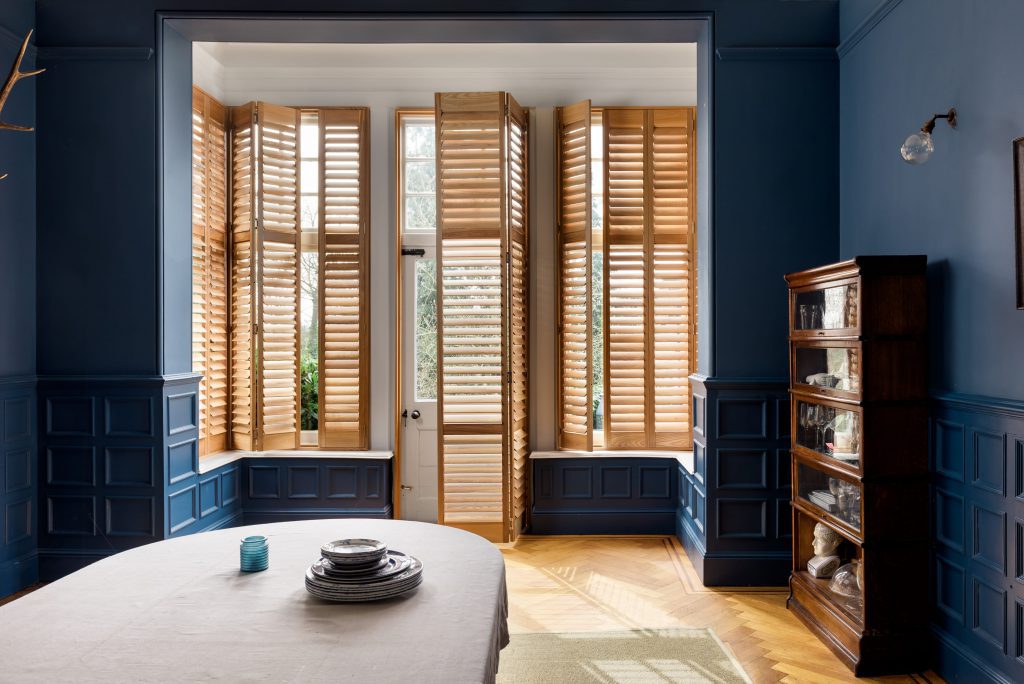 Why choose Full Height Shutters?
Before we guide you through the benefits, here's a reminder of the basics: full height shutters, as their name suggests, go all the way up a window. They're usually available as full-height bi-fold shutters, in which each vertical section will open as one. They're a brilliant choice for bay windows – always a reliable choice to pair with plantation shutters – and they're also effective in their simplicity. Furthermore, their symmetry will draw the eye and create beautiful clean lines.
If you're looking for tracked shutters, where the louvres move in unison across the whole side of the shutter, a full height shutter solution is the one for you. They'll effectively control heat and light, but bear in mind that for tall windows, you won't get the benefits of separate shutter systems for increased privacy at the top of your window.
Why choose Tier on Tier Shutters?
Tier on tier, by contrast, can also be separated vertically. That means that you can use them in a 'stable door' style, opening one section and keeping the other closed, granting you more control over light and heat.
Their louvres can also be controlled separately, so for those who seek privacy, you can keep the bottom half – that's closer to eye level – closed, and still let in light through the top half. They're incredibly versatile, and tend to suit particularly tall windows, where full height shutters may not quite reach. Aesthetically, tier on tier shutters can provide a more lived-in look, with the top and bottom half being more casually set apart from each other.
Which is right for you?
Both styles are among the most popular and timeless when it comes to plantation shutters, and, as much as they can suit differing objectives, it's also down to personal taste. The best way is to start browsing, and let your imagination run wild.
If you have any questions about shutters, our friendly team is on hand to help! Please call us for free on 0800 9700 800 or email hello@shutterlyfabulous.com. Ready to take the next step? Book your free home survey today.