More and more people are now opting for shutters on sliding doors within their homes. Open plan extensions with doors that span the entire wall is an interior goal for a lot of homeowners – ourselves included! These vast and impressive doors do not lend themselves to blinds or curtains, which is where shutters for doors come in.
We're here to tell you that there isn't a door or window we can't put shutters on, or one we can't make look fabulous.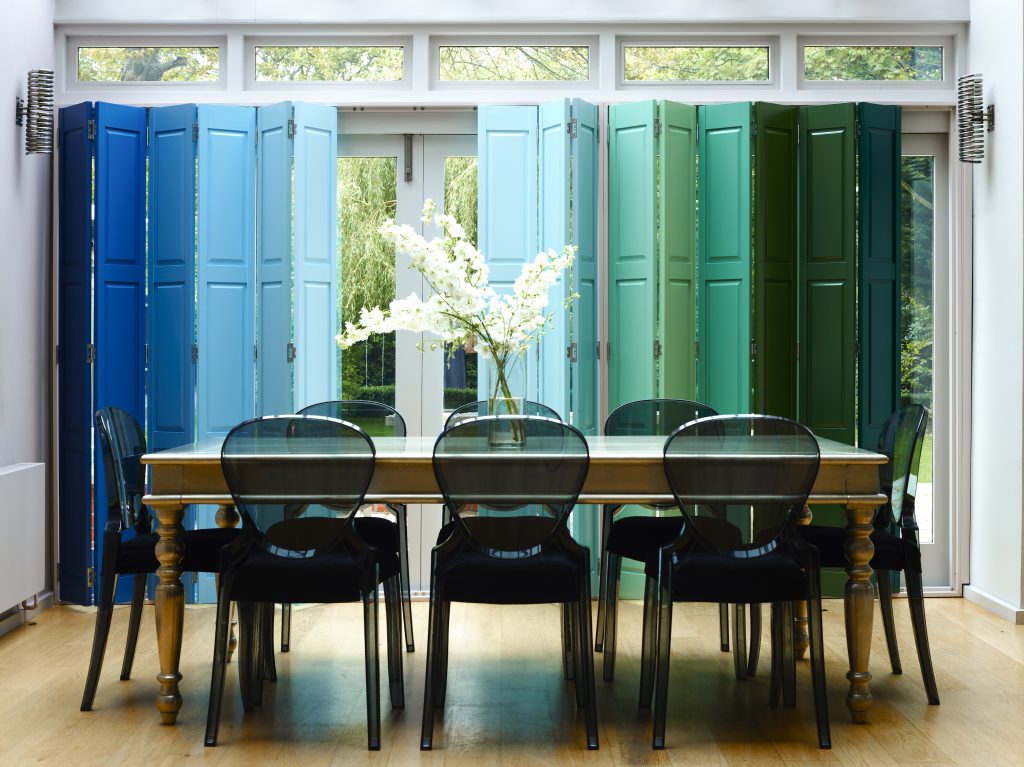 Full height solid shutters
Whether your doors open out to a patio, garden, balcony or another room – sliding door shutters are the perfect addition.
Sliding doors are usually made up of large panels of glass. This glass lets in light, heat and prying eyes! This is where shutters come in. Shutters on sliding doors offer complete privacy. The slats allow you full control over the light levels and the solid hardwood material keeps in the heat.
Shutters are so perfectly suited for sliding doors, we have 3 options available: Full height shutters, bi-fold track shutters and bypass track shutters.
Sliding doors with shutters on a track
Shutters for sliding doors are an ideal match. Our made-to-measure shutters can be designed to hang on a track system, which means the shutters can bi-fold to the side(s) or they can bypass to the side(s). Our shutter specialists will create a bespoke design for a bifold shutter door to best suit your sliding doors.
This track design offers a seamless transition in a wide variety of interior doors spaces and room dividers. Tracked shutters are perfectly suited for wide sliding doors and large windows where you don't want a bottom frame piece.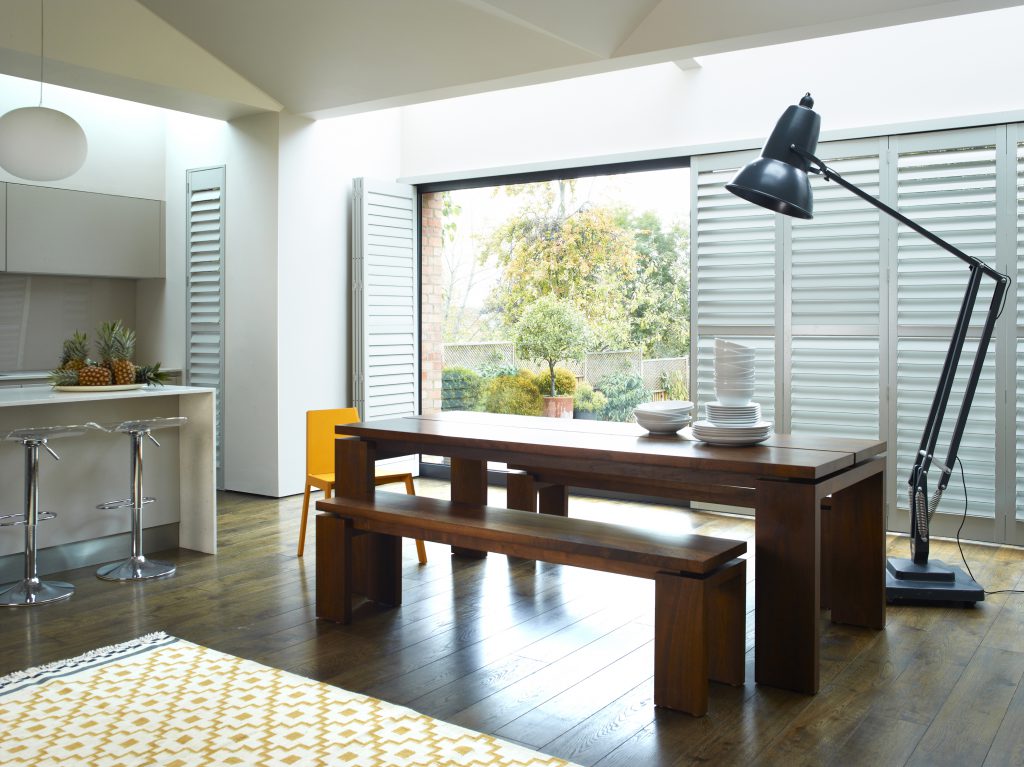 Bi-fold tracked shutters neatly stacked to the side.
Bi-folding sliding foor shutters 
These bifold shutter doors are concertina-style, which means you can push them back to the side of your sliding door and have them neatly stacked in front of each other. This allows your open-door space to be free from obstructions with the freedom to fold the panels back over the open door, so you can benefit from cool air, extra shade and added level of control. This flexibility of design is ideal if you have young children or pets that you want to benefit from the outdoor conditions without them running in or out.
Our shutter experts can discuss with you what you need from your shutters and create a design that is best suited to your exact needs.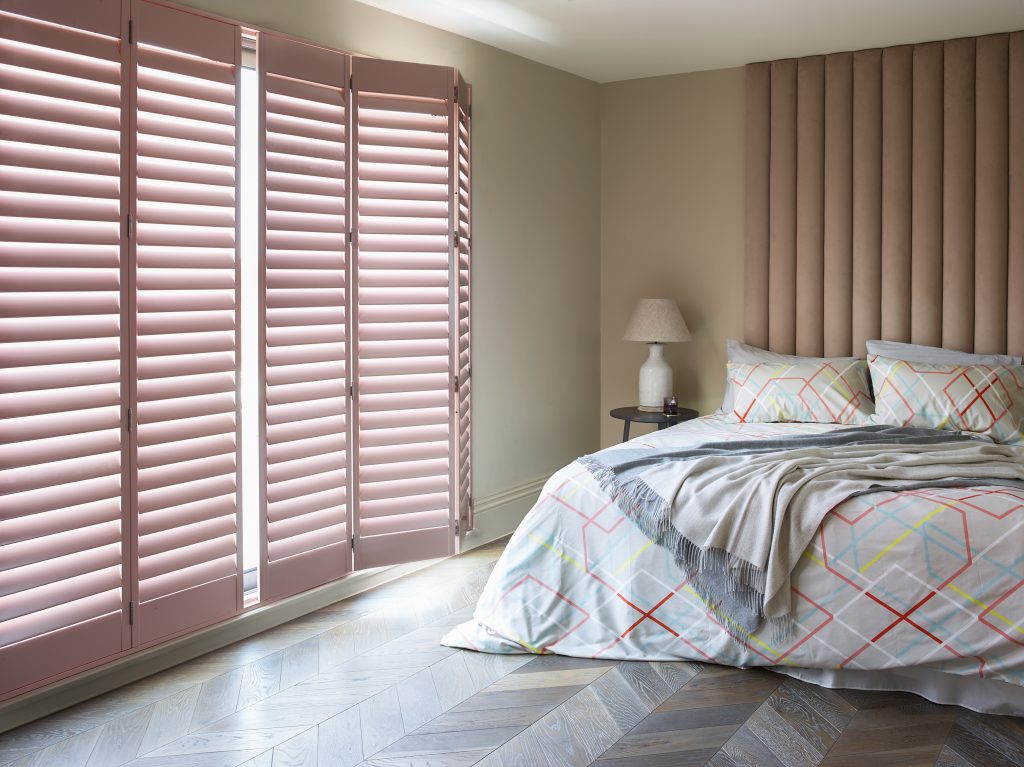 Bi-fold shutters
Bypass shutters for sliding doors
These shutters are also on a track, but instead of folding, the panels slide in front and behind of each other. These are a great option if you always want an element of door coverage. If you have a single sliding door, then this design is perfect as it will fall in line with your current door design seamlessly.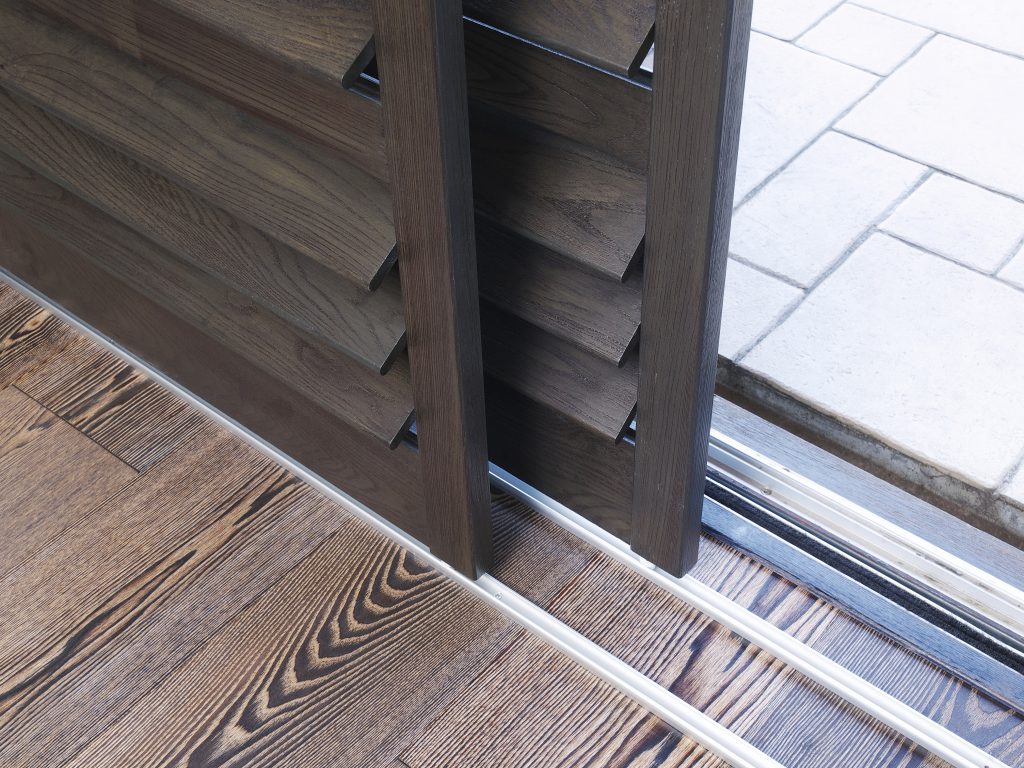 Bypass tracked shutters
Full height shutters for sliding doors
Our popular full-height shutters are also perfectly suited for your sliding doors. Like our shutters for windows, the panels would be held in a 3 or 4-sided frame.
The best thing about full height shutters for sliding doors is that they are crafted to fit your exact specifications and space, so can even fit unusual areas like doorway arches and gable windows.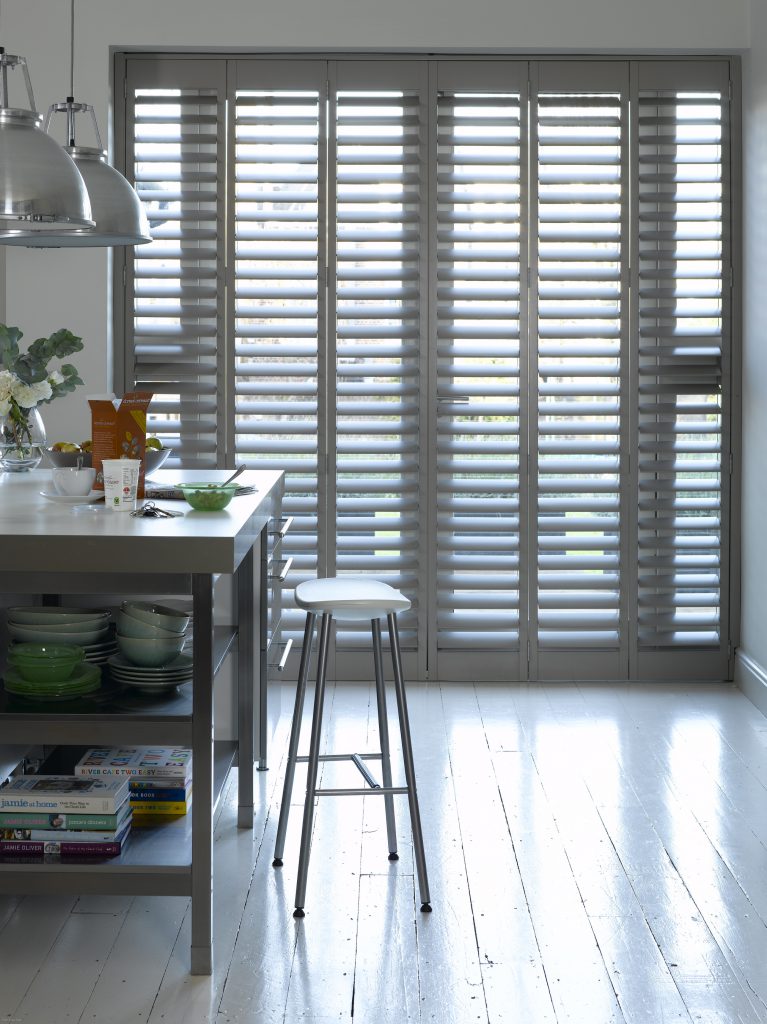 Full height shutters
Shutters for doors are available in all our quality hardwood ranges, across all our luxurious paints and are even available in each of our sumptuous stains.
Whether slatted, solid, bi-fold or bypass, we can guarantee we have the best shutters for your sliding doors. During our free design consultation, our shutter specialists will talk through all the options available. They will then measure your windows and create your bespoke design, while you continue to rest in the knowledge that your sliding doors are about to look thoroughly fabulous!
If you're still in any doubt, visit our Instagram for inspiration and our many customer images.
Bifold track shutters on a patio door
If you'd like to find out more about how shutters can be designed for your sliding door, click here to book a free home visit with one of our shutter specialists. They'll talk you through styles, colours, materials and will provide you with a quote. They will then return a few months later to expertly install your beautiful new shutters.
Sit back, relax, and leave it to the experts.