Choosing the right colour for your plantation shutters can be tricky. Between more popular neutral colours like white and grey and more daring bold colours, let us give you the lowdown on how to achieve the perfect look for your home.
The colour decision process is an important one and there are two things you should consider; personal taste and which part of the room you're looking to complement. Plantation shutters can be used to blend and merge with your current features or stand out against them to create a statement piece. Shutterly Fabulous offers a wide range of colour options, including a custom colour service that enables you to custom-match your ideal colour to your plantation shutters.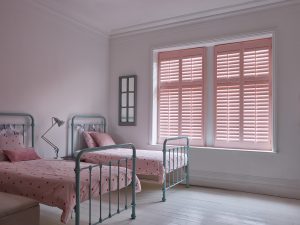 Creating a timeless piece that you'll fall in love with again and again
So why is white such a popular colour for shutters? As the most neutral of colours, white coordinates well with any design you choose for your interior. Not only does white open a space for a clean and fresh look but it provides the perfect base palette for all your seasonal transformations.
If you're looking to achieve a crisp, contemporary look, the brightest of whites is your winner. However, opting for a subtle warmer tone such as Dove or Alabaster allows a more traditional style of window dressing.
When choosing your colour, consider the matching process; not only to your soft furnishings, but to your window frames and sills. Matching your shutters to these elements creates a seamless effect in your interiors.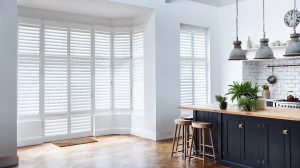 The growing trend of using greys has been sweeping our homes and interior shutters are no exception. As a balanced practical colour, grey shutters will give your home a more conservative and sophisticated look. A cool grey offers an essence of calm, whereas a darker charcoal grey communicates strength.
Plantation shutters – a great focal point
Colourful plantation shutters make a fantastic alternative to a feature wall as they bring a focal point to any room. Unlike a feature wall, plantation shutters also give you control over how much natural light you let in, transforming the ambience from dusk till dawn.
Colour blocks are growing increasingly popular, injecting bursts of bright and bold shades for playful pops of colour. Why not combine fruity lemon and papaya with geometric patterns for a fresh, industrial hit of colour, bagging plenty of character and vibrancy.
Shutterly Tip: Choosing the right yellow will induce high-spirited energy and boost productivity – ideal for a functional workspace at home.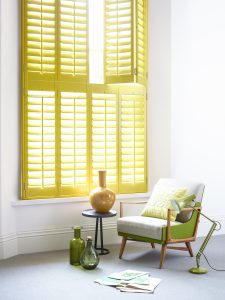 Dark mood and tonal ambience
Dark, moody tones will soon be coming back into season, creating a cosy space for those all-important nights in. At Shutterly Fabulous we love a deep crimson shutter, certain to bring instant quality to a bedroom or living area.
Dark shutters also help absorb the natural light seeping through the windows, making any small rooms appear larger than they are.
Choosing a dark shutter palette acts as its own décor. There is little need for interior change when you've made a statement as bold as this one.
Shutterly Tip: Keep your interiors looking crisp and clean by alternating dark and light colours that balance both the room's natural and artificial lighting.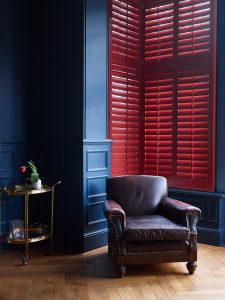 A feast of colours to choose from
Whichever colour route you decide to go down, always keep in mind what kind of mood you're looking to create. Shutters are a practical and long-lasting solution to your window dressing, so be sure to allow yourself the flexibility for your home.
At Shutterly Fabulous, we colour match to any Farrow & Ball, Dulux Trade and Little Greene Paint. So, if you have that perfect colour in mind that's not on our charts, simply speak to a fabulous member of our team or book an appointment and begin transforming your home today!