You might ask yourself: Why should I go for shutters rather than blinds for my bay window? That's an excellent question, and one that we are happy to answer. Being the UK's original shutter installation provider, it may not surprise you to learn that we believe shutters are always the best choice when it comes to your bay windows. But we certainly aren't biased; we back up what we say. So, if you are trying to decide on bay window blinds or shutters, just keep reading…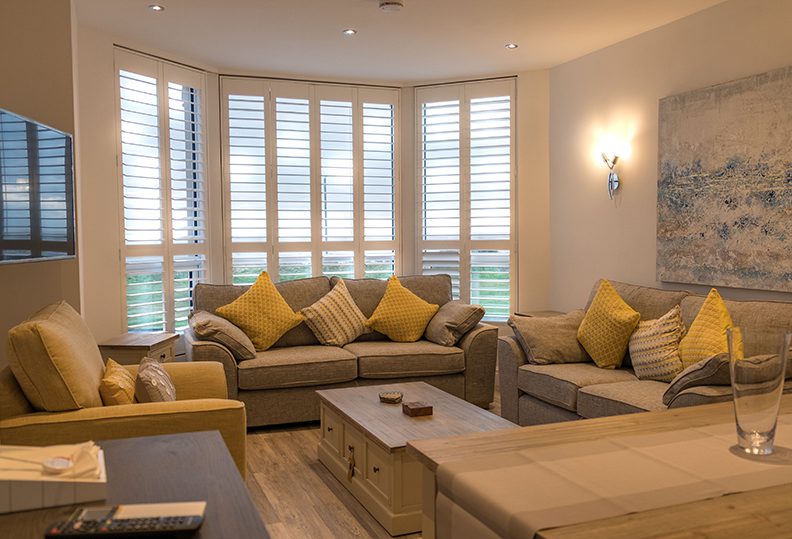 Privacy and Light Management

This may be one of the main selling points of blinds, but shutters will offer you the same qualities, and to a greater degree. Shutters are bespoke and measured to your bay window, and you will have much more control over the moveable slats than you would with blinds. With shutters, not only will you be able to control the amount of light coming into your room, but your privacy will be considered too. Furthermore, the customizable nature of shutters gives you even more versatility. Whether it is café style, full height, or tier on tier shutters for bay windows, you will have the last say on how much of your window is covered. Blinds, on the other hand, do not afford you with the same luxury.
Insulation and Ventilation

As mentioned above, shutters are measured to the specifications of your windows, bays or otherwise. They are also fitted into their own frame, allowing minimal air to escape. This means that shutters are ideal for keeping out those jarring winter drafts. And for those warmer summer days, their adjustable slats – available in 64mm, 76mm, and 89mm – mean you can let in some air without skipping on privacy. Blinds on the other hand, simply hang from the top of your windows, allowing unwanted air to enter the room freely and minimising insulation.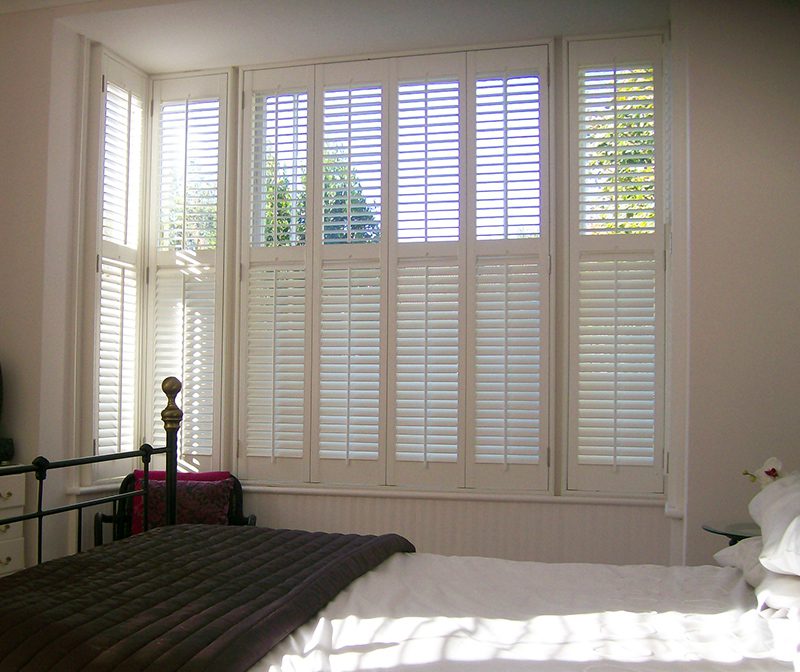 What About Maintenance?

When deciding on bay window blinds or shutters, maintenance is an important factor to consider. After all, you want your windows looking their best for years to come. Luckily, plantation shutters are simple to clean. A quick wipe down with some lightly soaped water or a going over with a vacuum cleaner brush attachment will easily do the job. Blinds are much more fragile and usually made of fabric, meaning much more care is needed when giving them a once over. Shutters also trump blinds where resistance to UV and water damage are concerned. In fact, all Shutterly Fabulous's premium hardwood shutters are coated with a special UV protected paint, ensuring you will be enjoying them for years to come.
Shutters for Bay Windows Are Always Bespoke.

While already mentioned above, we feel it is worth reiterating. Shutters will always be made to the exact specifications of your bay windows. Whether you have a box or angled bay, whether the windows are sash, PCV, or even of a special shape, you can be sure that our shutters will accentuate whatever makes your windows special. Where blinds hang down and obscure, shutters hug and accentuate the unique shape and features of your windows.
Still deciding on bay window blinds or shutters? Our friendly team are happy to answer your questions. Call us on 0800 970 0800 or send an email to hello@shutterlyfabulous.com.