"Shutters or Blinds?" It's a question we're very used to in our world, and it's one we're all too happy to answer. If you're in the market for window coverings, you should always do your due diligence. Are you getting the best value for money? Which window dressing is the most practical? How well will said fixture fit in with your décor? Head-scratchers for sure – but fear not. That's what we're here for. So, keep reading to find out why shutters trump blinds every time.
Light and Privacy Management
From top to bottom, blinds are open, or they're closed. There isn't really an in-between. This makes controlling light levels and how much passersby can see into your home quite the challenge. With their movable slats, shutters (also known, confusingly, as "shutter blinds) give you the ultimate control, letting you open the slats sufficiently for light to come into the home, without sacrificing on privacy. Shutters are very customisable too. For example, a hidden split or mid-rail gives you separate slat control on the top and bottom sections. So, should you fancy, you can have the bottom slats closed with the top open, letting plenty of daylight into the home.
Soundproofing and Insulation
Whilst both blinds and shutters are made-to-measure, shutters are much more bespoke. Why does this matter? Well, shutters are made to match your window to the millimetre, ensuring they fit perfectly flush to the recess. Besides the obvious aesthetic benefits, this has a couple of other perks too. Firstly, drafts will have a hard (if not, impossible) time sneaking their way past your fabulous shutters. This ensures your home will stay warmer in the cold winter months, helping save you money on your energy bills. Secondly, when closed, shutters have a marked effect on noise reduction. So, if you live by a noisy road, shutters might be just what the doctor ordered.
Cleaning and Maintenance
Have you ever tried to clean a set of blinds? It can require quite a bit of work. This is especially true of fabric or paper blinds. Shutters on the other hand require very little maintenance. Simply run a dry cloth or duster over them occasionally and give any stains a rub with a slightly damp cloth, remembering to dry the affected area. And that's it – you're done.
Shutters Increase Your Home's Value
We will often have customers ask us why they shouldn't order blinds instead of shutters. After all, shutters cost a bit more than blinds. And while this is true, it doesn't paint the whole picture. That is, shutters are an investment. We've already talked about how they can save you money on your energy bills (particularly important in 2022), but did you know that they can add value to your home too? Shutters are a semi-permanent fixture, lasting for many years, or decades. This means that, should you ever decide to sell, a set of shutters or two can add a few extra £'s onto the asking price.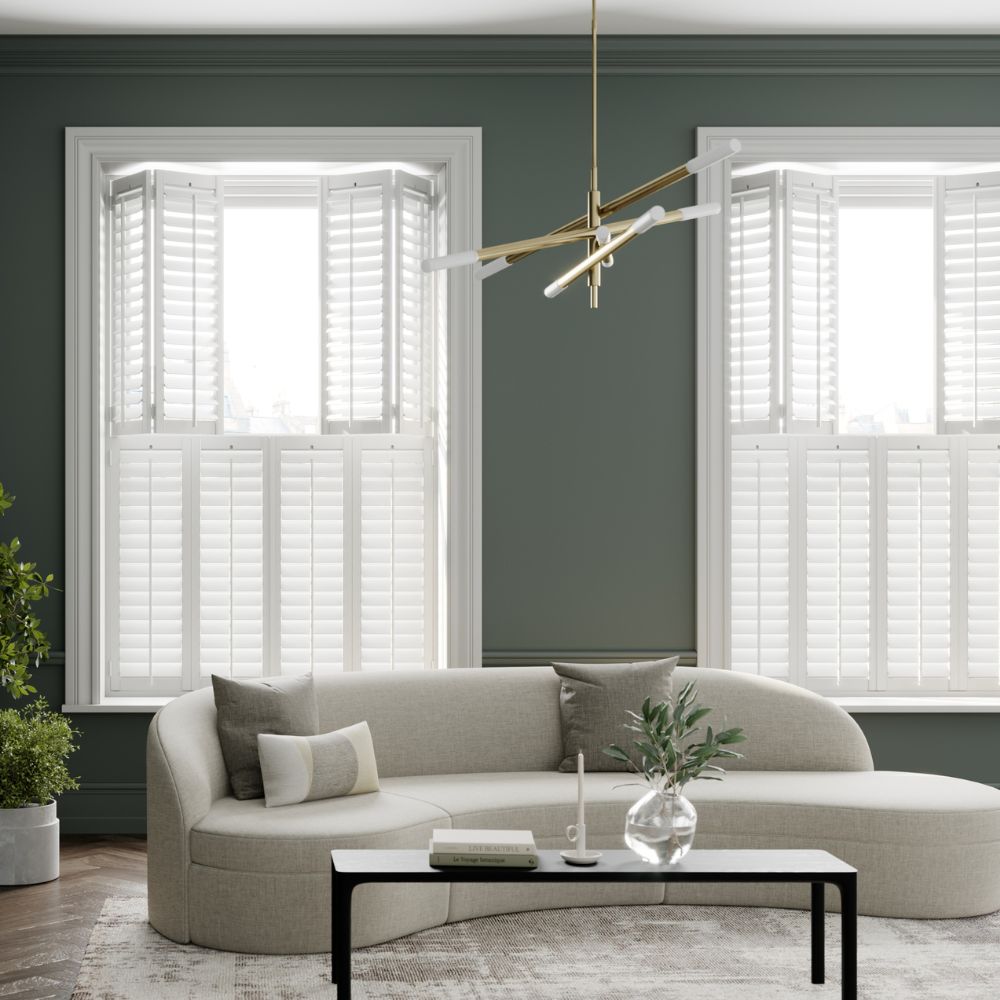 Shutters: The Versatile Option
One of the best things about shutter blinds is their versatility. In terms of colours, you're truly spoilt for choice. We offer a wide range of whites, creams, greys, and blacks. Plus, we have a selection of textured wood stains too – perfect for a more rustic or traditional look.
You have a lot of options when it comes to shutter styles too. Full height shutters work on practically any type of window, big or small, modern or traditional. Café style shutters cover the bottom section only. This grants excellent privacy with the added benefit of allowing plenty of light into the home.
For a mix of both styles tier-on-tier shutters are a striking and dynamic choice. Covering the entirety of the window, they allow for separate panel control on the top and bottom sections. This grants the same functionality as café style or full height, depending on which panels are opened.
Special Shaped Shutters
Do you have an unusual window that's proving difficult to dress? Fear not. Our highly trained Shutter Specialists are versed in all things shutters. That means whether it's a square, triangle, circle, or otherwise, we'll find the fabulous with a special shaped shutter.
Still Have Questions?
Hopefully we've answered all your questions about shutter blinds, but if you still have queries, we'd love to hear from you. Send an email to hello@shutterlyfabulous.com or give us a call on 0800 907 0800
Want to book a free on-site consultation with one of our Shutter Specialists? Click "Book Appointment" at the top right of our website and request your survey today.