Although highly desired, bay and bow windows can be a challenge to dress. Here we show you some perfect shutters for different bay window styles.
The United Kingdom has an abundance of homes with bay windows. Many Georgian and Victorian homes were built with bay fronts but modern architects also like to give a home a bit of depth. This style of window increases the sunlight in a room to a space-enhancing effect. They add actual floor area too, as they project from the line of the building, which can prove beneficial in planning both the layout and look of the room.
Bay windows typically have 3 openings with a picture window in the middle and two smaller panels either side. Bow windows can feature 4-5 sections and are curved. A box bay window is generally rectangular, with a flat front and sides and some type of roof. If the sides of the box are angled, it can also be called a canted window.
Though highly prized, bay and bow windows can be a challenge to dress. But there's more you can do to enhance them than by simply putting curtains up, which take up a lot of useful space. Here we show you some perfect shutters for different bay window styles.
Tier on Tier shutters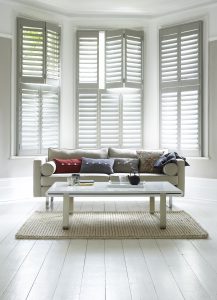 Image credit: Shutterly Fabulous
In the above example, displayed in an angled bay, these bay window shutters have been constructed in a Tier on Tier style. This is a common favourite for bays as tier on tier shutters are the most versatile of all shutter designs. While allowing both tiers closed, slats can still be angled to adjust the light with full control. With the top tier open, the shutters take on the appearance of a cafe style, granting maximum light into the room – yet keeping privacy on the lower half. Perfect for living room windows.
Café style shutters for bay windows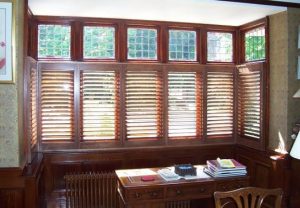 Image credit: Shutterly Fabulous
In this box bay wooden bay window (above), shutters have been made in a cafe style. Perfect for lounges and studies, cafe style shutters can be used in place of bay window curtains to give great privacy – but still allow in plenty of light.
Keeping it classic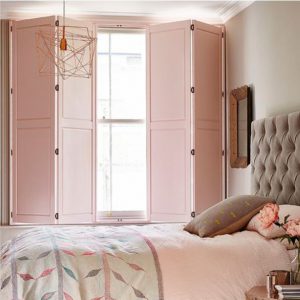 Image credit: Shutterly Fabulous
If re-establishing your property's Regency, Victorian or Georgian character is high on your list, you might prefer to choose solid shutters which fold back, offering a traditional look. These shutters are also the best for achieving near-blackout conditions, so are perfect for bow windows in a bedroom.
You can continue the classic look by selecting narrower louvres for shutter blinds hung at bay windows. They'll perfectly complement a room with period features such as decorative cornicing and a ceiling rose. It's advisable not to choose the very smallest louvre sizes though, as the scale of bay windows favours medium widths upwards.
Contemporary colours
If you fancy giving your room a more modern twist, then wide louvres maintain a current look without clashing with any period features. It's worth remembering that proportion counts for everything: the widest louvres on tall, wide shutter panels suit large expanses of glass best.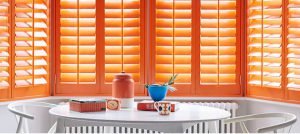 Image credit: Shutterly Fabulous
As bay windows are such an excellent focal point for a room scheme, you could go all-out for attention by choosing an accent colour for the shutters that will really highlight a bay window's attributes. The featured colour could then be developed through other furnishings.
Elegance and light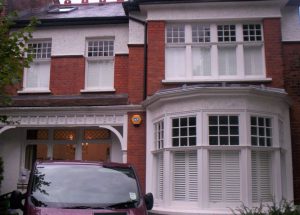 Shutters for bow windows by Shutterly Fabulous
Finally, if you have a dark, north-facing room that you like to use during the day, then white shutters are a smart option as they help bounce the light around.
Shutters bring elegance and style to bay and bow windows. Externally, bay window shutters also work beautifully, emphasising the shape of the window and improving the exterior of your home.
Offering privacy from the outside world whilst giving homeowners total flexibility with light control, plantation shutters in bay windows are every bit as practical as they are timeless. They add a further layer of insulation against draughty sash windows, are easy to uphold, and contribute to noise reduction.
You can speak to one of our shutter experts about dressings for bay windows and other varieties here.