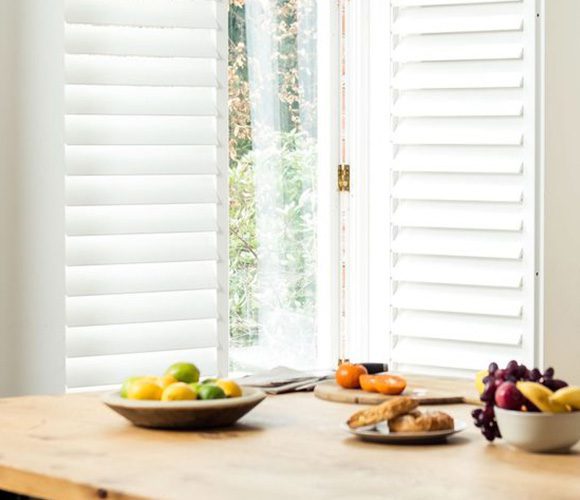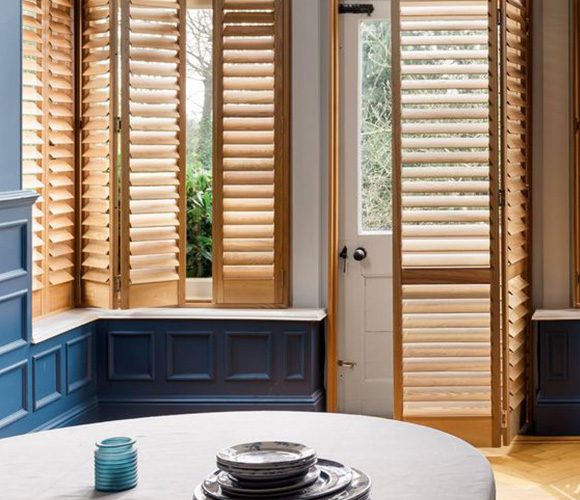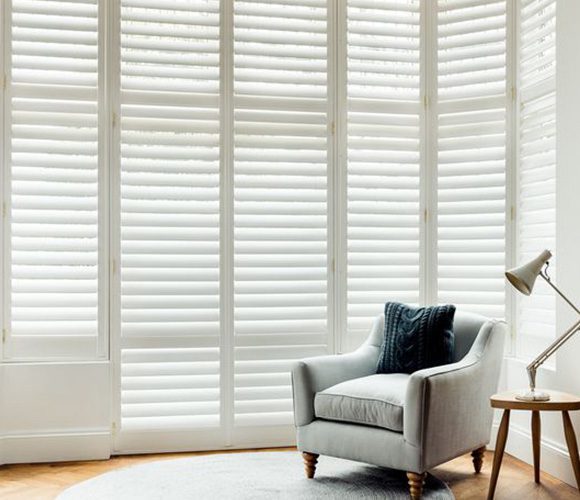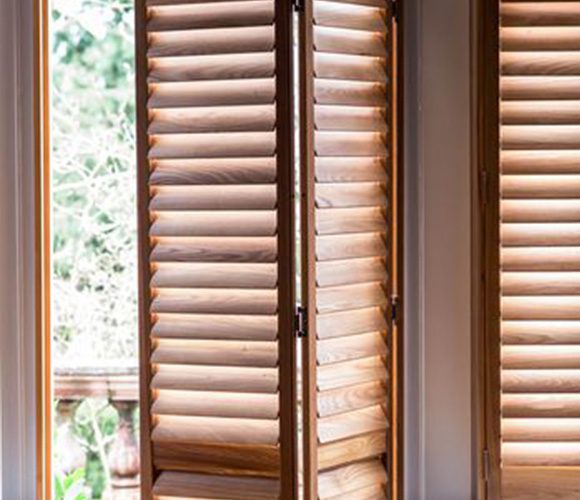 Shutters for Doors
Why should your windows have all the fun? Give your interior doors the Shutterly Fabulous treatment and transform them into a real style statement.
5 years guarantee

Versatile

Smooth transition

Best for French doors
Online Estimator
Whilst standard window areas are the most common source of light in the home, many of us now enjoy the light and sense of space offered by glass doors like french windows and sliding patio doors. With this in mind, wooden shutters offer lighting and temperature control, as well as an extra level of privacy that you wouldn't ordinarily enjoy from these types of doors.
With a range of folding and sliding functions available, our shutters for doors offer seamless transitioning in a wide variety of interior door spaces. As well as being made from the best hardwood to our inimitable standards, our door shutters can fit the most precise specifications; even awkward spaces like doorway arches.
Louvred full-height shutters are a popular choice for french doors, thanks to their moveable slats that allow for complete light and temperature control. Their full height coverage means you can leave your french doors open with the shutters pulled across to benefit from the cool air, extra shade, and added level of control – great if you have young children or pets that you'd rather not have running in and out.
Part-louvred, part-panel designs are another favoured choice for shutters for french doors, offering light control whilst solid wood panelling breaks up the full shuttered effect of the louvres. Wood panels are also easier to clean in busy home spaces such as the kitchen (where most french doors will be found).
The key factor to consider with shutters for patio doors is the transitioning.
We offer a range of movements for patio door shutters including everything from bifold to bypass tracked shutter designs.
Bifold shutters' concertina effect means panels can be pushed to one side of your patio door with each neatly stacked in front of the other. This, in a louvred or solid wood style, gives you the option of a completely open door space or the freedom for extra privacy, light and temperature control.
Bypass shutters also work on a tracking system, but instead slide one panel behind the other. Bypass shutters are ideal for those who have a single patio door in a large window area or want some coverage at all times.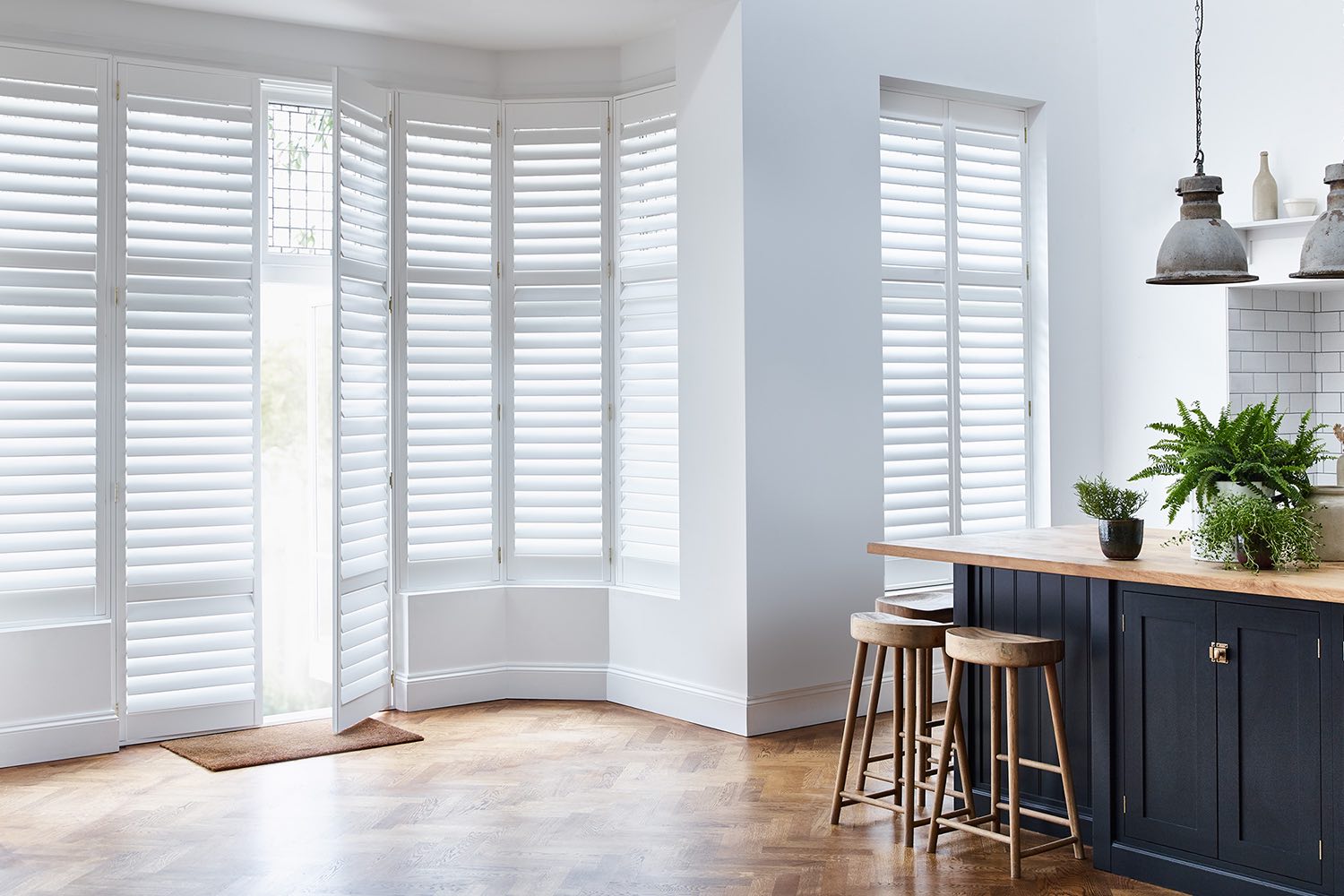 Being fabulous means standing out from the crowd! We do things a little differently around here and pride ourselves on being fully transparent on price as well as offering the UK's most comprehensive price beat promise. Ready to get the Shutterly ball rolling? Here's what to do!
Step 1

Use our quick online price estimator to get an idea of cost. When you're ready, complete our book appointment form.

Step 2

It's survey day! Our local Shutter Specialist will come and measure up, walk you through design options and build your quote.

Step 3

You've given us the go ahead, yay! We'll take it from here and start crafting your beautiful made-to-measure shutters.

Step 4

When your shutters are ready we'll give you a call to arrange a professional installation with your local specialist.
We promise to be shutterly unbeaten on price.
We'll price beat any quotation for the same windows right up until the day of your professional installation. We'll even price beat competitors MDF shutters with our 100% Painted Hardwood.
Premium quality
We think there's a simple beauty in doing something exceptionally well. That's why we never compromise on quality
Since 2002
Helping our clients address and redress their windows, from our sunny spot in Brighton, since 2002
Lowest UK price
Every slat and every shutter includes the best materials, the finest finish, and the lowest price you'll find in the UK
Premium service
We love what we do. We hope that comes across when you speak to us. After all, it's the Shutterly Fabulous way