New to the world of plantation shutters and want to know a little more? You've come to the right place. Shutterly Fabulous are experts in our field, designing, measuring and fitting indoor shutters to any size and shape window or door, known for bringing lasting style to homes across the UK. In this plantation shutter blinds guide, we'll share all you need to know about plantation shutters, their benefits, the different types of plantation shutters on offer, and how to order them.

What are plantation shutters?
Plantation shutters are wooden, slatted blinds that sit inside their own frame, drilled to your window sill or door frame. The slats – or sometimes referred to as louvres – can be tilted from fully closed to fully open, and angled anywhere in between, allowing you to control light and airflow through the room.
Where do plantation shutters come from?
Plantation shutters get their name from Southern USA, where wood craft shutters became commonly fitted to mansions on cotton and sugar plantations. Their actual origins can be dated back to Ancient Greece and Medieval times where solid shutters made from materials like wood and marble were fitted to buildings for the protection they offered from weather and security.
What are the benefits of plantation shutters?
Plantation shutters are one of the most flexible window dressings on the market, and have the edge over curtains and blinds for many reasons.
A plantation shutter is known to help improve sleep. By completely closing the slats, indoor shutters minimise light pollution in the room, offering you undisturbed sleep through the day and night, making them a popular choice for nurseries and bedrooms.

Window plantation shutters offer privacy without compromising light. Unlike curtains or roman blinds that you must completely draw back to allow light through and stripping the room of its privacy, shutters give the best of both worlds. By simply tilting the slats, shutters keeps passers by from peering in and still allow light to flood the room.  

They have been known to retain heat in a room. Closing your shutters can minimise draughts in windows and doors making them an ideal option for single glazing.

They reduce noise pollution when closed, dulling the sound of traffic and hustle and bustle, making them a great choice for city dwellers.

Window plantation shutters allow ventilation without compromising on privacy or security. On hotter days, windows and slats can be kept open, allowing air to ventilate the room while retaining privacy and security for pets and young children.

They increase the value of property. Homes that have plantation shutters give the impression of a well-maintained property, thus increasing interest in potential buyers.

Window plantation shutters look visually elegant and compliment all era buildings. Plantation shutters suit all properties from Victorian, Edwardian and Georgian homes, to 1930s, 50s, 60s and all the way up to new builds.
What are plantation shutters made of?
We offer four different types of plantation shutters to suit every room and budget. All are expertly designed with your requirements in mind. So, you will be able to find cheap plantation shutters and more expensive versions at Shutterly Fabulous.
Affordable Basswood – 

Widely available, Basswood is the most economical timber we offer. That makes it the go to option if you are looking for cheap plantation shutters. It's very durable, characterised by a tight grain that provides a smooth finish when painted. For standard shaped windows, basswood is a great choice and look timeless when painted classic whites, greys and neutrals.

Classic Poplar Wood – 

Poplar wood is a fast-growing wood with a smooth, even grain. It's strong, beautiful and lightweight, making it the right timber for shutters hanging across large windows and doorways. Any custom shape window can be made from our Classic Poplar Wood range, and we have a choice from a range of paints and stains for the perfect look.

Premium Elm Wood – 

The naturally deep grain of Elm wood brings a sophisticated natural wood effect to a room, best accentuated when applied with one of our rich stained finishes that we offer in a variety of tones. Our Premium Elm Wood range provides a truly elegant look that can be made to measure on any sized door or window.

Waterproof Polyvinyl – 

Perfect for kitchen and bathroom windows that sit close to a water source, our Polyvinyl range is waterproof and impervious to all moisture. Hardwearing and durable, these shutters are also a great choice for high traffic areas such as playrooms and commercial environments.
What styles do plantation shutters come in?
There are three core styles to be aware of when selecting plantation shutters for specific light and/or privacy needs.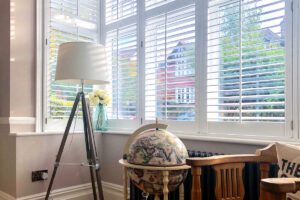 Do plantation shutters come in other colours?
Absolutely, yes. Plantation shutters are available in any colour or a variety of stains. We offer a wide variety of timeless shades and stains at no extra cost or we can colour match shutters in any shade from the Farrow & Ball or Dulux Trade colour palette for an extra 10% on the cost. Coloured plantation shutter blinds are a great feature in a room, while our Silk White, Dove or Alabaster shutters offer enduring style.
How do I order plantation shutters?
If you're interested in getting plantation shutters installed in your home, it couldn't be more simple. Download our brochure for more examples of shutters in customer homes, then give the team a call on 0800 9700 800 or request an appointment online. We'll send one of our experienced consultants to visit you, discuss your design and shutter options, and take measurements for your window. You'll receive a quote usually within 24 hours of your consultant visiting and can finalise any changes before placing your order with us. Your plantation shutter will be made bespoke for your room, in approximately 8-10 weeks from the date they were ordered. We'll then book you in for a full fit as soon as they're ready and you can sit back, relax and admire your new plantation shutters.
What shall I do now?
Order yourself a brochure today, it's a Shutterly Fabulous source of inspiration packed with images of homes we've fitted our plantation shutters in.
If you're interested in learning more about our woodcraft shutters, book an appointment today with one of our plantation shutter specialists.