Plantation shutters are so loved by homeowners because they blend seamlessly with any décor and offer sleek aesthetics. This, along with their durability, makes them perfect for any room of the house. Shutters in bathrooms and kitchens will regularly come into contact with water, either via splashing or steam. This is always worth considering when making your choice of shutters. Luckily, we're here to help.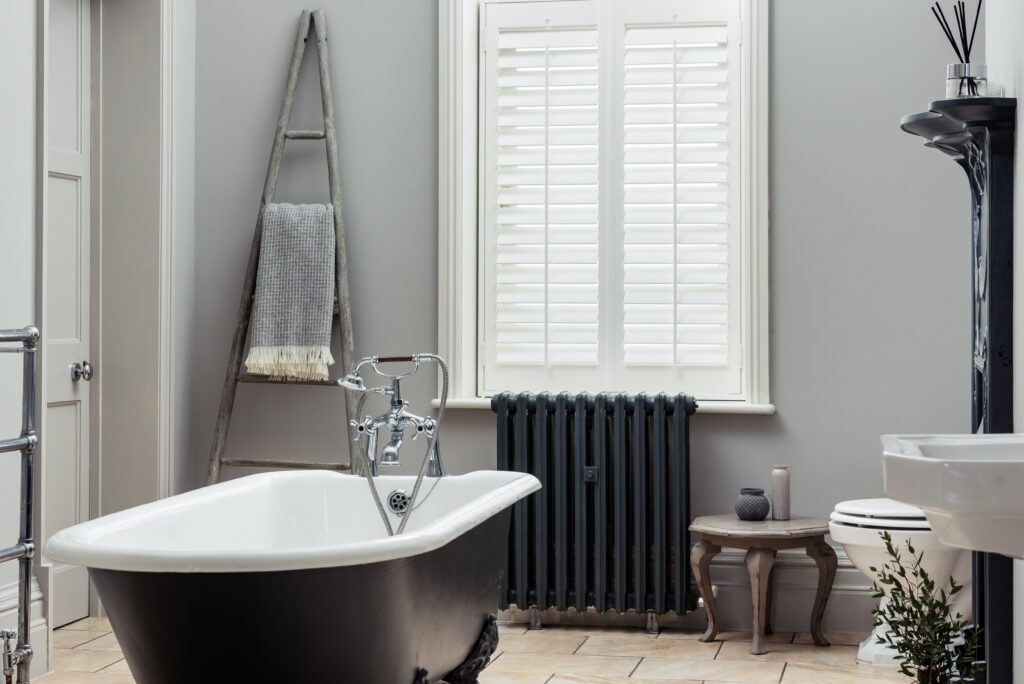 Waterproof Plantation Shutters
Shutterly Fabulous' range of plantation shutters includes a waterproof interior shutters option that is made of aluminium and coated in a thick, durable, and great-looking PVC Waterproof material. This makes them perfect for rooms in the house where increased exposure to water – both splashing onto them or via condensation – leaves other window dressing options liable to degradation over time. Curtains and blinds, we're talking about you.
As well as the increased privacy they provide, shutters' ability to control light and heat is unrivalled. Oh, and we have already mentioned the beautiful look and feel of plantation shutters, yes? And on top of all this, you'll be safe in the knowledge that the waterproof window shutters in your kitchen or bathroom are made to last. If you've ever asked yourself 'do shutters for shower windows warp?' or been concerned about degradation, you'll be relieved to know that with our waterproof window shutters, you won't see cracking, peeling, or warping over time.
Waterproof shutters for bathrooms coated with this ingenious material are available in both full height and café style ranges. They're also finished in a range of white paints, meaning that, as well as being designed specifically to withstand wet conditions, you won't have to compromise on aesthetic choices, either – you'll still have a huge range of options to choose from.
So, there you have it: waterproof plantation shutters for bathrooms that are immune to the effects of water. Your shutters will look beautiful for years to come, even when coming into contact with water. When combined with all the other benefits plantation shutters bring to your home, it's a win-win in our book.
If you happen to have any queries about our shutters, our team is happy to assist! Please call us free of charge on 0800 9700 800. You can also email hello@shutterlyfabulous.com.