Sash windows have long been a standout feature of period properties. Not only do they celebrate a classical style, but they are also wonderfully versatile too. However, the question is, "Do shutters work with sash windows?" Luckily, it's a pretty straightforward question, and one with a short answer: yes! Bespoke window shutters can be utilised on any type of window, from PVC to dormer, bay to arched, Victorian to Georgian, shutters can add class to any window. This is just as true of sash window shutters.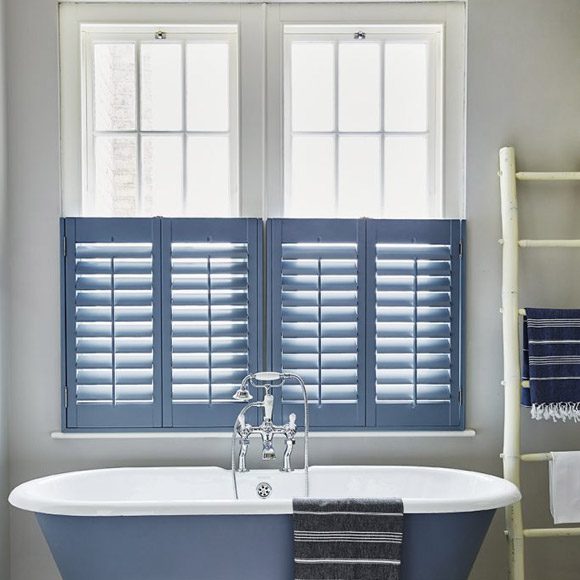 What Are Sash Windows?
A sash window – also called hung or box sash windows – is made of one or more moveable panels, or "sashes". When opened, these panels will overlap one another, hence them also being known as sliding sash windows. These panels often slide vertically, but horizontally is not uncommon. Sashes are usually found in period properties, such as Victorian and Edwardian homes. As such, a classic shutter style will perfectly complement this style of window. Indeed, both sash window Victorian shutters and Georgian shutters were very popular in their respective days.
Why Choose Sash Window shutters?
Sash window shutters are the perfect choice for several reasons: they're stylish, ideal for privacy, measured specifically for your window, and come in a range of styles and colours. Indeed, whether it's Full Height shutters, Tier-on-tier shutters, Café Style shutters, or Solid Shutters, you're sure to find the perfect shutter for your space. And if you're concerned that modern plantation shutters may not blend in with your more traditional décor, fear not. Not only have shutters been used in period properties for centuries, but we also offer a wide range of colours and stains too. If you're looking for something a little less contemporary, our stained hardwoods are sure to be the perfect fit for your home.
Which Shutter Style Is Best on Sash Windows?
When choosing your bespoke window plantation shutters for your sash, choosing the correct style is of the utmost importance to make the most of your shutters and your window. For those taller sash windows, we suggest opting for Full Height shutters with a mid-rail. This dividing rail can be placed at the mid-point of your sash windows to add extra definition and slat control. Another option would be our Tier-on-tier shutters. These tiered shutters allow you to control the top and bottom shutter panels completely separately. For smaller sash windows, or for some extra light exposure, our café style shutters only cover the bottom section of the window to create a combination of light and privacy. This makes them perfect for bathrooms. For minimum light, consider our solid shutters.

If you have any questions about sash window shutters, our friendly team is always on hand to help! Please call us for free on 0800 9700 800 or email hello@shutterlyfabulous.com. Ready to take the next step? Book your free home survey today.