Are you looking for made-to-measure shutters for your windows but don't know where to start. It's ok – we get it. These things can be a little bit daunting, especially with so many styles to consider. Well, you're in safe hands now. In this quick guide, we'll talk about finding the perfect shutters for some of the UK's most common window styles. But before we get to that, let's talk a little bit about what's on offer.
Our Made-to-Measure Shutter Styles
Here at Shutterly Fabulous, there are a range of shutter styles available to suit every window type. Full height shutters cover the entirety of the window in one single panel. This eminently popular range works in virtually any space but looks especially good on small and medium-sized windows. Café-style shutters cover the bottom section of your window only, giving you plenty of privacy while still inviting plenty of light into the home. Café style is well-suited to medium and large windows.
For the best of both worlds, tier-on-tier shutters are a fabulously diverse choice. Stylish and practical in equal measure, these beauties give you separate panel control on the top and bottom sections. So, you can open the top section and leave the bottom closed. This gives you the same functionality as café style or full height, depending on which panels you open. Lastly, you have our special shaped shutters and tracked shutters but a bit more on those later.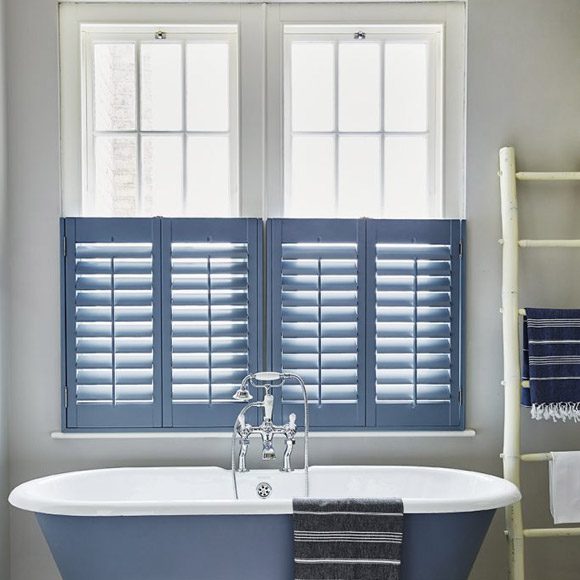 Sash Windows
Here at Shutterly Fabulous, we love a good sash window. They should call us Sasherly Fabulous. Actually, upon reading that back, maybe it's a good thing they don't. Either way, you can't go wrong with a sash window. Particularly common in Georgian and Victorian homes, they've been a staple of the UK's urban landscape since the 17th century for a reason. That being said, they do have a few drawbacks, including issues with drafts and insulation. This can be particularly problematic if your home is listed and you're unable to go from single to double glazing, leaving you chillier in the winter months.
Made-to-measure shutters are a great way to solve your winter woes, with their insulating properties. Our favourite style for true sash windows is tier-on-tier. These shutters can be lined up with the panels of your sashes, providing a level of definition and synchronicity that you don't get with other window dressings. For shorter sashes, full height is also a nice option too.
Casement Windows
Another popular type of window in the UK, especially before the introduction of sashes, casement windows are almost always attached to their frame with side hinges, although top hinges are not uncommon. Casement windows are very energy efficient too, with lower air leakage than most. But you know what they say: "A little extra energy efficiency never hurt anybody." Ok, maybe they don't say that, but maybe they should. Luckily enough, shutters are the perfect window dressing for that.
For a casement window, we would normally suggest full height shutters. This will grant you the maximum amount of privacy. However, if your windows aren't too short and have a horizontal transom, café style shutters will also work.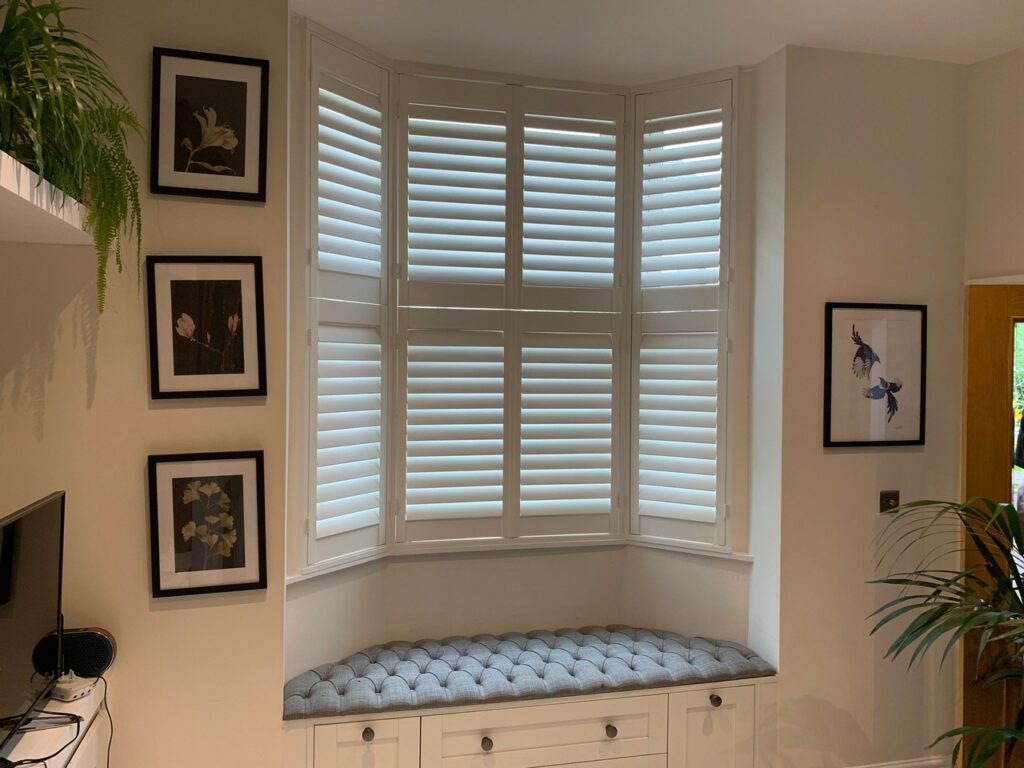 Bay Windows
Popular in England since the Renaissance period, bay (and bow) windows can be found throughout the UK in all sorts of homes. Often used to add character, increase space, and improve lighting, they can be rather tricky to dress. We love full height for this style of window. Not only will it look the part, but it'll help keep the heat in. If, however, your windows are well insulated and have a horizontal transom, café style will be the perfect pairing for your box or bow window.
Skylight Windows
Do you have a skylight window and no idea how to dress it? Well then, you've come to the right place. Here at Shutterly Fabulous, we can fit a specially-designed frame for Velux windows, allowing us to directly attach your shutters to the window. For other types of skylights, please send an email to hello@shutterlyfabulous.com with some pictures and our experts will be happy to advise.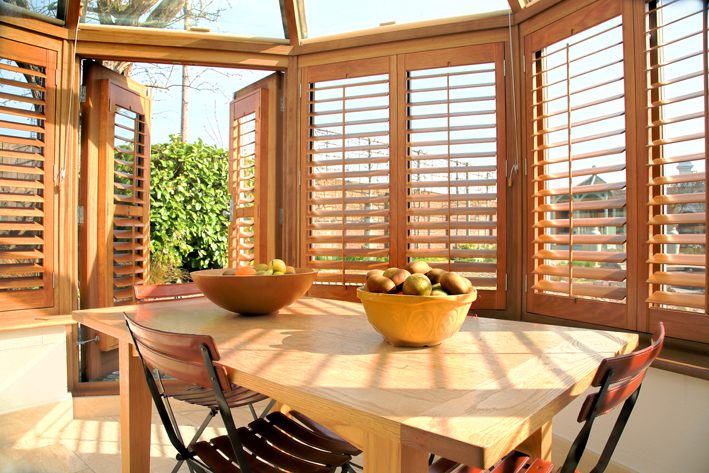 Tilt and Turn Windows
Unlike most other window types, tilt and turns open inwards. While they're great for security and offer flexible ventilation options, we've got some bad news for you: tilt and turn windows and made-to-measure shutters are not the best of friends. While it isn't always the case, it's very likely that installing shutters will negate the inward opening functionality of your windows. As such, it's always best to contact us first if you're ever unsure. We wish everybody had shutters, but we aren't in the business of selling them to you if they're not in your best interests. Feel free to send an email to hello@shutterlyfabulous.com with some photos of your windows if you think this applies to you.
Special Shaped Windows
Not all windows are squares or rectangles. And while your arch or circular window may look pretty, dressing them isn't always a simple process. The good news is, at Shutterly Fabulous we can supply made-to-measure shutters to suit virtually any window type. So, whether they're triangles or tapered, arched or angled, our special shaped shutters will do the trick.
In case we haven't been clear enough up to this point, we'll say it again: Shutterly Fabulous offers shutters for all types of windows. In fact, we even make shutters for doors, whether they're French, patio, or otherwise. Our tracked shutters offer a perfectly practical and stylish solution without impacting the functionality of your doors. Plus, they can even work as a room divider. What's not to love?
Bathroom and Kitchen Shutters
In rooms that suffer from extra moisture, you'd be forgiven for thinking that shutters aren't a viable option. After all, won't they start to crack and warp over time? Good question, but we've already thought of that. Our polyvinyl range promises you 100% waterproof shutters, so you can rest assured that they'll be as good as new for years to come, no matter how much water they're faced with.
Still got questions for us? No problem! Send an email to hello@shutterlyfabulous.com today and one of our expert team will get back to you ASAP. Or you can book your free home survey today to speak to a shutter specialist in person. Hopefully, we'll hear from you soon.