When it comes to window dressings, nothing gives you quite as much control as window shutters. Their movable slats (or louvers) mean that you can control exactly how much light comes into your home. And not only this – they're fantastic for privacy, too. But there is much more to shutters than just the slats. From full height to tier on tier, mid-rails to hidden splits, bi-fold shutters to trifold, the design will affect how your shutters will open.
How Do I Open and Close My Slats?
Like most slats on the market, our shutters are opened and closed by hand. While they can be closed partially in the downward direction, to close them fully flat, simply rotate them in the upward direction. There will be some overlap with the slats when closed – approximately half an inch. This is the best design to ensure you the most privacy while also blocking out light and insulating your home. How the slats open and close will also be affected by other factors, so let's get delve a little deeper.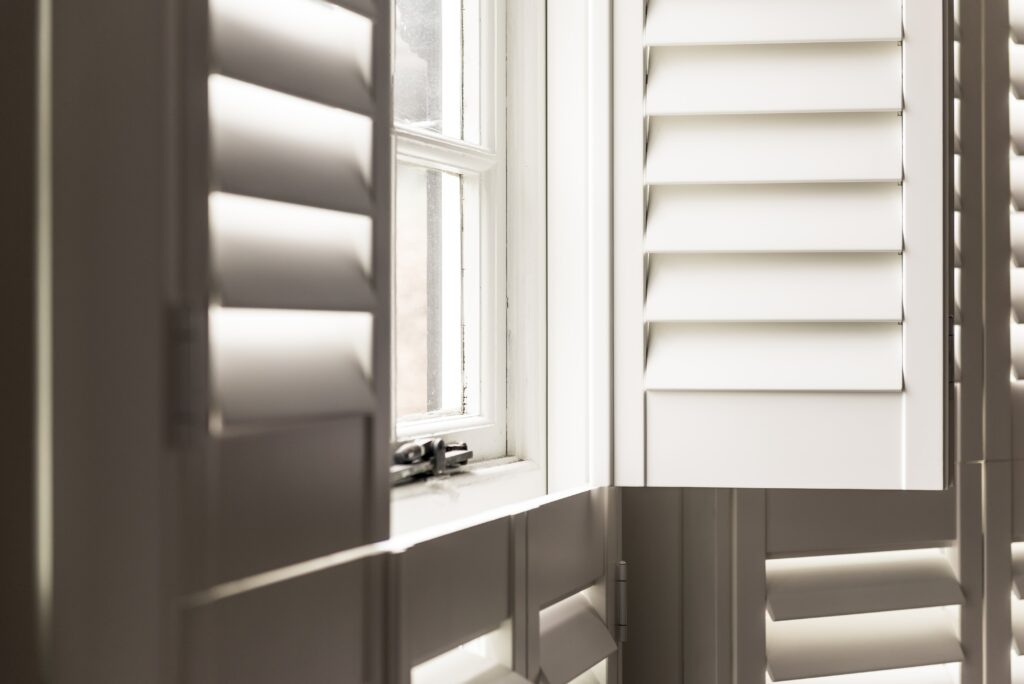 What About Tilt Rods?
With louvered/slatted shutters, you will have three choices: central, offset, and hidden. Our hidden tilt rods are completely invisible and built into the frame. This means that your louvers will all open as one, so when you move one (by hand), you move them all. The exception to this is when your window is over 130cm in height. To maintain structural integrity, a hidden split is then required. This allows separate slat control on the top and bottom sections. This hidden split can be customised requested specifically, too, meaning you can have it at any point of your windows, not just in the centre.
Our central and offset pushrods are both visible and run down the front of the shutter. The offset sits closer to the hinged side of the shutter while the central runs directly down the middle. Both options are connected to the louvers, meaning that you just have to move the pushrod to open and close them.
Another design option is a mid-rail. This offers the same functionality as the hidden split -i.e., separate slat control on the top and bottom – but with a visible horizonal bar creating extra definition. Like the split, a mid-rail is necessary for windows of a certain height – higher than 180cm – but this can be chosen on smaller windows as well. It also looks fantastic with our central rods.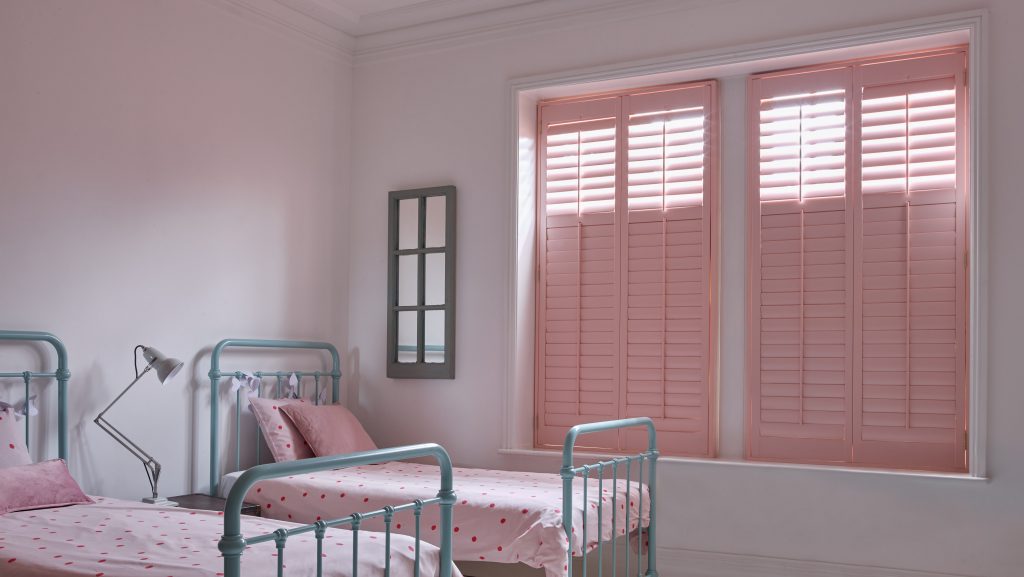 You can find more information on our tilt rod options here.
How Do Shutters Hinge Open?
Our shutters all come with their own frame. This frame is mounted to your window recess with the shutters then hinging out from the frame piece. It is also worth noting that they will usually be able to fold out 180 degrees, assuming there are no hindrances such as furniture, walls, or taps.
The width of your window will depend on how many shutter panels can be fit. Should you have one single shutter panel, you can either have the shutters hinging out to the left or to the right.
When going for two panels, you can have one shutter hinged on each side so that one opens out to the right, and one to the left. Another open is to go for bifold shutters. With bifold window shutters you can have both panels opening in the same direction.
With a three-panel option, one will hinge separately, while the other two will fold together. Which side has the single panel, and which has the bifold shutters is your choice. You can also opt for tri-folding shutters, but this can put more strain on the frame if the panels are very wide. Trifold shutters will close together, much like an accordion, but it is worth noting that if you go for central or offset pushrods, this will prevent the second and third panels from folding flat against one another.
For a four-panel configuration, we suggest splitting them down the middle so that you have 2 sets of louvered bifold window shutters: two folding to the left, and two to the right. However, you can opt for a single panel on one side, with a set of trifold shutters on the other.
For larger windows, five and six panel options are available, but we should highlight that you cannot have more than three shutters folding together.
Should I Go for Full Height or Tier-on-Tier?
With Full Height shutters, your panels will hinge out as one panel from top to bottom. As mentioned above, you will have different options which affect the opening of the slats. With Tier-on-Tier shutters, however, not only can you control the top and bottom slat opening, but you can hinge the top and bottom panels separately, too.
There are so many options. Can you help me decide?
Of course! Here at Shutterly Fabulous, we pride ourselves on our customer service, ensuring you a bespoke experience every time. During an appointment, our Shutter Specialist will go through all our options and listen to your preferred design. They will always be happy to advise on design and whether there might be a more suitable alternative. So, you can rest assured that your windows will be in good hands with us. Give us a call on 0800 9700 800 and we'd love to chat to you about your options.