Outdoor shutters? Surely they're the same think as plantation shutters, right? Well, they're actually quite different. But if you didn't know this, don't you're not alone. It's not unheard of for customers to contact us to buy outdoor shutters, or indeed to not know the difference. Well, we will tell you what we tell them: we don't sell outside shutters, but interior shutters have a big advantage. How so? And what is the difference anyway? Both good questions. So, let's jump right in, shall we?
Indoor shutters have more options
Unlike outdoor shutters, our plantation shutters come in a variety of styles. So, no matter your needs, you'll find a shutter to take your window from "drab-ulous" to Fabulous!
Full height shutters work in virtually any space but look especially good on small and medium sized windows. Café style shutters, on the other hand, cover the bottom section of your window only, allowing for the privacy of shutters while still inviting plenty of light into the home.
For the best of both worlds, tier-on-tier shutters are a wonderfully diverse choice. Stylish and practical in equal measure, these beauties give you separate panel control on the top and bottom sections. So, you can open the top section and leave the bottom closed. This gives you the same functionality as café style or full height, depending on which panels you open.
Do you have an unusual window that you're struggling to dress? No problem. Our expert Shutter Specialists can work with any and all shapes. Square, triangle, circle or whatever else, we'll add wow to your window with a special shaped shutter.
Outdoor shutters are mostly aesthetic
While they do have some practical applications, outdoor shutters are mainly there to increase kerb appeal. While outside shutters were used for security reasons in the past, these days they are purely decorative 90% of the time.
Conversely, the benefits of shutters on the inside are plenty. Sure, they bring an elegance and beauty to any space, but there's so much more to them than meets the eye. Interior shutters are installed as a semi-permanent fixture, meaning they will be there for years to come. So, should it come time to sell, they will actually bump up the asking price of your home. They're also great for insulation and keeping out drafts. This means you'll save money on your energy bills. Plus, they're excellent for soundproofing. So, what's not to love?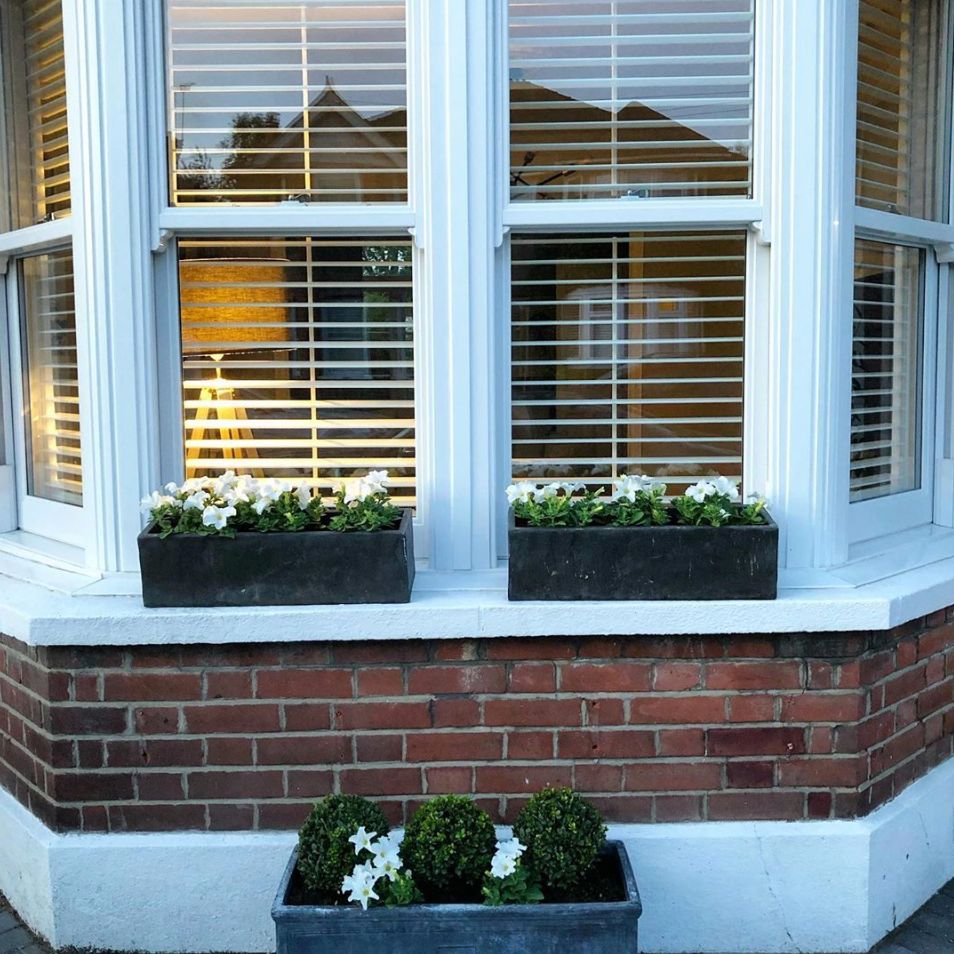 Outside shutters are higher maintenance
Outdoor shutters are constantly exposed to the elements. In their lifetime they will experience hot, cold, humidity, aridity, sunlight, snow, rain, hail, and whatever else mother earth can throw at them. As such, the utmost care and attention must go into them. Conversely, indoor shutters are very low maintenance, requiring the occasional dust or wipe with a damp cloth. And that's it! Plus, they'll last for years to come. And with our 5-year warranty on every order, you'll have added peace of mind.
Still Have Questions?
Hopefully we've covered everything, but if you still have queries, we'd love to hear from you. Send an email to hello@shutterlyfabulous.com or give us a call on 0800 907 0800.
Want to book a free on-site consultation with one of our Shutter Specialists? Click "Book Appointment" at the top right of our website and request your survey today.