Walk down any leafy suburban street and chances are you'll be struck by the enviable beauty of shutters adorning many of the windows. See how much of an impact they make on bay windows in particular. After all, no window dressing looks quite as classy or stylish in a bay as shutters.
But just how much do those bay window shutters cost? Are they more expensive than shutters for a standard window? And what different shutter styles are available for bay windows?
In this article we'll answer all of these questions and more, helping you make an informed decision about investing in bay window shutters for your home.

The benefits of shutters for bay windows
Let's start with the most important one – shutters instantly transform a bay window. They add a level of elegance, class and style that no other window dressing can. From the outside, your home will be the envy of those who pass it – indeed, research has shown that shutters add not only curb appeal but can actually increase the value of your property. On the inside, you'll smile from ear to ear every time you walk into a room with shutters. Seriously – they have that impact on an interior space and can create a style all by themselves.
Aesthetics aside, shutters help to insulate large bay windows and keep the heat in during the colder months, saving you money on your heating bills. They can also help reduce the noise levels coming in from the street outside. They're the most versatile window dressing available for a bay too, as you can keep the slats closed for privacy and darkness or open them to let light flood in through those grand windows.
Are bay window shutters expensive?
We'll be upfront with you – owing to their size and the fact that they are priced by the square metre, bay window shutters aren't cheap, per se. But neither is their cost prohibitive compared with other home improvements you might want to make. Think of shutters as an investment, not just for your bay windows but for your home (remember what we said about them increasing the value of a property).
Ours are completely bespoke as they're measured and fitted to your exact window specifications by an expert craftsman. You won't have to lift a finger – we'll take care of everything for you from the consultation right through to the fitting and beyond. What's more, all our shutters come with a 5-year guarantee although if looked after they'll last in perfect condition for far, far longer. And think of the money you'll save on your heating bills too!
For a quick, straight forward quote contact our team with the approximate measurements of your windows or book yourself in for a free, no obligations measure and survey.
What different shutter styles are available and how much do they cost?
Our bay window shutters are available in four shutter styles – full height, tier on tier, cafe style and solid.
Full height shutters cover the entirety of your bay window with a contemporary slatted appearance. Ditto with tier on tier shutters, the only difference being that the shutters are split into a top and bottom section that can be operated independently of one another. Cafe style shutters cover just the bottom half of a bay window, making them a great option if you're looking to keep costs down, whereas solid shutters are, as the name suggests, non-slatted solid sections of wood. They are popular in Georgian properties with very tall bay windows, such as those seen in Bath or Edinburgh, although are slightly more expensive than our slatted offerings. A shutter specialist will discuss which style will look best with your bay windows when they visit your home.

Do bay window shutters cost more than standard windows?
The amount you'll pay for your shutters is determined by the size of your window. Bays, by virtue of having multiple windows, tend to be more expensive to fit shutters to than a standard single window. All of our shutters are priced by the square metre and your shutter specialist will give you a no-obligation quote when visiting you to measure up.
What's the most inexpensive shutter you offer?
All of our shutters are handcrafted using the highest quality sustainable hardwood. Talk to your shutter specialist about our Classic Poplar range which is the most affordable shutter that we offer. Cafe style shutters, as in those that cover just the bottom half of a window, present an even more affordable option owing to their reduced square meterage. They ensure that privacy is maintained, whilst enabling light to flood in through the uncovered upper portion of your bay window and most importantly, offer a seriously stylish, contemporary look.
Examples of bay windows with shutters
Don't take our word for it – see for yourself how incredible shutters look in bay windows here. Here are some of our personal favourites we've measured and installed over the years.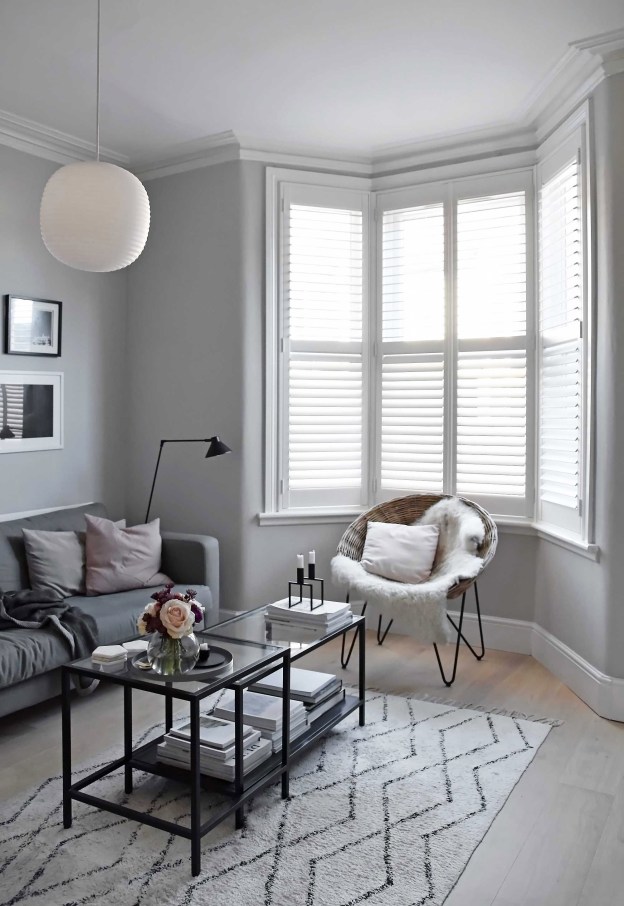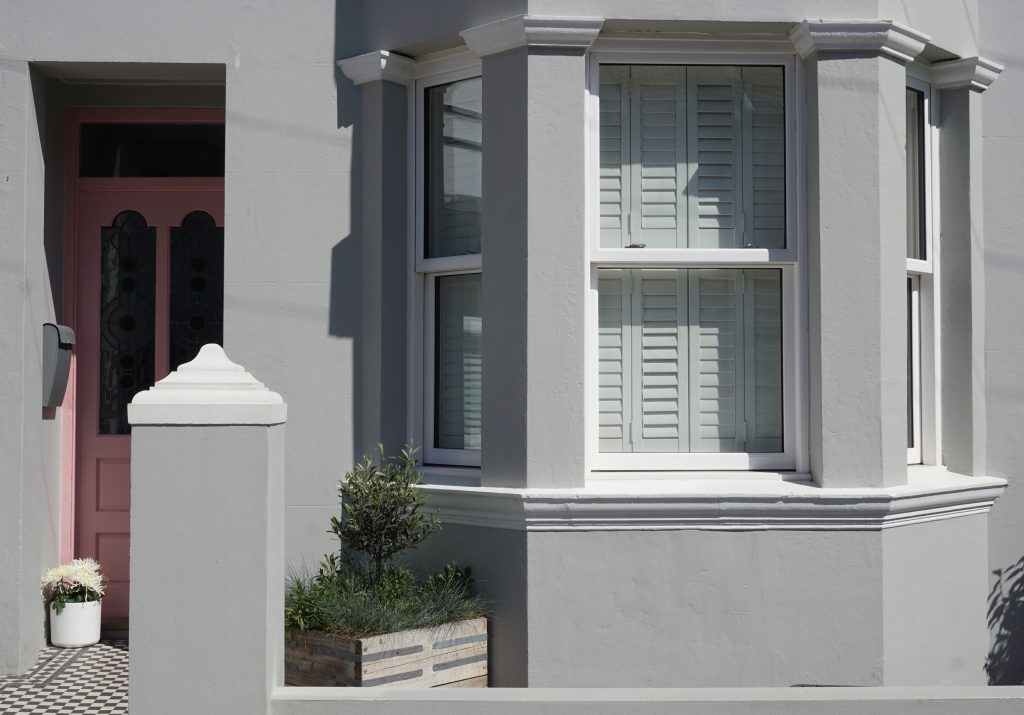 Photo: Jasmin's Sussex home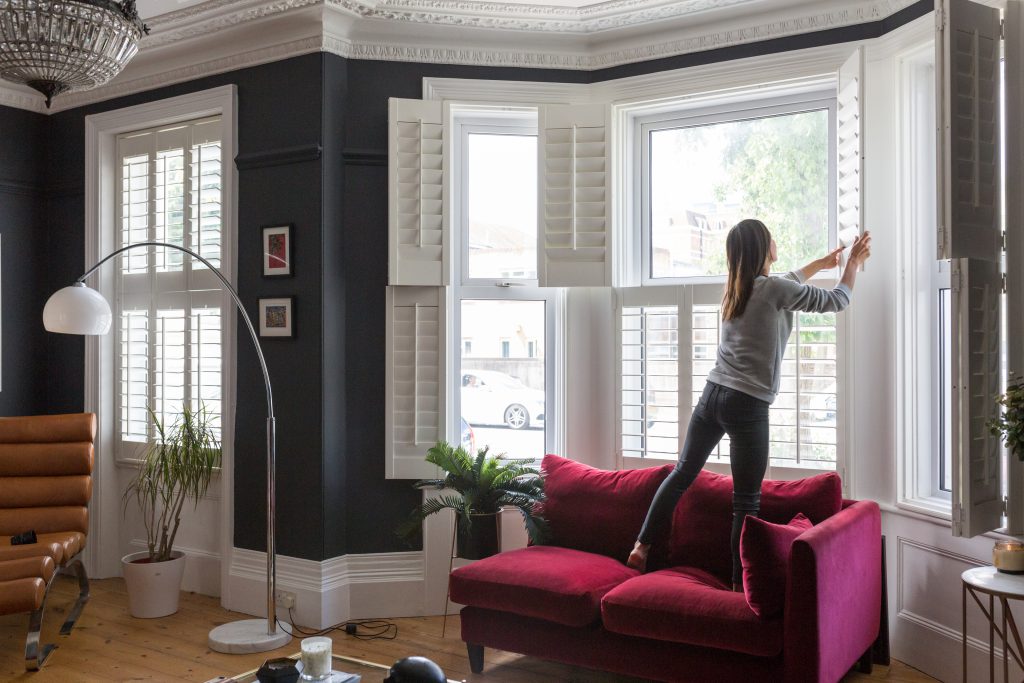 Photo: Poonam's Sussex home
Hopefully we've inspired you to go ahead and book an appointment with one of our shutter specialists to talk about shutters for your bay window. You can do that by clicking here. If you're not ready for a home visit just yet, why not give us a call with your rough window measurements for a quick quote over the phone? We're open six days a week and the team are in the office from 9am-6pm on weekdays, 10am-4pm on Saturdays. Happy shuttering!
If you liked this post, read our Ultimate Guide to Decorating Your Bay Window