All windows are created equal, but some are more common than others. Along with sash and casement windows, square bay windows are among those which we see most often. This means that our Shutter Specialists are no less than experts when it comes to these most ubiquitous windows. And while our Specialists are always there to advise and inform, it can never hurt to do a bit of homework. With this in mind, we decided to write a quick and handy guide on square bay window shutters.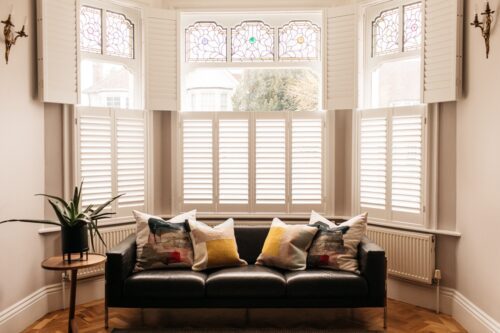 What is a Square Bay Window?
Otherwise known as a box bay, a square bay window is the same as any canted window. The main difference is that the windows on the side meet the front window at 90 degrees again, creating a box shape. Square bays have the benefits of adding space, light, and ventilation to any room. They can also provide the perfect spot for a window seat. Whether it is Victorian terraces, Georgian apartments, or new-build bungalows, they are a common fixture in many kinds of homes. So, why are square bay window shutters so great? Well, we're glad you asked.
Fitted Bespoke to Your Window
Plantation shutters for square bay windows are the perfect solution because they fit perfectly to your window. What do we mean by this? Well, all our square bay window shutters are made-to-measure exactly to the specifications of your windows. This means that – unlike other window dressings- shutter blinds on square bay windows will sit flush and tight the whole way around the bay. This means you don't have to worry about irksome drafts or losing heat from your windows. And because our expert Shutter Specialists do all the measuring and fitting for you, you can be assured that you're in safe hands. No matter how big or small your box bay window is, we will find the right shutter for you.
How About Style?
As mentioned previously, square bay windows are great for letting light into your room. As such, the style of square bay window shutters you choose should reflect how much light you want coming in. With our Full Height shutters, you can opt for a mid-rail or hidden split. Both mean you can open the top and bottom slats separately, giving you great control over light – and privacy. Our Tier-on-Tier shutters are another versatile option worth considering. The top and bottom sections hinge separately in this style, meaning you can leave the bottom section shut, while keeping the top completely open (or vice versa). This allows for the maximum amount of light, while still maintaining privacy. For a more classic look, our Solid shutters resemble traditional panelled shutters. They are also great for achieving almost near blackout.
Café Style Shutters
For larger bays – especially those with horizontal mullions – why not think about Café Style shutters for square bay windows. Normally going up to the halfway point, they can be of any height within your window, so you can have the bottom section shuttered, leaving the top open. This is especially good for bay windows with stained glass windows at the top section.
Of course, the style you go for will always be down to you, but our Shutter Specialists will always be on hand to advise. So do remember to pick their brains during your on-site appointment. They are always on hand to give their expert opinion.