Sometimes the smallest decorating changes can make the biggest difference. Window dressing treatments are no exception, from curtains and blinds to film and shutters – the possibilities are endless.
Here at Shutterly Fabulous we offer a wide range of shutters to suit every window and every room; whether you want to make your bedroom a cosy tranquil space or provide a practical window bathroom solution – there is a shutter style to suit. What's more, with our colour-matching service, you can add your favourite shade, whilst complementing the rest of the room scheme.
Window dressing Kitchen
The kitchen is often deemed the heart of the home, with homeowners spending more active time here than in any other room. Whether it be entertaining friends, preparing meals, or simply having some down-time, the kitchen is without a doubt an active space.
As a result, the design of our kitchen is really important, from the smaller design details, such as surface finishes, through to the lighting in the space, creating the right ambience in this room is essential. Not only should practicality be a main consideration but ensuring that this busy hub is designed not only for today but also for years to come, is imperative.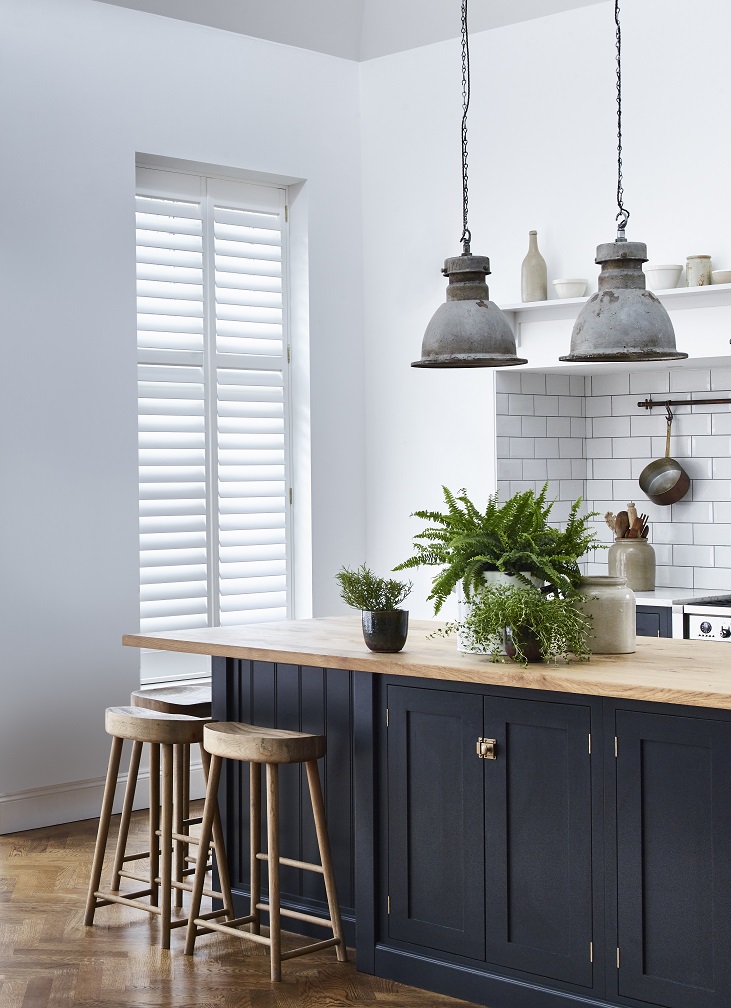 Incorporating kitchen shutters into your space is the perfect solution for dressing kitchen windows. They work particularly well in a kitchen environment as they allow the light to stream in whilst helping to hide unsightly views such as outdoor bins. Additionally, issues such as water damage and maintenance aren't a problem for shutters as they can be simply wiped clean if any spills or splashes occur – a common incident in a busy family kitchen and one not solved with curtains and blinds!
Wanting to add some extra light to your kitchen/dining space? Patio doors are a great addition, however, as they reflect ample natural light around the room, this also means that privacy is often spared and as such, these large expanses of glass can be tricky to dress and style. Shutters are a simple, practical solution to window dressing patio doors, not only providing the privacy you may require, but also controlling the light and temperature – perfect for all year round! Read our blog: Choosing plantation shutters for patio doors.

Window dressing bathroom
Bathrooms are the ideal place for relaxing and unwinding from a long stressful week. Bathroom shutters are the perfect solution for any bathroom needing a quick fix, turning it from a standard bathroom into a serene and peaceful setting.
The bathroom can be a notoriously tricky space to decorate due to the amount of moisture in the air, so more should be considered when updating it. Shutters are a handy solution for your windows, providing not only style to your space but also the perfect amount of privacy. Perfect for use in high-moisture areas of the home, the Shutterly Fabulous vinyl range won't warp or get water damaged over time, unlike curtains and blinds. Made from lightweight aluminium and coated in vinyl, these shutters are 100% water resistant, meaning that they're suitable for use in wet rooms.
Café Style shutters are a great option as they provide that much needed privacy, whilst still allowing the natural daylight to flood the room. Why not think about incorporating cool blue and grey accessories into a scheme, to create an on-trend look in your bathroom. Alternatively, Tier-on-tier shutters can offer great flexibility, as each panel can be adjusted independently.

Window dressing living Room
The living room is another important space in your home, seamlessly transitioning from hosting space to a wind down zone. If your living room is in need of a new lease of life, sometimes it can take just one simple step to transform your dream haven of tranquillity and style.
If you have a living room that needs a little something, shutters can often be just the finishing touch you're looking for and can be easily complemented by curtains and blinds. Read our blog: Pairing shutters with curtains.
There is a selection of shutters that can work within your living room, from tier-on-tier, café style or Full height shutters, all providing you with much needed light and privacy. Considering injecting a splash of colour to an otherwise neutral room, or, opt for neutral shutters for a versatile base to complement any living room style.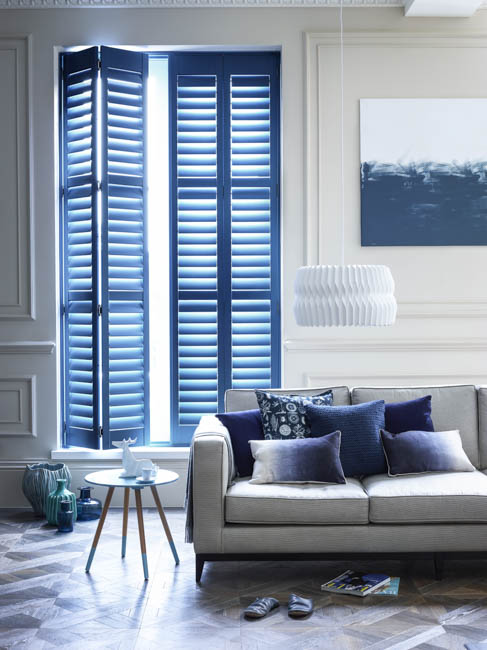 A bay window is a much sought-after architectural feature in a home and is found in a lot of living rooms these days. It will seamlessly open up a room, making it feel larger and lighter, but it can also be challenging to dress with curtains and blinds. A simple and effective solution for your bay window is Bay window shutters, providing you with both privacy and an elegant aesthetic, bay window shutters will give your home that much-needed update inside and out.

Window dressing bedroom
The bedroom is the place we spend most of our time – the hideaway we come to in order to relax and unwind, shutting away the stresses of the rest of the world, and yet, with so much emphasis on the look of our living rooms and kitchens nowadays, we're all probably a bit guilty of neglecting to give ourselves the bedrooms we deserve.
Your bedroom should be a refuge – a place to escape to after a busy day and a space that fills you with feelings of peace and serenity. One of the easiest ways to update your bedroom and make a real impact on your mood, is to incorporate colours and textures that elicit a calming response from the brain. Colourful Bedroom shutters are a great window dressing idea and can work with natural light to inject colour in an effective and controlled manner. Bedroom shutters enable you to balance the light and privacy in the bedroom, where comfort and well-being are a must.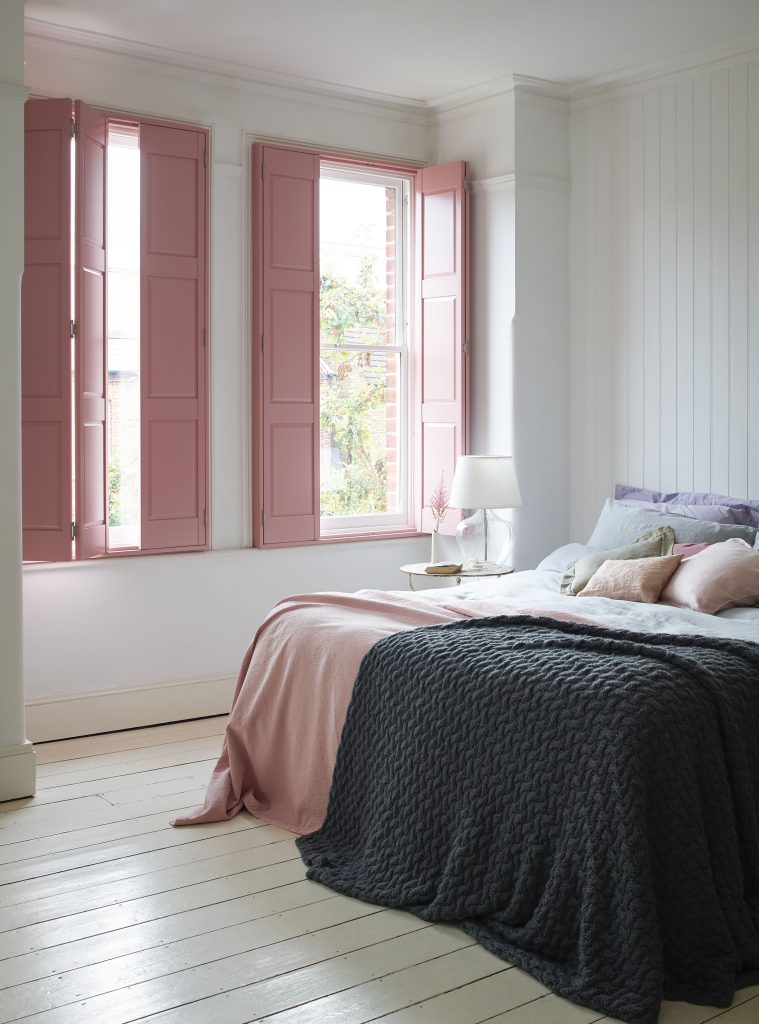 Solid shutters are a great option, whether you're looking to insulate your room, add privacy or block out the light at night, the opaque nature of this style will act as an additional protective layer from the outside world.
It's also worth considering plantation shutters when redesigning your child's room. Benefits include privacy, heat insulation, light control, but most importantly, unlike curtains or blinds, there are no chords hanging down which instantly eliminates hazards.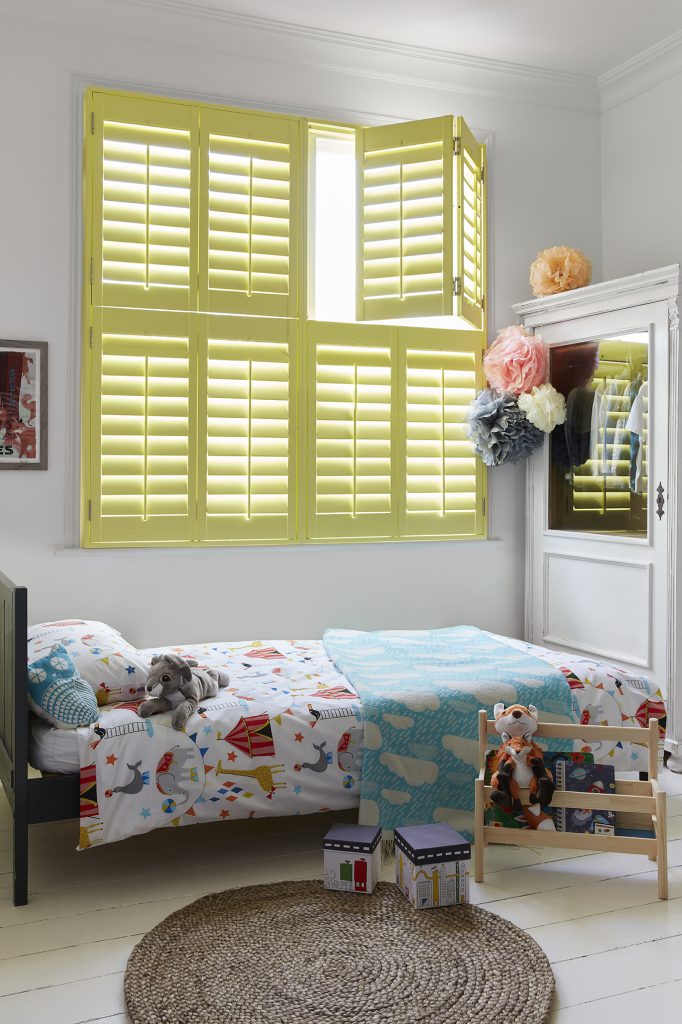 Why not make every room in your home Fabulous! Speak to one of our shutter experts to discuss ideas or book an appointment here.