Ah, the age-old question: Should I opt for shutters or curtains? Ok, maybe not age-old, but it's one that we've heard many times. Yes, we often get asked about the benefits of shutters compared to curtains, and it's a fair question. After all, window dressings are an investment. As with any investment, it's important to know your money is being well spent. So, we decided to help you make an informed choice by writing this blog. And, lo and behold, it seems shutters come out on top! Still not convinced? Well, keep reading…
Don't Wait, Insulate
Unlike curtains, which hang loose in front of your window, plantation shutters are fitted flush to your window. Besides looking fantastic, this also makes them great for home insulation. So, when things start to get a bit chillier, you'll be thanking your shutters for keeping out those irritating drafts. But what about the summer months? A set of shutters will reflect the sun's rays, helping cool down your room when the mercury starts to rise. This keeps you comfortable and helps you save on energy bills, too. Oh, and shutters can even help with seasonal allergies and soundproofing.
Light and Privacy Management
With curtains, you can have them opened, or you can have them closed. Sure, you can open them a little, or a lot. But that's it. Conversely, shutters are incredibly versatile and come in a variety of styles. Full Height allows you to cover your entire window, whereas Café Style shutters can cover as much of the window as you like. With Tier-On-Tier, you can have the best of both worlds, with the bottom and top sections hinging separately from one another. And with their moveable slats, you have the ultimate control of how much light you let into your home. This makes them ideal for privacy, too.
Add Value to Your Home
Did you know that the kerb appeal of shutters can drive up the asking price of your home? No? Well, it's true. Because they are a semi-permanent fixture, they are attractive to prospective buyers. Apart from their aesthetic appeal, they also save buyers the headache of having to redress their new windows. Win, win!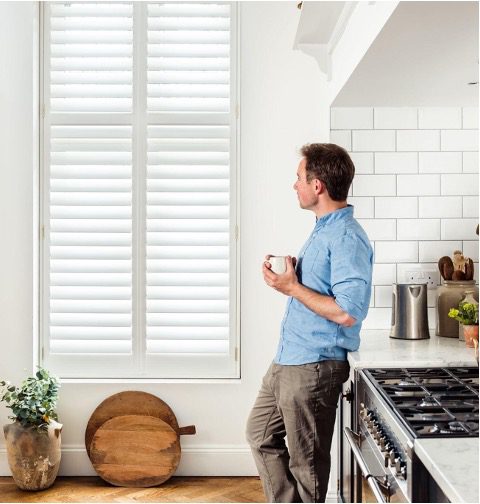 Easy Maintenance
With a set of curtains, cleaning can be quite the chore. One option is to soak the curtains in cool water and detergent. This requires taking the curtains down, soaking them, drying them, and potentially ironing them. You can also steam your shutters but, again, this takes time and effort. Exhausted yet? Us too. Yes, some can be thrown in the washing machine, but this depends on their fabric – and that is still a big-time consumer.
This is yet another area where shutters come out on top. Cleaning requires a quick wipe with some lukewarm, mildly soapy water and then a once over with a dry cloth. And that's it! Furthermore, because shutters are much less prone to damp than curtains, they don't require cleaning all that often. This saves you the hassle of cleaning and means you can enjoy them for years to come.
What About Price?
Sure, you can get some very cheap curtains. But that is exactly what they are, cheap – and they won't last very long. As already mentioned, wooden window shutters are an investment with several benefits far exceeding those of curtains. They will save you money on energy bills, they last for years, and they can even increase house value. And by going with Shutterly Fabulous, you can be sure that you're getting affordable shutters, not cheap. In fact, we promise that we will never be beaten on price.
If you still have questions about the merits of shutters vs curtains, our friendly team is on hand to help! Please call us for free on 0800 9700 800 or send an email to hello@shutterlyfabulous.com.