The home is a deeply personal space that reflects your taste, your style, and what makes you happy. If you look over towards your windows right now, and you feel anything other than joy, then it's time for an upgrade.
There are only so many different ways to cover your windows. As such, the battle between plantation shutters and blinds rages on. If you're trying to choose between shutters or blinds for windows in your home, here's what you need to know to make an informed decision and to guarantee that you'll fall in love with your choice!
The Truth About Blinds
Blinds can be very simple and cheap, you can throw them up on your windows in a few minutes, and they'll do a passable job of keeping out light if you manage to get a perfect fit.
Blinds can be challenging to clean, especially fabric ones that soak up dust like a sponge. They can fade in colour due to exposure to the sun, and many of them don't do a great job of blocking out all of the light.
Blinds can also have moving parts in them that can get jammed, that can start to stick, or even that can start to degrade when exposed to moisture over time.
There are many different styles of blinds, so some of these issues will apply to some types more than others. For instance, you can find blinds made with plastic, vinyl, or even thin pieces of wood, instead of fabric. These materials help to make blinds easier to clean when it comes to wiping off the dust, although the constant movement of venetian blinds is an annoyance that many of us have come across! There are usually fabric strings that hold together venetian blinds, which is a real problem for long-term durability and are an element practically impossible to clean.
Here's What You Need To Know About Shutters
Shutters can be fabricated to fit your windows perfectly, which is our specialty! We can craft shutters for large windows, small windows, and windows in all shapes and sizes. That's the magic of shutters, they can be circular, diamond-shaped, full height for tall windows & doors, and they come in many other styles for every room in your home.
Shutters are made from durable, solid hardwood that can stand up to varying environments much more than blinds can, which results in a quality window treatment that will last.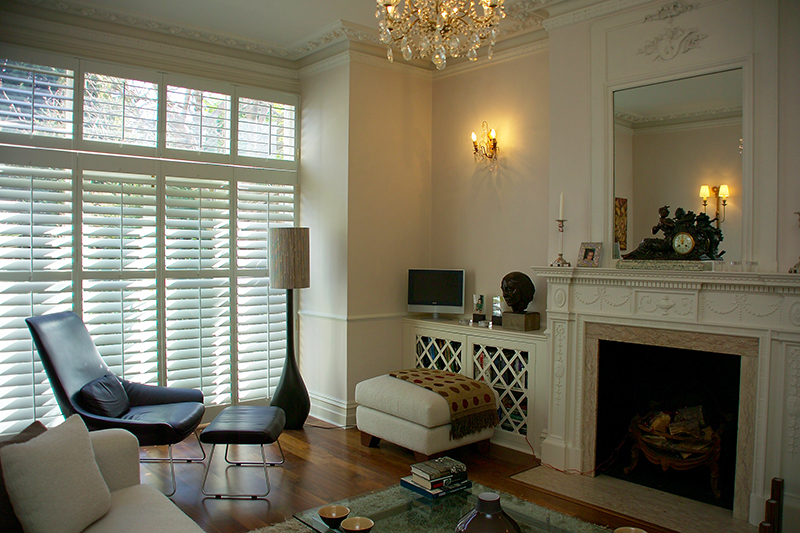 You can find blinds for less money than shutters, but it's the type of situation where you get what you pay for, and higher-end blinds don't compare in quality the same way that our made to measure shutters do. You're comparing flimsy plastic or fabric to solid hardwood that will last a lifetime.
Shutters give you optimal control over who can see into your home, how much light can get in, and how much airflow you want at any given moment. They can be adjusted in many different ways, much more easily than blinds can.
The Decision: Should I Get blinds or Shutters for windows?
At the end of the day, the final decision comes down to choosing which style you think looks the best, and suits your needs on a practical level. Some people care more about the style and aesthetic than others, but a huge win for shutters is the fact that they look better (in many people's opinions) They also function better, they last longer, and they're easier to maintain.
When you put all of these facts together, it's a pretty clear win between shutters or blinds!
This isn't to say that blinds are never a good choice, if you like the look of blinds enough to justify the downsides, then you've found your best fit! But if the numerous benefits of shutters are more important to you than the look of blinds, especially if you're in the majority of people who think that shutters simply look a lot classier, more elegant, and better overall with their timeless aesthetic, then the choice is simple when it comes to choosing between shutters or venetian blinds.
Browse our site and contact us today to get a quick quote and book your free no-obligation appointment. We will measure your windows perfectly, discuss every design/style option available, and return to professionally install them for you – it's the most effortless way to upgrade your home.